In August of 2020, an 18,900-square-foot mural painted by internationally renowned artist Guido van Helten was unveiled in Greenville, South Carolina. The striking photorealistic masterpiece, which portrays community leader and retired teacher Pearlie Harris with her students, was commissioned by The Beach Company to commemorate the 50th anniversary of the state's desegregation of schools - a celebration of just how far the region has come in the fight for civil rights.
In 1962, when Harris was the sole Black teacher at a Greenville school, she faced a city far different than the one that her likeness watches over today.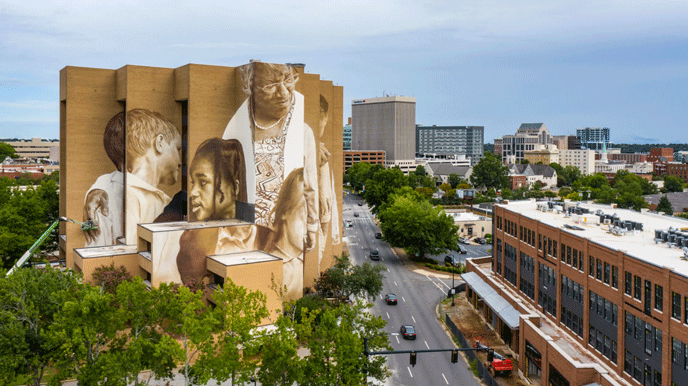 "Greenville was a hard town to live in to begin with," recalls Harris. "When I first came here, in my opinion, this was an extremely segregated town."
When the city's schools were finally desegregated in 1970, the situation did not improve overnight. Harris had to overcome countless obstacles over the years, persevering by means of her strength of character and genuine dedication to her students until she gradually became accepted and appreciated in the historically White milieu.
Van Helten's mural underscores the necessity of the United Nations Sustainable Development Goals on Quality Education and Reduced Inequalities, particularly how their implementation often goes hand in hand. As the famous landmark Supreme Court case Brown v. Board of Education made abundantly clear, separate educational facilities are intrinsically unequal - a fact that African Americans knew long before legal action was taken.
In an interview with Greenville News, Harris recollects the stark differences between Black schools and White schools growing up. While White students had access to art supplies, violin lessons, and PE teachers, students that looked like her were forced to make do with the bare minimum.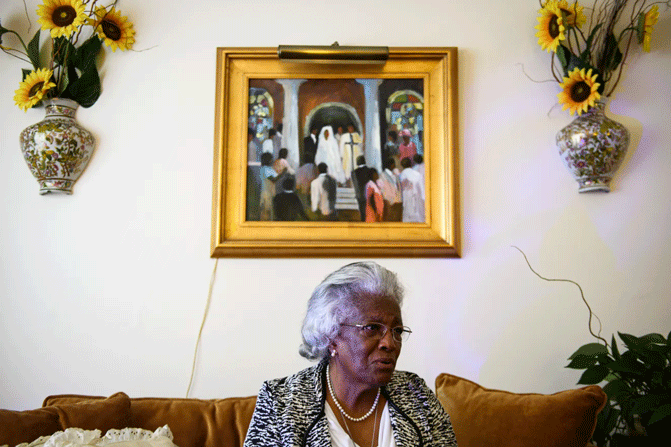 Though there remains work to be done in reducing inequities in education, the efforts of passionate community leaders like Harris have led to significant and lasting progress.
Doing research for the mural's concept, van Helten made sure to listen to the voices of the people for whom the piece is made, which included the members of traditionally Black communities on the west side of Greenville.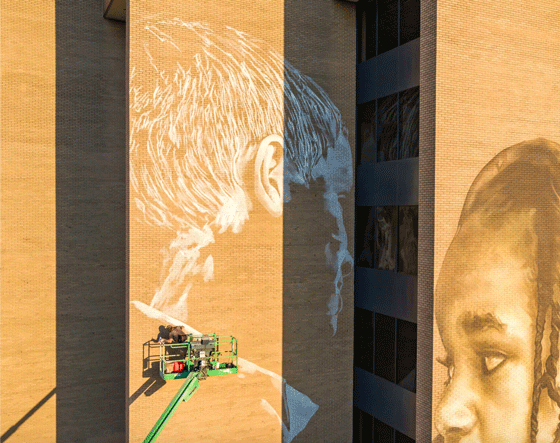 He explains the process to Architectural Digest, saying, "The concept behind this design is a culmination of 10 days of location research and community consultation—focusing on the broad theme of education in Greenville and the history, personalities, and legacies of the Integration Era—in order to find imagery symbolic of unity and diversity in modern-day Greenville."
It is through this process that van Helten met Pearlie Harris, who would become the focal point for the mural that now adorns Greenville's skyline.
Humbled by her selection for the design, Harris expresses her gratitude and hopes that the mural will serve as an inspiration to the community, telling Greenville News, "Education is so important in Greenville, and I am so proud of the honor."
While relegating racial inequality to a time gone by is a misleading narrative that belies the systemic problems that we are still facing to this day, witnessing the inspirational story of Pearlie Harris transformed into such a beautiful and poignant monument indeed gives the hope and motivation needed to ensure that equality and education are made a reality for every single child in America.
Van Helten's mural therefore not only serves as a reminder of how far we've come, but also highlights the values and the people that will guide us into a better future - a sentiment echoed by the development manager of The Beach Company Tim Cotter.
"His (Van Helten's) work will help remind us everyday the power one person, a person like Pearlie Harris, has to transform the future by empowering our children today."
A number of nonprofit organizations exist in Greenville to continue Harris' legacy and promote equal access to education for all, and they can be found listed on this page.