Bridging art with activism as a means of social commentary drives the work of Detroit-born and bred interdisciplinary artist, scultptural jewelry designer, and metalsmith, Tiff Massey (b. 1982). Unafraid to provoke conversations about race, the Black experience, gender inequalities and her identity as a woman of colour in her work, Massey also expresses deep love for the city of her birth.
"I definitely have mad respect for artists who haven't forgotten about their communities and keep hold of the ethics of their culture," she asserts in an interview with Absolut Art.
Massey is critical of the gentrification that has made Detroit a profitable tourist attraction and local arts destination. She unapologetically attacks what she sees as the "fetishization of Detroit" in the wake of the city's rebirth as a hip and trendy urban art center. Her body of work and commitment to empowering the Detroit community exemplify the  UN Sustainable Development Goals 4. Quality Education, 5. Gender Equality, 8. Decent Work and Economic Growth,  9. Industry, Innovation, and Infrastructure, 10. Reduced Inequalities, and 16. Peace, Justice and Strong Institutions.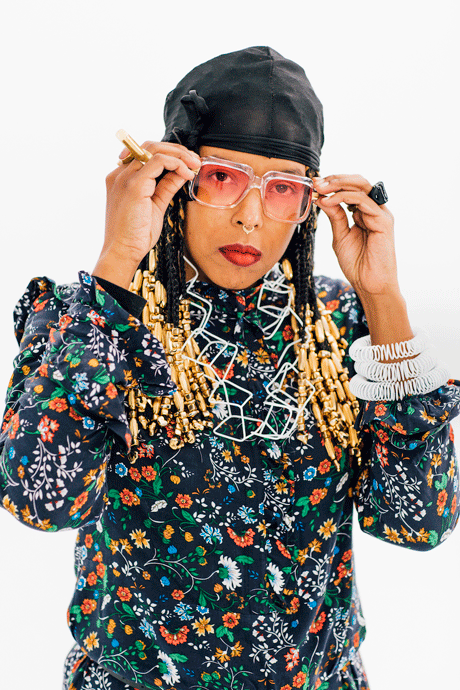 Massey earned a Bachelor of Science Degree in Biology from Eastern Michigan University in 2005, then attended Cranbrook Academy of Art in Bloomfield Hills, Michigan, an upper-middle-class white suburb, where she became the first black woman to graduate with a Master of Fine Arts from Cranbrook's metalsmithing program in 2011. In addition to being an artist, she is also an adjunct professor of metalsmithing at Macomb Community College in Macomb County, Michigan.
In an original 2015 song, "Detroit Is Black,"  Massey blasted her contempt for gentrification and its effects that have not solved Detroit's ongoing problems in a city that is 83% Black. '"Detroit Is Black," is based on a previous work written in 2014 entitled "I SEE WHAT YOU DOIN." Speaking after the song's release on January 12, 2016, Massey explained to the online music retailer Bandcamp:  
I wanted to comment on what was truly taking place in Detroit at that moment, which unfortunately are current events. There's a cover story, and then there's the real thing; what's happening on the ground. Everyone is talking about Detroit, but no one wants to talk about the real issues surrounding the city. The Detroit native narrative is missing. The native tongue is lacking in the conversation. What makes a city? What nurtures a city?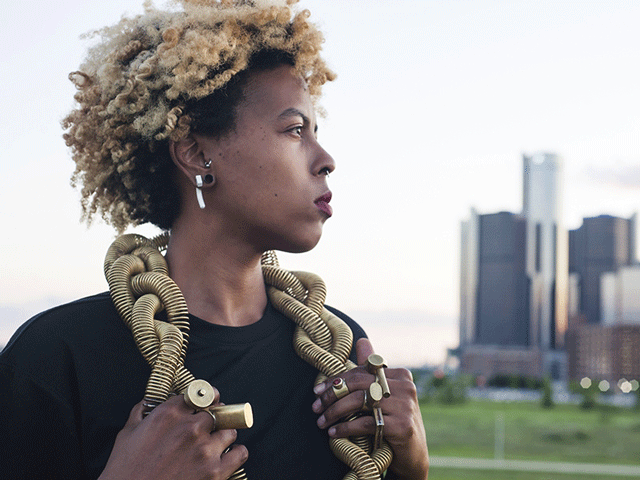 While a Visual Arts Fellow at the Kresge Foundation in 2015, Massey made a music video with a group of friends to accompany the song. It was recorded and produced by the Detroit record label, Rainy City Music, and the song was included on the anthology album, Forward: 20 Years Rainy City Music 1996-2016 in 2017.
An internationally recognized artist, Massey's oeuvre ranges from wearable sculpture, sculptural jewelry, to large-scale public works and performance pieces. She counts the iconic material culture of 1980s hip-hop as well as the custom jewelry her dad bought when she was a kid as major influences. In particular, dookie chains, the gold rope chains of varying lengths worn by rappers and considered status symbols in hip hop fashion, oversized hoop earrings, four-finger rings and chunky stack bracelets all impacted her. Referring to a series of brass jewelry she created, Massey stated, "It's all about that moment when you're really feeling yourself."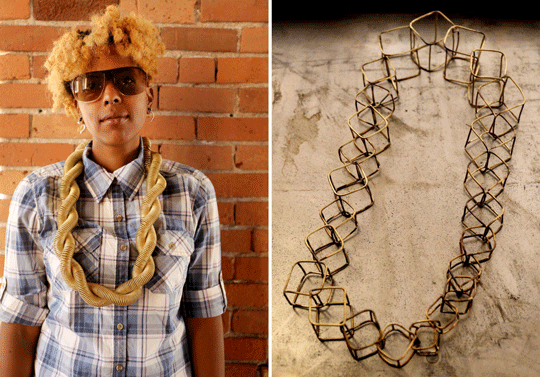 Massey is also known for her three-dimensional metal sculptures and mirror works, such as the 2018 sculpture series, Everyday Arsenal (Bling Edition), representing massively scaled versions of her jewelry. "I've always been interested in scale and positioning myself within the realm of sculpture,"  she says. Sheen and mirror image feature prominently as well within her output, often creating an experience in which the viewer is forced to examine themselves in the work.  "They are a part of it because their reflection is actually in it," she says.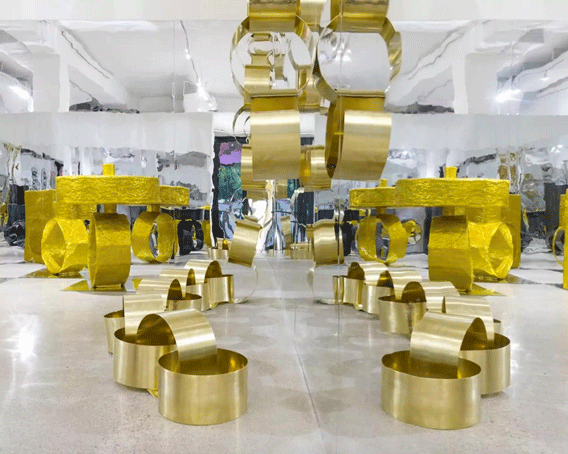 Massey's art is an observation of class, race and Black culture, viewed through the optics of life in Detroit. Nowhere is this more evident than in her 2018 exhibition Say It Loud at Detroit's Library Street Collective gallery and in 2019's Proud Lady at Red Bull Arts Detroit. For the 2018 exhibition, Say It Loud, Massey was inspired by African standards of economic vitality through the lens of the African Diaspora. She created Some Patterns Hold Weight, a series of fibre quilts using gingham, a white checked fabric that was originally manufactured from cotton picked by slaves in the American South in the 19th century. Massey told Artland:
I realized it had a political background, made from cotton manufactured with  slave labour and then used to create uniforms or markers for slaves on plantations. Later it was a print for the working class and signified the domestic. You see appropriation of it everywhere. I can't wear it anymore.
In some of the quilts, Massey removed the customary white squares from the gingham and wove strips of colourful kente cloth, a traditional African fabric, into the pattern instead. In others, she layered in collaged images of plantation workers. Each one is presented framed in gold, reflecting her golden sculptural installations, and connecting them to her signature bling. In the center of the gallery installation, is a pair of oversized grey steel stud earrings Massey calls Past, Present, Future ornamented with an outline of Africa on their mirrored surface.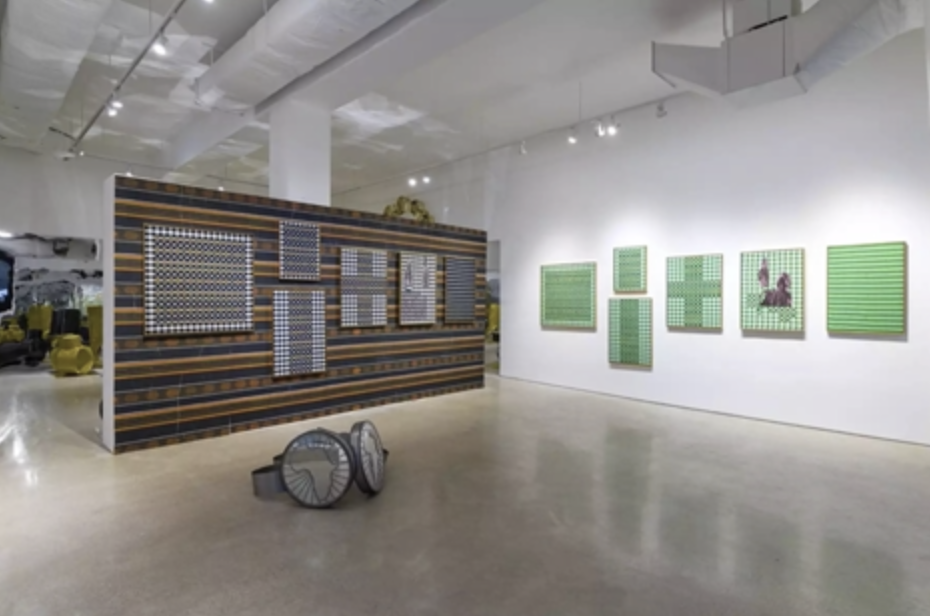 In the 2019 exhibition, Proud Lady, created during her artist residency at Red Bull Arts Detroit, Massey explored gender politics, the black experience, and her identity as both an artist and person of colour. The works incorporated contemporary observances of class and race, combined with inspiration drawn from living in Detroit. Massey reflected upon the meaning of the works in Proud Lady to children of colour in a December 2, 2019, interview with Alive magazine:
There was a group of high school kids that visited my show, Proud Lady…. And  all the kids of color, who had the biggest hair and all the curls you could probably never count, they all sat up under there. And you could tell that for them, it was    like, "Yes, somebody gets it. Yes, this is a portrait of me; this is an experience that I have. Somebody is talking to me, finally."
The entrance to the exhibition features a bright pink neon sign that reads, "Bitch Don't Touch MY HAIR!!, referring to Massey's personal experiences with people wanting to feel the texture of Black hair. Her first neon sculpture, Massey calls the warning sign a self-portrait. Inside, gold-beaded hair extensions and braided coiffures are draped against a wall-sized black and white photo of white mannequins at a Detroit beauty salon. Here, Massey critiques how salons that cater to a Black clientele often include mannequins not representing people of colour. On another wall, Massey recreated the plastic snap barrettes little girls wear in their hair in pink carved wood, an homage to those of her childhood.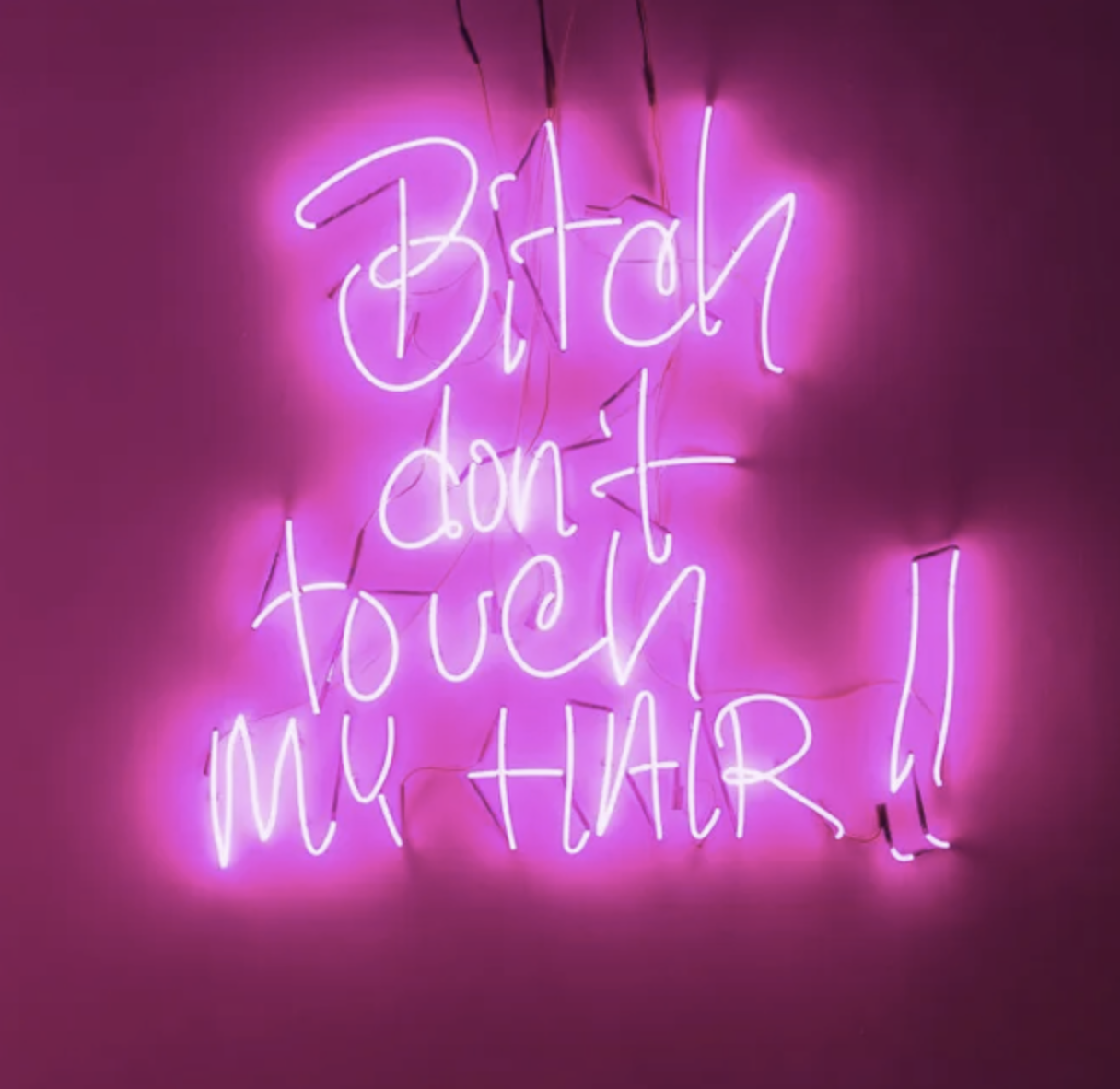 Massey has won numerous awards and distinctions for her work including from the Kresge Foundation and the Knight Foundation in Michigan. She has had solo exhibitions at the Library Street Collective and Red Bull House of Art in Detroit, and internationally at the Volterra-Detroit Foundation, in Volterra, Italy. Her work has appeared in group exhibitions at the Museum of Contemporary Art Detroit, New York's Printed Matter, and Galerie Marzee, Nijmegen, Netherlands, among other institutions.
In 2014, Massey received one of the prestigious "40-under-40″  humanitarian awards granted by the Michigan Chronicle newspaper for her work on behalf of Detroit.  In 2018, she performed as part of the Detroit-Berlin: One Circle festival at HAU Hebbel am Ufer, in Berlin. She was the 2019 recipient of the coveted $20,000 Susan Beech Mid-Career Grant, the largest art jewelry cash award in the United States by Art Jewelry Forum for Get Big, an immersive technological and interactive hip-hop environment she designed using adornment to shift the focus from object to participant while documenting the moment.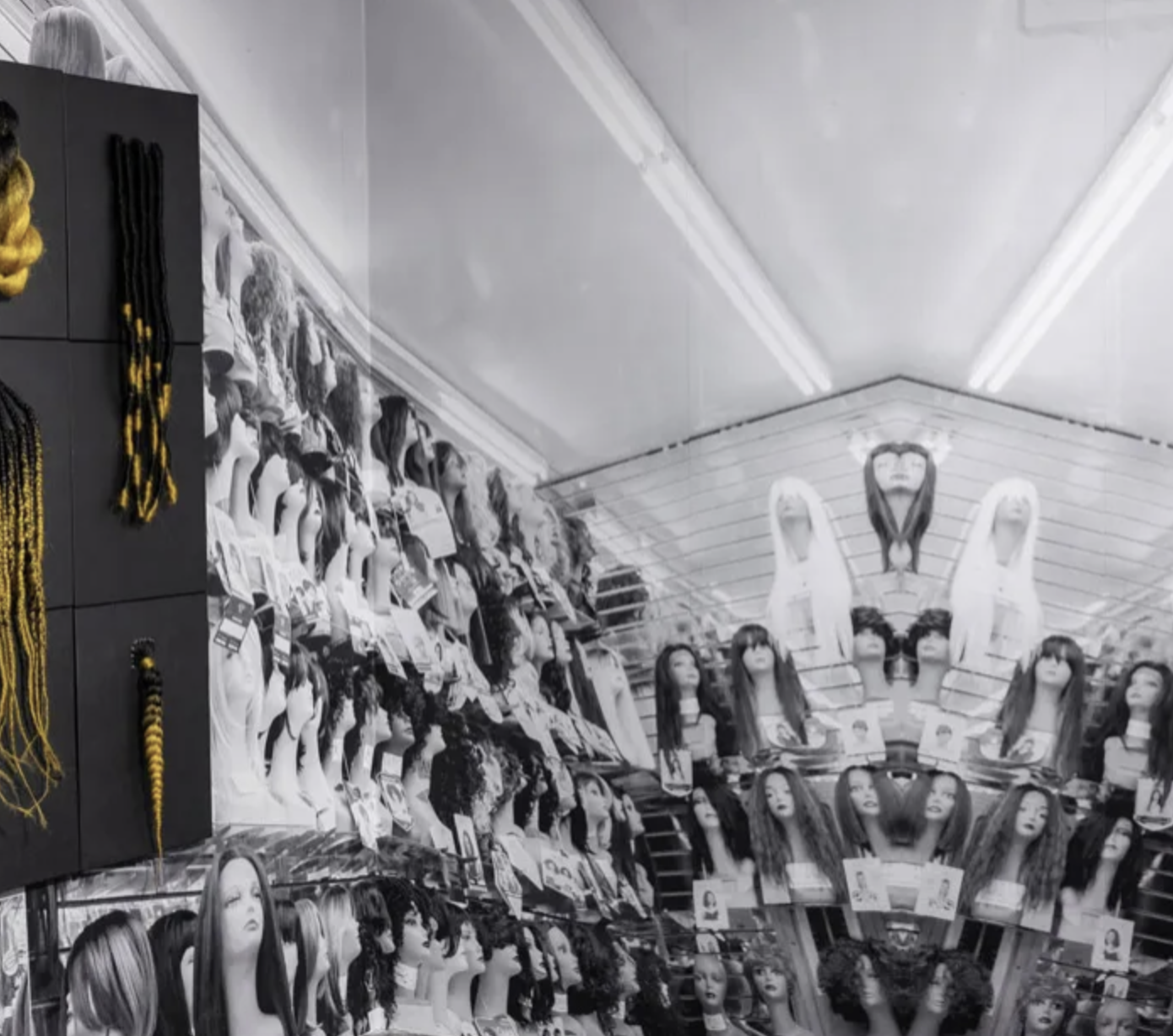 Massey was named a 2021 United States Artist Fellow by her alma mater, Cranbrook Academy of Art, in February of this year.  The prestigious USA Fellowships are annual $50,000 unrestricted awards given by the United States Artists Board of Trustees recognizing "the most compelling artists working and living in the United States, in all disciplines, at every state of their career."  Upon receiving the fellowship, Massey became the fourteenth Cranbrook Academy graduate to receive a United States Artist Fellowship since the program was launched in 2006.
Massey's dream is to build an art academy modelled after Cranbrook in her childhood neighbourhood for Detroit youth to study art. In 2017, she purchased a derelict bowling alley in the Bagley area off 7 Mile Rd on Detroit's West Side where she grew up to renovate for the project. One of the two buildings on the property will serve as her personal studio while the other Massey plans to develop into an art and community education hub called Blackbrook, where young people have access to space, equipment, and global networks. The non-profit would enable Massey to give back to her community and provide art lessons to Detroit high school students to get them off the streets. "I'm a product of my environment," she says. "I'm always thinking about what we need." Currently, Blackbrook remains a work in progress due to structural setbacks, crumbling infrastructure, leaky plumbing, and the pandemic.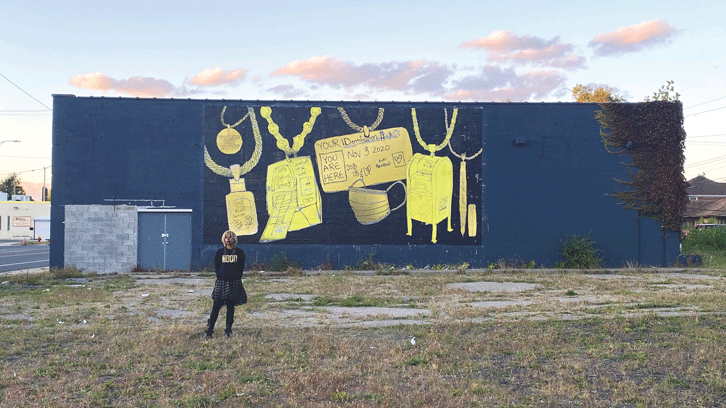 In creating pieces meant to be worn as well as large-scale jewelry and interactive works, Massey involves the viewer in her experience. Her work serves to stimulate dialogue about space, the body, and racial and gender politics. It provokes conversations about how art can remake broken cities and institutions while lifting the community. To learn more about Tiff Massey, visit her website here.