For art enthusiasts, searching for accessible and enchanting ways to encounter historical artworks outside of traditional museums and galleries can be an ambitious task. While there are various artists, galleries, and organizations that create experimental exhibitions of art open to the public, encounters with modern and contemporary art are most commonly experienced in large museums and art galleries. Located in Holmby Hills Los Angeles, adjacent to Beverly Hills, The Frederick R. Weisman Art Foundation offers art enthusiasts a rare opportunity to engage with an extensive collection of historical art. This large residential estate houses and showcases the personal art collection of American entrepreneur and philanthropist Frederick Rand Weisman. Docent guided tours are available to diverse guests five days a week, providing insight into the 400 hundred artworks on display in the estate. In this estate, artworks live in every crevasse: modernist paintings embellish walls, pop objects sit atop counters, and life size realistic sculptures are found in beds and showers. The Foundation allows visitors to view noteworthy artworks by iconic artists in the warmth, comfort, and private space of what was once a home.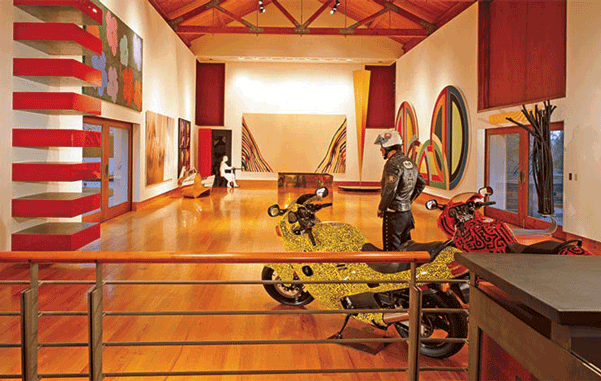 Frederick R. Weisman

Born to Russian parents and entrepreneurs in 1912 (d. 1994), Weisman spent his early childhood in Minneapolis, Minnesota. At the age of seven, he and his mother relocated to Los Angeles where he lived for the remainder of his life, apart from a short commute back to Minneapolis in 1929. In following a similar career path to his father's, Weisman built his wealth through the purchase, establishment, and management of multiple corporate enterprises including what became Hunt Foods and Mid-Atlantic Toyota Distributors.
Weisman is regarded as a dynamic businessman who amassed an extensive entrepreneurial empire which, in addition to automobile enterprises, included real estate holdings, an insurance firm, and a computer company. Throughout his success and wealth, he believed it was his "corporate duty," to give back contributions to the public. He established charitable grants and "programs to bring art into non-traditional environments like hospitals and clinics, including the Devereux Foundation, the Washington Free Clinic, the Venice Family Clinic, and Cedars-Sinai Hospital."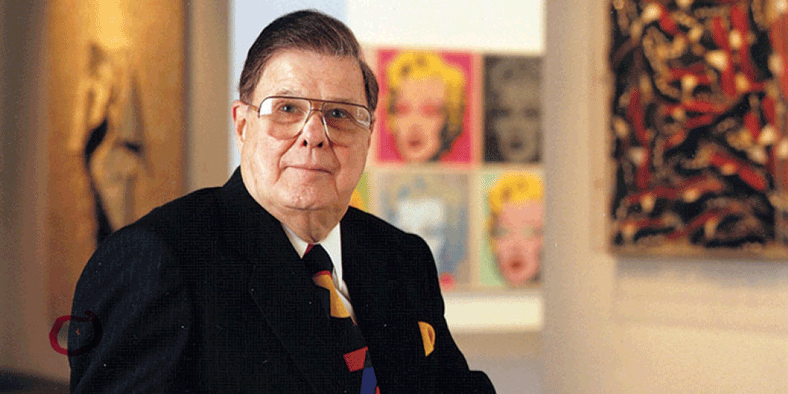 Weisman and his first wife, Marcia Simon, began collecting art in the late 1940s, acquiring works by European Modernists and American Abstract Expressionists such as William de Kooning, Mark Rothko, and Max Ernst. Through decades of collecting, the couple "became increasingly involved in Los Angeles' art community," by purchasing works from local artists, serving as museum trustees, and corporate donors. The pair worked alongside New York art dealer and collector Ben Heller, whose collaboration provided academic insight to the establishment of the rich collection (Weisman Art Foundation 11). Weisman and Simon's keen interest and knowledge or art and business practices made them a formidable duo, generating one of the nation's largest private holdings of art and a reputation as international figures.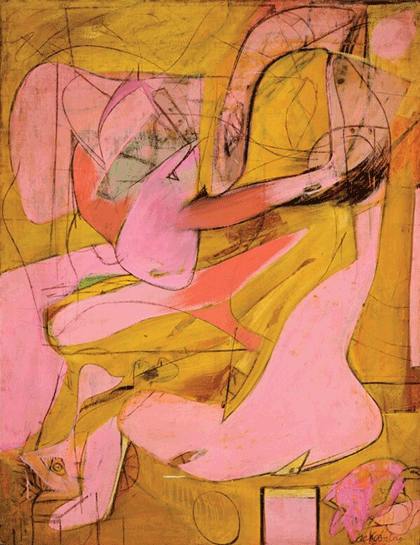 By the mid 1970s, Simon and Weisman amicably separated and equally divided their collection. In 1982, Weisman purchased his Holmby Hills estate to house his portion of the collection. At this time, he also established the Frederick R. Weisman Art Foundation –– "a non-profit organization dedicated to supporting the arts through grants, public exhibitions, tours, and educational programs."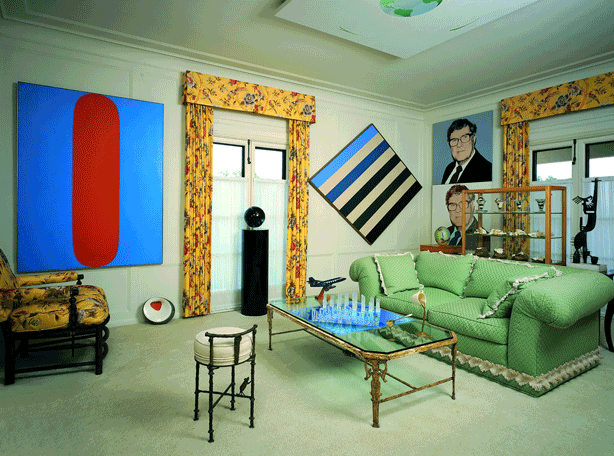 Art at the Foundation

Former Director of the Hishhorn Museum and Sculpture Garden, Richard Koshalek, shares that "Fred strongly believed that an art collection should be 'alive' and in a constant state of growth and change" . In addition, Weisman greatly honoured the idea that artworks from private collections should be shared with the public. As an art curator and recognized conservator, Weisman's second wife, Billie Milam Weisman, "brought an in-depth knowledge of art history and art conservation to the collection, which they continued to expand together during the mid-1980s and early 1990s" . After Weisman's death, Milam Weisman became the director of the Foundation, a position that she still holds today. The Foundation holds over 1500 works by countless artists practicing in a range of eras and mediums. Some names visible at the Foundation include Renee Magritte, Andy Warhol, Keith Haring, and Ed Ruscha.
Duane Hanson
Koshalek remarks that while Weisman was alive, artworks at the Foundation moved "around to create ever-new juxtapositions and arrangements" . Each artwork at the Foundation provides a striking view, whether it's hung in the house's annex or found on a bathroom wall. Visitors are immediately greeted by art as they enter the estate doors. Specifically, meticulously placed works by Duane Hanson, contribute significantly to the unique curation and memorable experience of the estate. According to the Foundation, "Hanson captured the attention of the art world in the mid-1960s, when he began creating disarmingly lifelike 'superrealist' sculptures based on prototypes of unheroic humanity," (90). His sculptures that represent everyday working-class people demonstrate an "unflinching investigation of the human condition."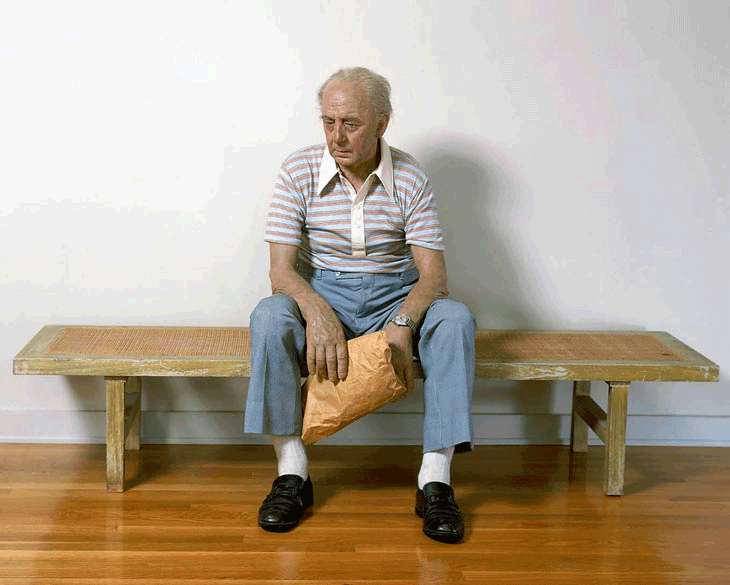 Throughout the Foundation, Hanson's hyper-real casts of human-like figures are found in ironically relevant places like showers and beds. There is even a realistic bronze sculpture cast of Weisman called Executive in a Blue Chair (1988) placed in Weisman's office. Encountering these works with their satirical placement within the Foundation  gives them a unique life and an eerie presence –– an experience that is divergent from how a viewer would encounter them in a traditional gallery or museum.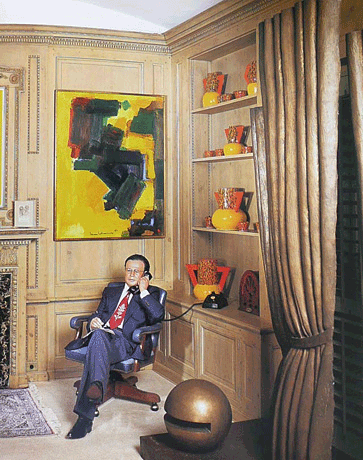 Through the guidance of Milam Weisman, the Frederick R. Weisman Art Foundation continues to dedicate its efforts to making historical and new art accessible, sustainable, and ever expanding. The Foundation upholds Weisman's legacy as an individual who treasured art for its livelihood, communication, and curiosity.
Due to the COVID-19 Pandemic, the Frederick R. Weisman Art Foundation is currently closed to the public. Updates and information of how to visit the gallery when it is reopened can be found on their Foundation's website.