As The Remington Group initiated their groundbreaking development of Downtown Markham, they pinpointed an often overlooked vital community factor: public art. Alongside 243 acres of masterfully planned development came a $25 million infusion of public art into the area. At the centre of this cultural explosion, the Remington Contemporary Art Gallery (RCAG) provides the community with unprecedented access to global contemporary art.
History and Development
The RCAG may have started as a facet of a larger development project, but it has since taken on a reputation as an innovative must-see attraction. Located at 169 Enterprise Blvd in Markham, ON, the RCAG opened its doors only a few years ago. The curation team brings in a diverse variety of international artists in thought-provoking exhibitions.
At its opening, the RCAG commissioned some of its featured artists to fill the space with new work, specifically those that focused on and highlighted The Remington Group's commitment to environmental sustainability. These works occupy the multi-story interior of The Origin (169-179 Enterprise Blvd), the main gallery space of RCAG, and public art spills out into the surrounding area in an array of outdoor exhibitions. The building itself was curated to be a work of art, with famous street artists like Kidlew covering the eastside Street Art Wall with original designs. Larger sculptures also adorn the exterior of the RCAG, all at once welcoming and encouraging visitors to explore further.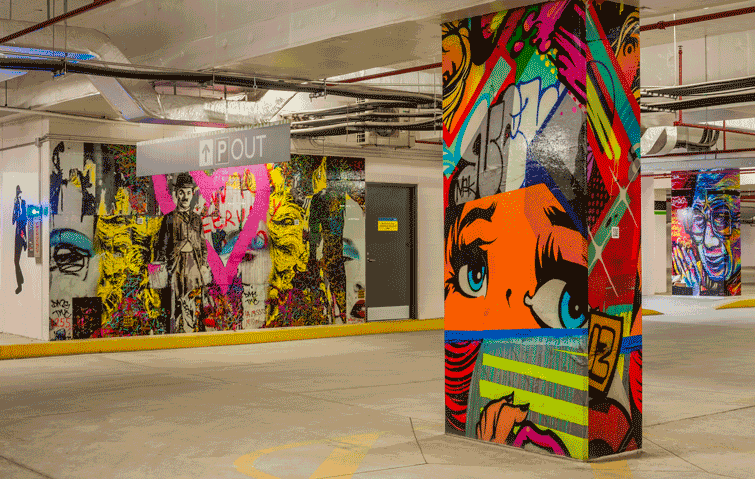 The gallery is not limited to conventional spaces, and The Remington Group even utilized the gallery's underground parking garage in its artistic displays. Photographed famous street art in Hank O'Neal's XCIA Street Art Project covers pillars and structures throughout the parking garage, creating a hidden exhibition space. The gallery drew on around twenty works from O'Neal's book, printing high-quality images on vinyl and strategically placing them throughout the garage to maximize visitor engagement.
Murals
On the east side of The Origin, stands Kidlew's original street art mural HALOZ WUZ HERE. At 50 feet wide, Kidlew's work is impossible for pedestrians, traffic, and passersby to ignore. The creation of HALOZ WUZ HERE required more than 250 cans of spray paint but added a new sense of permanence to the once-temporary street art. The result is partially symmetrical, all but Kidlew's signature, featuring vibrantly coloured characters and original designs.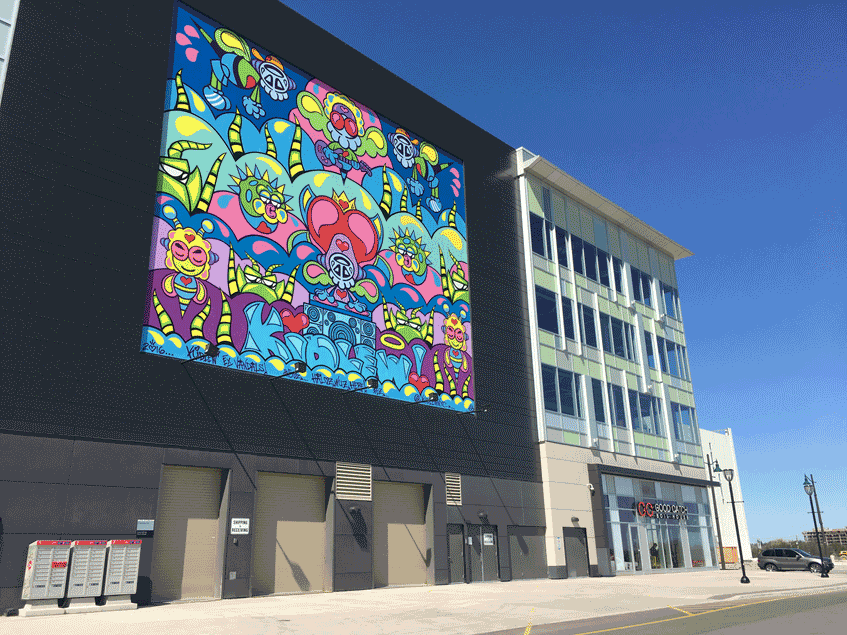 The creation of HALOZ WUZ HERE required over 250 cans of spray paint but added a new sense of permanence to the once-temporary street art. Kidlew drew on his life experience to design the piece, taking pieces of his background with the New York City pop art scene of the '80s and offering a comprehensive look at his street art approach.
RCAG's Collection
Shelley M. Shier of Broadway Bound Entertainment has done an impressive job bringing together the first phase of The Remington Group's international contemporary art collection. The works cover many social issues, mediums, artistic movements, and practices, culminating in a truly remarkable contemporary art experience.
Marc Sijan: Security Guard
On the first floor of the RCAG, visitors will be confronted with the comical yet discerning stare of Sijan's Security Guard. After recovering from their initial shock, visitors realize the figure does not move and is simply a hyper-realistic sculpture made of polyresin.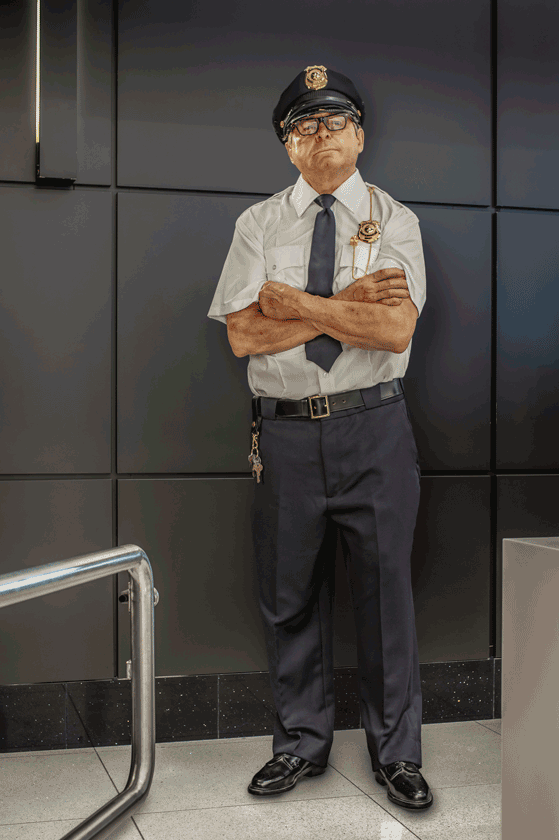 Julie Tremblay: Eon
When visitors ascend the staircase on the first floor, they look up to see an aluminum work of seemingly impossible mass floating above their heads. Installed in 2014, Tremblay's work Eon is a 29-foot long sculpture of folds and curves that turn aluminum mesh into a flowing fabric of materiality.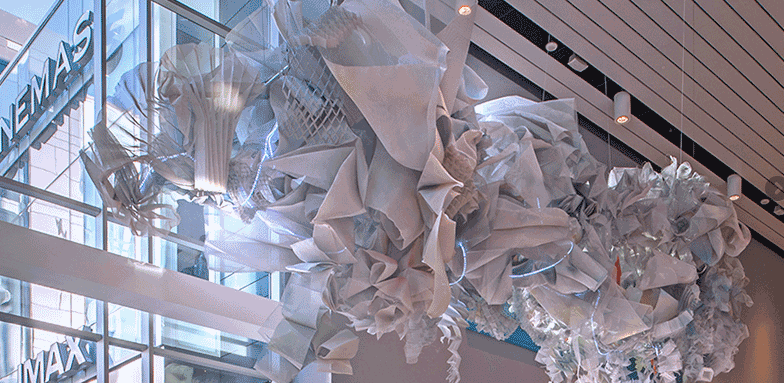 Michel Beaudry: Art Zoo
Gathered on the ground floor of the RCAG is a collection of giant wild animals. Beaudry's installation includes several metal sculptures, all resembling wild animals, presenting a "cage-free" zoo.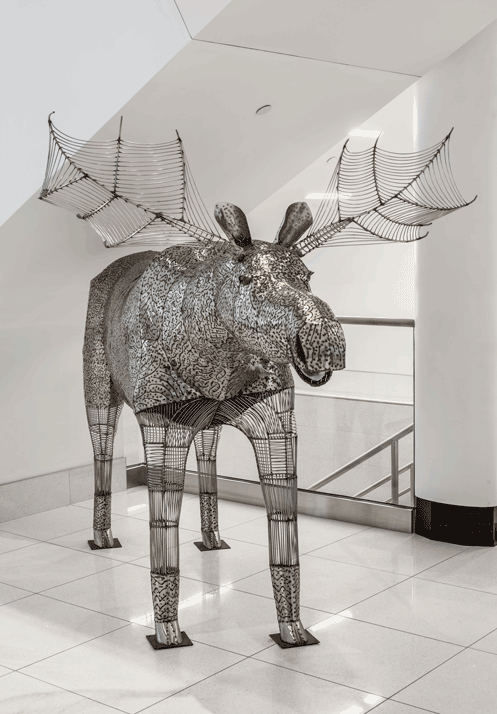 Gregory Skolozda: Flowers, Crystals + Mushrooms
Scattered throughout the RCAG, visitors will find themselves looking at a fairytale environment of glowing sculptures. Skolozda created three separate pieces for the entrances of the RCAG, mesmerizing viewers as they exit the gallery.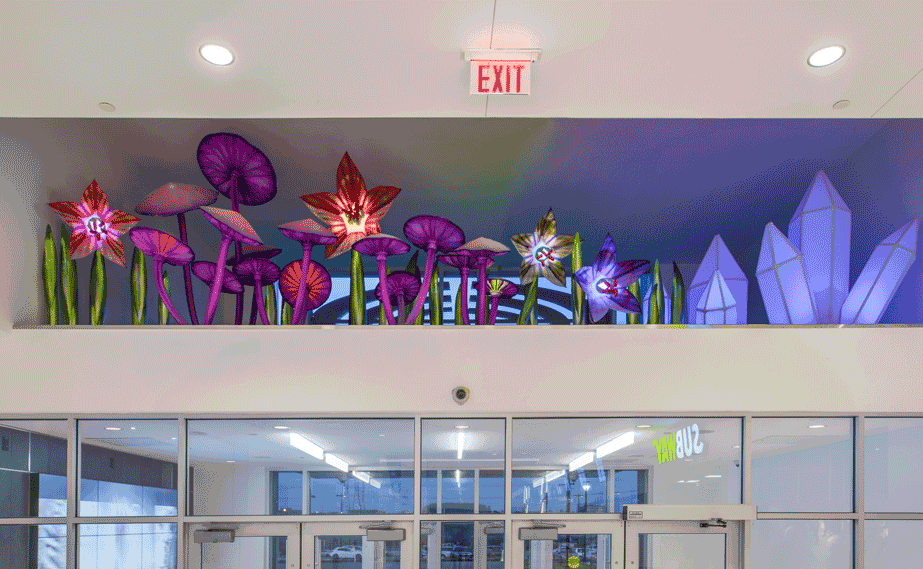 There is no shortage of beautiful works at the RCAG, each presenting the unique style of its artist's evocative message. New exhibitions are regularly on display throughout the gallery in addition to the permanent collection, so visitors find themselves delighted and surprised with each visit.
Downtown Markham
It is in part because of the RCAG's location that it has transcended traditional standards. Developed by The Remington Group, Downtown Markham is a culturally rich community.The 243-acre urban centre is inviting and innovative, with a compact mix of luxury residences, cutting-edge offices, and beautiful amenities. The area is powered by District Energy, drastically reducing carbon emissions and wholeheartedly affirming The Remington Group's commitment to sustainability.
Dotted throughout the entire development are pieces of public art. Downtown Markham was designed as a borderless gallery experience without walls, with art dotted throughout the entire development. While impressive in implementation and scale, these pieces also help create a rich cultural background and add to the aesthetic appeal of the neighbourhood. Visitors and residents are immersed in innovation, surrounded by industry-leading company offices and stimulated by thought-provoking contemporary art.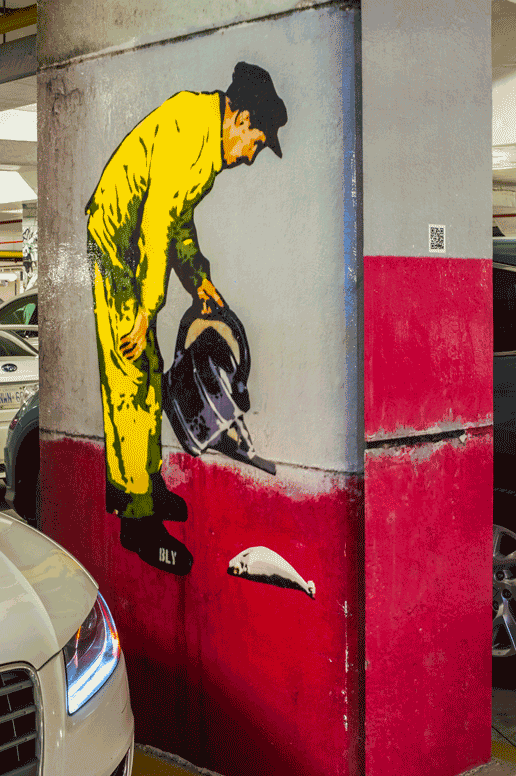 Visiting
The main gallery space of the RCAG is located at The Origin (169-179 Enterprise Blvd) and welcomes visitors 24 hours a day.. More information may be found at https://downtownmarkham.ca/community/art/.
---
Arts Help is proudly supported by  The Remington Group