When basketball legend Harold Starks was a young boy growing up in Harlem, the neighbourhood court was his sanctuary - a place where dreams were allowed to grow. Thirty-five years later, he and his friend Pete Peterson wonder how they can provide the same kind of nurturing environment to local kids, or in other words, how to give them their own homecourt.
From this conversation, My HomeCourt (MHC) was born. Partnering with Providence College Galleries, curators and artists, the nonprofit has been introducing vibrant contemporary artwork into local communities since 2018 by transforming run-down basketball courts into dynamic works of public art.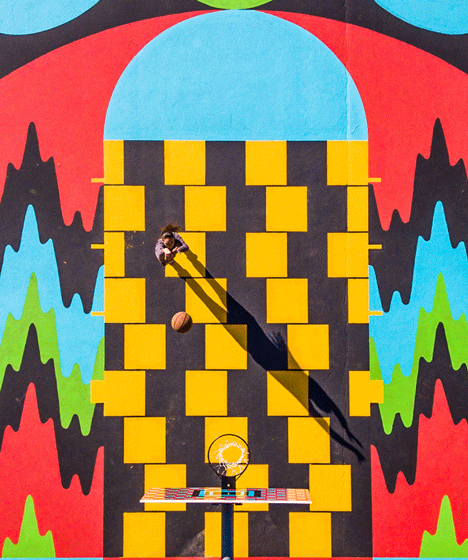 As part of its Sustainable Development Goal for Sustainable Cities and Communities, the United Nations has outlined that creating inclusive and accessible public spaces is a key step in building stronger and more welcoming neighbourhoods. Through the efforts of MHC, the revitalized courts provide a striking example of how art and basketball can help build welcoming communities where connections are strong and dreams are born.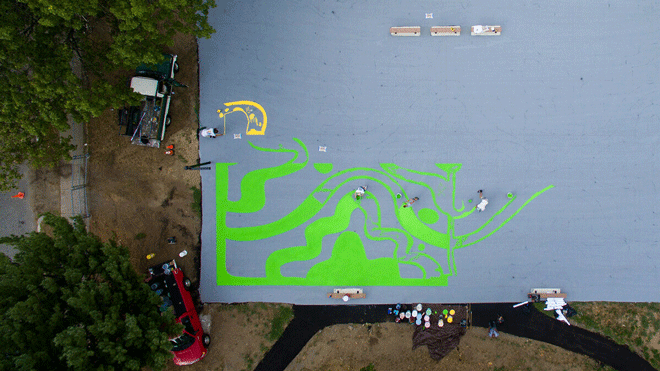 Combining the uplifting power of art and the social nature of the neighbourhood basketball court, MHC's unique mission has been particularly vital during a disheartening and isolating global pandemic.
"When so many cultural institutions have had to close their doors, public art, especially art in the form of a recreational space, resonates even more and has the ability to provide access, beauty and grounding," says co-founder Jamilee Lacey, describing the challenging yet rewarding year to Arts Help.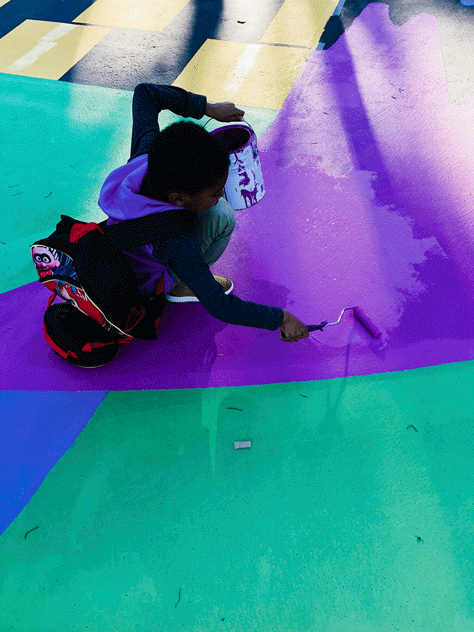 Part of what makes the recreational masterpieces of My HomeCourt so special is how they bring contemporary art into everyday life. Unlike other traditional art forms, the painted courts are physically embedded into the community and the lives of the people within it.
"It's important to have art in unexpected places, and for people who might not feel comfortable walking into the white walls of a museum," explains Executive and Creative Director Kate McNamara.
Every time a game is played, a barbecue is held, or a friendship is forged, the court becomes so much more than just paint on asphalt. The shapes, colours and designs are imbued with life and meaning, changing and growing alongside the people who use it. "Each kid has a My HomeCourt that is unique in the world. The art gives them inspiration and unconditional love and encourages them to dare greatly," says Peterson.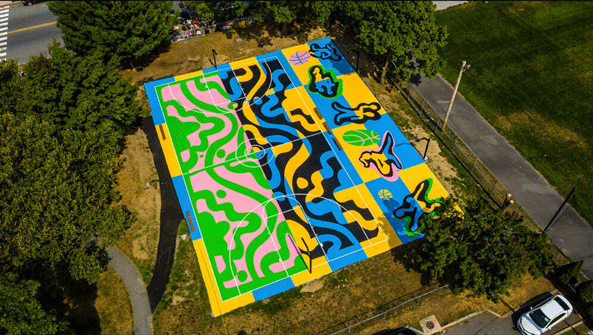 In order for the finished products to truly feel like home, the organization closely collaborates with community members and leaders, doing everything from soliciting feedback on the designs to holding events with games, food and performances to celebrate a court's completion. After the paint has dried, My HomeCourt remains committed to the neighbourhood and aims to start a public program running throughout the year that engages local schools and encourages artistic youth to build on their passion.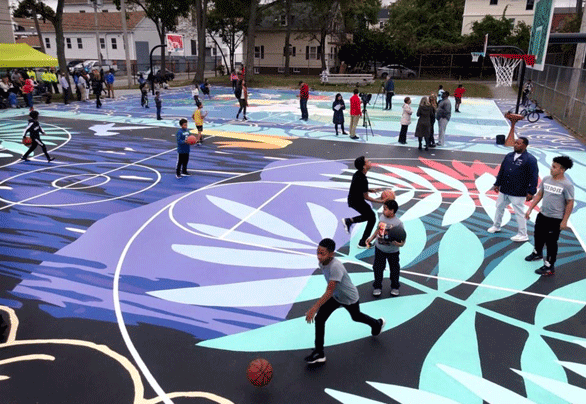 The transformation of run-down eyesores into beautiful recreational spaces does not just bring joy - it also brings healing. On October 16, 2019, My HomeCourt unveiled the Omar Polanco Basketball Court, named in honour of a local 19-year-old victim of gun violence. Watching children laugh and play on a court just feet from where Polanco's life was taken, his family who feels as if Omar's presence is with them, is grateful for the fact that his memory will live on in a place dedicated to life and love.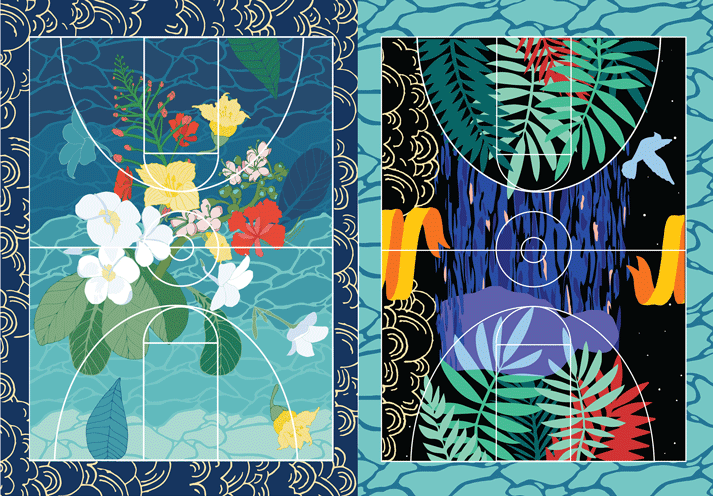 Founded only three years ago, My HomeCourt has already touched the lives of countless residents of Providence, bearing witness to the transformative powers of art and the strength of the communities that embrace it; but their journey is still just beginning.
Regarding the future of the organization, the team has big plans. "My HomeCourt has the potential to create real impact in the realm of recreation and contemporary art, and we would love to help other cities and communities if they want to use our template," says McNamara.
"We love contributing to the cultural fabric of Providence and look forward to new ways of connecting and building on the vibrancy of the diverse communities and neighbourhoods that make Providence so unique!"
To support My HomeCourt in the realization of their mission, you can donate and keep up to date with their latest projects on their website.