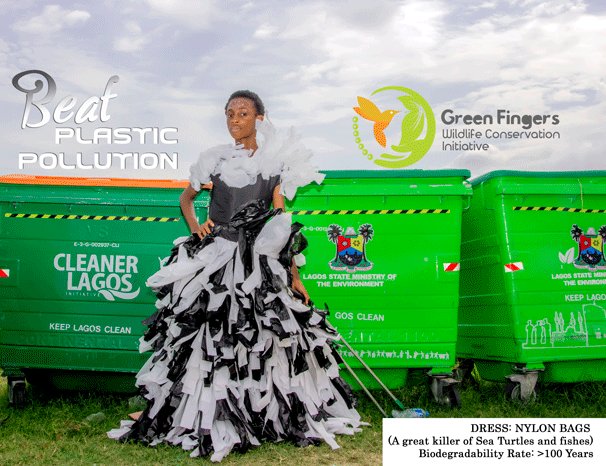 Introducing you to Esohe Ozigbo and Nicole Oko, two Nigerian teen activists 15 and 14-years-old respectively, that are championing environmentalism and sustainable fashion in Lagos, Nigeria, through 'Trashion Shows' displayed at malls. Part of a team of activists from the Green Fingers Wildlife Conservation Initiative, they design and create elegant dress pieces out of the mounting plastic pollution they find on the streets, beaches and waterways of Nigeria's booming cultural capital and one of Africa's most densely populated cities.
It is no secret that Lagos, especially its beaches, has a large microplastic problem. These slowly degrading toxic plastics consumed by marine life, embed themselves in ecosystems and make their way up their food chain to humans in the form of plastic polymers from styrofoam food containers, bottles, plastic cups, and especially, plastic water sachets.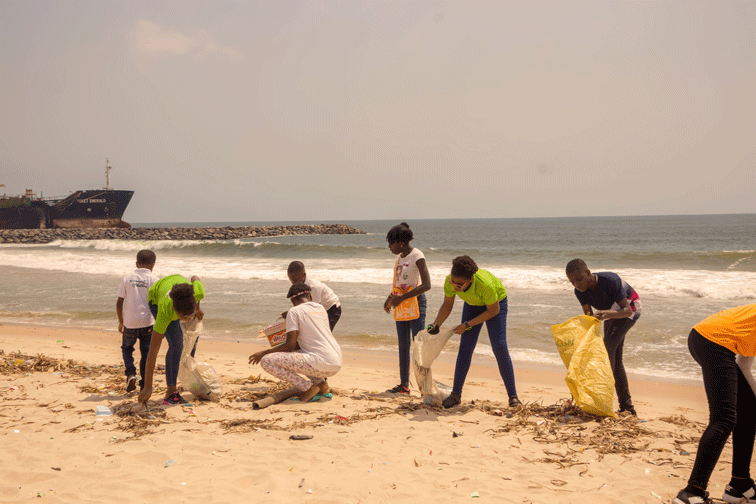 These plastic sachets are ubiquitous in Nigeria, with reports that the country goes through approximately 60 million of these a day. However, for the teen activists who want to bring awareness to this growing waste problem, plastic sachets are now a fashion fabric that they wish to use on their way to their dream of designing pieces for the Met Gala.
The following interview with the teen activists and Green Fingers Wildlife Conservation initiative covers their inspiration, design process and aspirations for their home country, Nigeria, as they touch the United Nations Sustainable Development Goals (SDGs) on Life Below Water and Life on Land.

What inspired you to create fashion out of waste?
It was simply the realization that plastics don't biodegrade. It was learning the fact that all plastics thrown in the landfills and put in our water bodies aren't going anywhere and that we are continuing to harm these ecosystems, and through this, harm ourselves. Also, art is something that we think cuts across everything and touches everyone. So we thought, why not add something that we're passionate about, the environment, to something that touches everyone, art?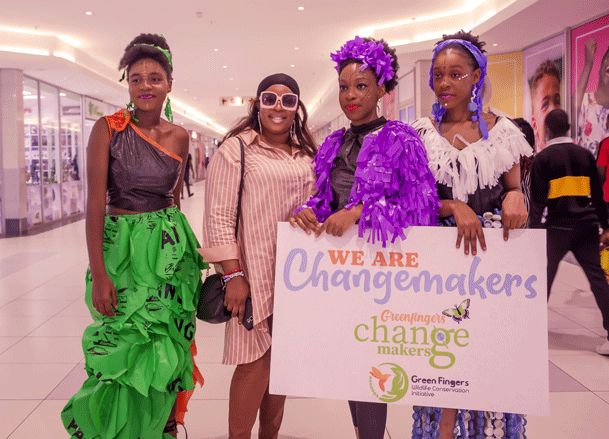 What does your design process look like and what style have you been inspired from?
We have always had a great interest in fashion and designed the pieces ourselves from the planning steps to sewing. It takes about 3 days to a week to plan the design, make the undergarments for the dresses, cut, measure, then bring the pieces together. The materials we use the most are water sachets, plastic bottle caps and plastic bags.
To create our dresses, we got our inspiration from the attire we saw celebrities and models wear at Met Gala and mixed it with aspects of Nigerian fashion.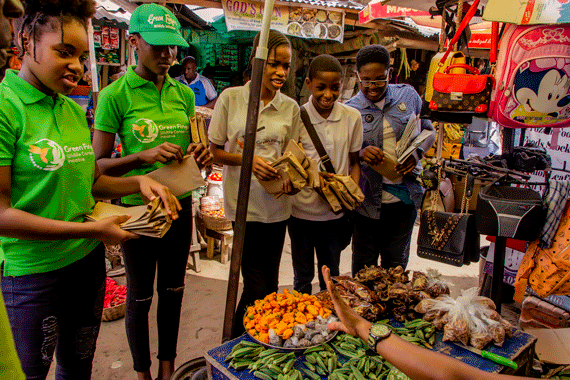 What type of trash is most typically found in Lagos, Nigeria?
Water sachets are very common because they are cheaper to purchase than bottled water in Nigeria. Nylon bags are also rampant because they are free and used everywhere in Nigerian markets. Bottle caps and bottles litter also our beaches, unfortunately, with a lot of straws thrown around.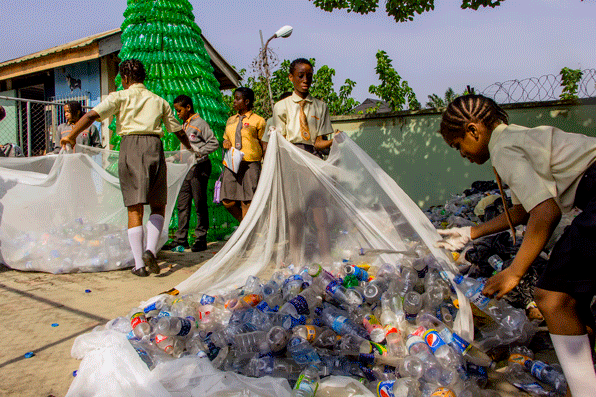 What are the consequences of such pollution to the environment and wildlife in Nigeria?
Plastic pollution affects marine animals because such animals consume our plastics and nylon bags as their food. This is not only detrimental to their health but also eventually to our own health when it goes through the food chain. It actually affects us people in Lagos and if we don't do anything about it can get worse over the years.
What has been the reception in Nigeria to your 'Trashion Show'?
A lot of people are very interested in how we came up with the ideas and what even led us to create these pieces when we held the show in and around malls. A lot of people were also very fascinated and surprised that teenagers from Lagos were the ones who designed and created these pieces.

Is this an initiative that you seek to continue and where do you plan on taking it?
We are planning on continuing this initiative and we want to take it as far as it can go, even worldwide. We want to touch as many hearts as we possibly can and change the world to the best of our abilities. We are constantly coming up with new fashion ideas.
One of the things we are very keen on is recreating the dresses worn and designed for the Met Gala by using upcycled waste materials. We then want to create beautiful sustainable pieces that can even grace the red carpet and show people that this is something that can be created from what we see as waste. This can raise awareness and get people thinking about sustainability.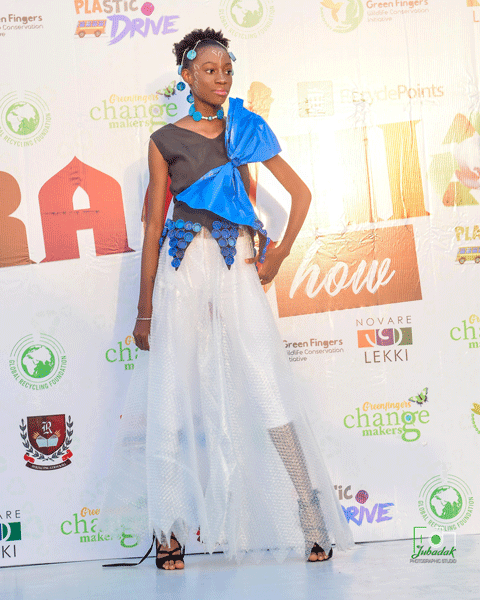 Lagos is seen as an emerging cultural capital in Africa. How do you envision Lagos' future to look like from both an environmental and cultural perspective?
I think that in a few years with the right leadership and the right education about these matters, hopefully, Lagos will be leading the rest of Nigeria and even the rest of Africa in how to manage our waste and recycle sustainably. I hope that people will also start to integrate recycling, upcycling and reusing things into their typical culture and daily lives.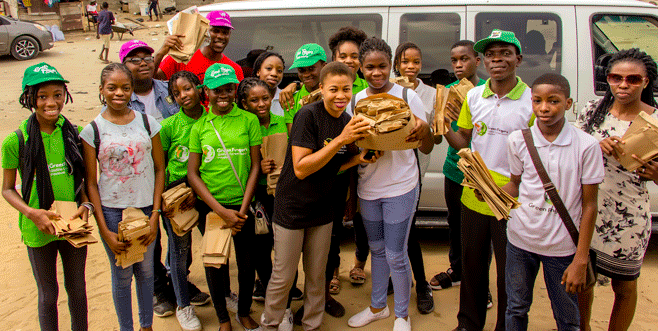 What other Green Fingers Wildlife Conservation Initiative projects are taking place in Nigeria?
As part of some of our projects, we do multiple initiatives dealing with plastic. We're currently planning on spreading awareness to everyone in Nigeria to take action and stop plastic pollution and learn how to properly recycle and reuse our plastic waste. So, our fashion show will continue to go on in the coming months and years.
We also have a tree planting initiative that students in the high school we work with are championing. When they graduate from high school, a few of them plant trees to mark the end of their stay in high school. We hope to come up with more projects before the end of the year and for the future as well.

To learn more about the non-profit organization, Green Fingers Wildlife Conservation Initiative, visit their site here.