At the conclusion of the Toward 2030 art competition, the panel of judges declared Rob Thomas, or @PricklySauce as his Instagram following knows him, the winner. Thomas created a poster regarding UN Sustainable Development Goal #16: "Peace, Justice, and Strong Institution." A craftsman and artist at heart, Thomas' submission embodied the intersectionality between art and social justice. Arts Help Editorial Coordinator Hannah Chew reached out to ask Thomas about his work.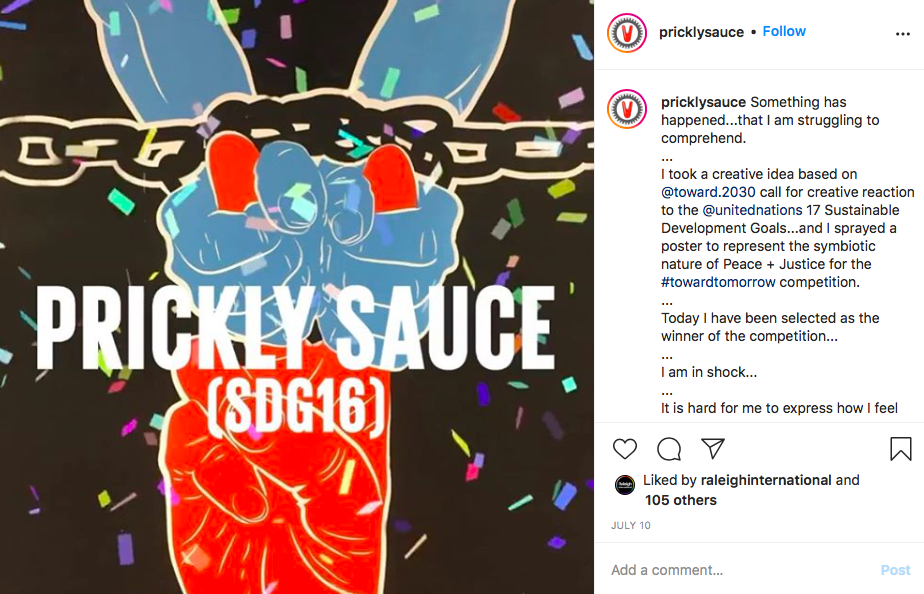 What was your inspiration for the Peace + Justice piece?
Since the end of last year (2019) I have been creating a poster every week, predominantly with a spray stencil technique. I had a desire to take my creativity into a more graphical place, away from "made" objects and the idea was to create one physical poster a week for a year. Loose, with no expectations, just create and make every week. My only intention was to give myself space to explore and learn the craft. I specifically chose to make A2 sized posters.
I had and still have a desire to work in a large size. A2 is large enough at the moment and big enough to have an impact on a wall...the wall itself is really where I want to go, though small steps. Posters are a really interesting medium.
They are throwaway, generally low-value objects. Everyday objects that promote an idea. People pass posters quickly as the poster tries to shout out about an event or a band, a film, or a campaign. It is a one-shot grab of your attention. A simplicity of thought distilled to its basic form. They are in effect, an advert.
It is freeing to me to learn my skills with the premise of the poster for the very nature of its cheapness and short lifespan. A super-fast iteration of creativity and technique...I love it so much that I do not see myself stopping at 52!
Peace + Justice came out of this process. Every week, I need a moment of creative thought for that week's poster, and I heard about the Toward Tomorrow competition through Juxtapoz's podcast. I was intrigued and it was definitely worth checking out and ultimately it would give me a subject for that week's poster.

Can you explain the symbolism behind the colors, composition, and image for this piece?

How can you sum up such a large statement of intent such as Peace, Justice, and Strong Institutions, in just one moment, in one piece of work? Wow!... I had a complete blank. Nothing. White space.
One of the huge benefits of creating posters is the simplicity they demand. It became a process of simplifying my thoughts around the subject. There were three different ideas within one goal, seemingly to me, separate. It intrigued me that they had been grouped together. Surely they were strong enough to stand on their own as individual goals. Someone somewhere had taken the time and thought to bring them together. It was this thought that brought me to the realisation that they were all connected.
We have real justice only if we have peace. Peace can only be possible if we have real justice. The connection of the two has to be balanced for them to be strong. That was the takeaway, the one thought that the poster had to shout out.
The image came very quickly from that realization. I chose not to use any text so the image could be read in any language. The word peace to be represented by the ubiquitous splayed two finger peace sign. Justice could either be a balance of the scales, or the bounding of the temptation to commit harm against the norms of society, an image of the individual bound. It seemed to me a perfect way to express the connection between these seemingly disconnected parts of our society and their symbiotic nature. I was stoked when it came together. I knew I had a strong image.
Colour is a funny thing. I am severely colourblind and undoubtedly have a differing perspective to colour. In one way, it is super important to me, in other ways I do not totally understand it and its subtleties. Bold colours attract me, spray cans are singular colours that appeal to me. Posters need an image that pops. The one distinct decision that I made concerning colour was that I did not want the work to be about race. It could not represent any notions of individual racial groups. This had to be about us all, whoever and wherever we are in the world.
The choice of the red of peace and blue of justice is the fact that they do not culturally (that I am aware of) represent any group, except to represent the difference between the two images.
They are also highly contrasting colours and in a sea of black. They help to make the image impactful.
Why did you choose SDG16 as inspiration for your work?
I would like to say that I had a strong connection to it, though I am sad to say that before hearing about the competition I had no idea that these UN goals even existed. The great thing is, now I do, and I hope through this competition and the work that has been created, that many many more people are now aware of their existence and relevance.
As artwork was submitted, I was struck how deeply that other creatives and artists had researched their chosen goal to produce their work. Such as the work by Out.iam for SDG8 ,a beautiful piece of work created and inspired by such a level of depth and understanding.
I personally was overwhelmed by being faced with seventeen goals. All huge ideals, all important in their own rights. I could not even conceive how I would make a choice. Often being bound by a restriction is more creative than being faced with a choice of everything. I asked my phone to pick a random number for me!
It gave me number 16...Peace, Justice and Strong Institutions. I can't tackle that! It just felt like such a huge concept. I wanted the phone to pick me another number. I couldn't face a cycle of number after number. I had to work with what I was given. Is this not where creativity lies, in the places that you don't necessarily understand?
You describe yourself as a "carpenter, joiner, adventurer, designer, computer and electronic dabbler, print maker, windsurfer, bread maker." How does your interdisciplinary approach inform your art?

I hate boxes. We all do it, we ask the question 'what do you do?' As if the work we do defines us and what we are. We are put into a neat box. If at a push, I would call myself a creative maker, though I consider that everything that I do and have done is, to me, the same.
I come from a practical background of making and over the years it has slowly shifted into a place of creating with a mental shift built around creative thought. I am as happy and inspired in making a garden room as I am in making my posters. They really are one and the same to me.
Over the period of making the posters I have also written a novel that I am now editing. For me just another creative route. Another outlet and new skill set to learn, though fundamentally the same creative process.
Everything that we do in life will lead into us at this very moment. I consider that I am new to making graphical work in the form of a poster that might be considered as art, though I know I would not have got to here without moments along the way. Learn to printmake, morphs into spray stencilling that brings a familiarity of process. Creative thought to make a product informs a thought process to make a poster. Spray stencilling words onto furniture is not a great step to making posters.
The constant is the physicality of making. I have to make with my hands. The posters images are a process of hand tracing over photos in Illustrator and I could easily produce them digitally, though for me there has to be that hands on process. The smell of the paints, the mis-registration of stencils, the slight over sprays that show the inconsistencies. I guess it brings the human back into the work.
How do you think design, functionality, and art connect (in your own work)?
As a young boy, at the age when you want to be a fireman or astronaut...I wanted to be an inventor.
I have such a clear image of rummaging around in an old plastic ice cream tub of found bits. Screws, springs, broken toys. I would endlessly play with a pointy metal spike with a metal disc attached. Undoubtedly a component from an old kitchen utensil. I was fascinated by it. I had no idea what it was. I just had this burning thought that I wanted to be an inventor.
I feel that I have become what I wanted. I trained in more recent times as an architect though I came to realise that I was not one. It was the catalyst that opened me up.  I am undoubtedly a designer. I am a creative maker. At times I am an image maker. I am all of these things, all of the time and truth be told I think I have always been, though it took me most of my life to understand that. The question for me isn't how they connect, as they are all the same, at the same time. I just make no distinction between them. I am as excited about the prospect of designing and building a garden room, as I am at stencilling this week's poster.
It is so powerful to know that I have become the reality of that young boy's dreams.
Final personal thoughts...
Having to sit and think through these questions has been an intense and unusual experience for me. Within life it is rare to have the opportunity to reflect and I thank you for that. I thought this would be easy and had no idea how much I needed to explore and consider. Every answer has so many connections that start to spark, and through it I have gained insights into my own journey. I explain the process and thoughts behind my poster Peace+Justice. Putting that down in words does not imply the reality of real time. I still feel that I am learning the craft of expressing my ideas through the posters. I am a beginner in my head.
The thought process to make the image was super fast... maybe a day to let my mind wander with the tick of a day's work. A spark of an idea and to me what has become an easy process of transferring that into an image, stencils and a sprayed poster. I entered the competition as a 'why not...that would be a cool thing to do'. It gave me a subject for that week's poster and it would be great if one or two people might see it. That for me was the win. I was shocked to be chosen to represent goal 16. 'No way!' How could that be?
The work I had seen by the other creators and artists was incredible, beautiful, insightful and of a level that I could not achieve.
I am still in shock to find that my poster, that moment of creativity, has resonated with people to such a degree that I have been awarded the honour of representing Toward Tomorrow. I am truly humbled to find myself here and to realise that something I have created has taken on a life of its own.