In Rwanda, a violent genocide plagued the country in 1994 when extremism within the Hutu majority population set out to kill the Tutsi minority and all those who opposed their intentions. During this period, over 800,000 civilians were killed and millions fled. More than 25 years later, Rwandan women continue to face the long-term traumatic impacts of the violence that are amplified by financial, social and cultural gender inequalities.
Following the events of 1994, a local Rwandan woman, Christiane Rwagatare, felt compelled to help women back into the workforce and into jobs that would support their livelihoods. Like all Rwandans, the genocide is intricately woven into Christiane's story. Christiane returned to Rwanda in 1994 after fleeing the unrest that had plagued the region.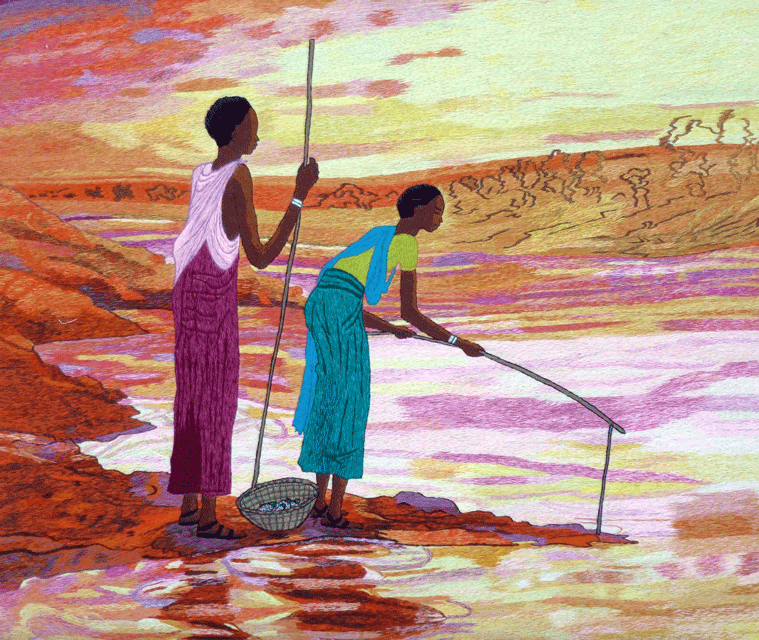 In 1997, she encountered a small circle of self-taught women in Rutongo who were striving to make a living by embroidering tablecloths and other small linen items. Christiane, eager to support the reconstruction of Rwandan life, announced that she would start an embroidery workshop. To her surprise, the response was overwhelming: over 100 women applied with samples of their pieces.
"I must admit that I panicked," Christiane explained. "I had to explain to them that I could not afford to supervise all of them, since my income was limited and the room I planned to rent from the priests wasn't big enough." Given the restrictions, she was faced with choosing the 15 women she felt showed the most skill, and from there, the workshop, named Savane Rutongo-Kabuye, came to life.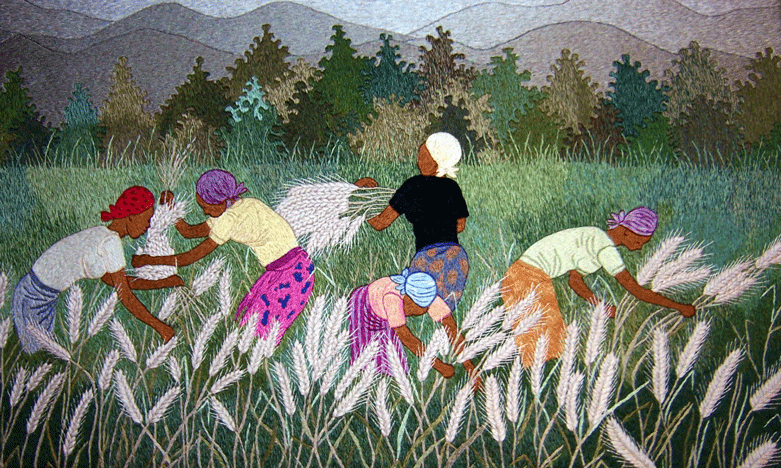 Christiane founded Savane Rutongo-Kabuye to provide a recreational, income-generating and creative outlet for women affected by violence on both sides of the conflict. For the past 25 years, the women of the Savane Rutongo-Kabuye collective have been transforming their memories, their environment and their stories into beautiful textile creations.
These embroideries, as well as beautiful, are also deeply meaningful. Many Western people tend to associate Rwanda with the bad things that have happened there, specifically the horrors of the genocide. But through this work, women who have called Rwanda home their whole lives are illustrating the everyday intricacies and cultural richness of Rwandan life. It is a way in which they can reclaim the narrative of their homeland. By creating this vibrant art, they are reminding the world of the true beauty of Rwanda and its people, rather than allowing themselves to be defined by their traumatic past.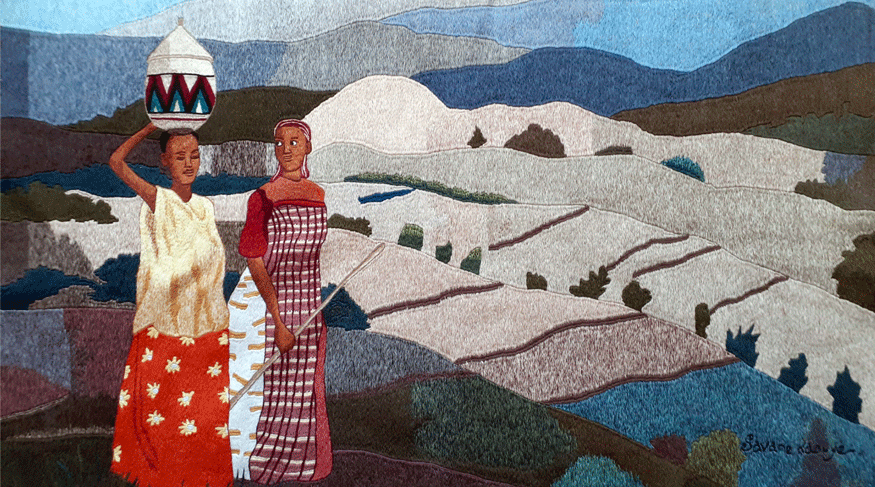 This collective of artists is one among many in Rwanda, mirroring a larger movement taking place throughout the country: reconciliation, reconstruction and the pursuit of peace, deeply interacting with the United Nations Sustainable Development Goal for Peace, Justice, and Strong Institutions.
In 2010, Juliana Meehan entered Christiane's shop as a tourist visiting Rwanda. She was immediately taken aback by the beauty of the pieces and the craftsmanship involved and bought several. Before leaving, Juliana asked Christiane if there was anything else she could do that would be beneficial to her efforts. Christiane shared that the ultimate goal would be having a show in the United States.
"I returned home with a mission," Juliana said. "To support their efforts by bringing these works to the attention of the American public. I knew people would love them as I did." The works have now been shown in museums and galleries in New York, New Jersey, Ohio, Washington, DC, and are now part of the travelling exhibit owned and curated by Juliana Meehan, Pax Rwanda: Embroideries of the Women of Savane Kabuye.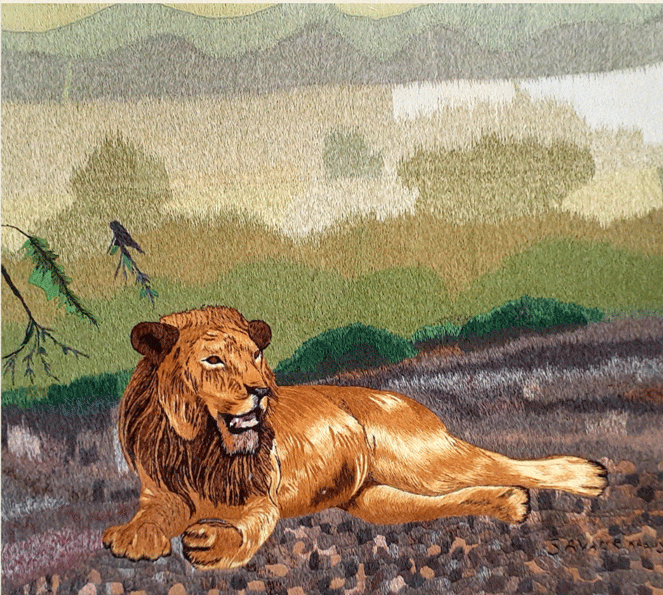 The artists have rejected the idea of signing their individual names to their work and instead choose to sign each piece with the name of the collective. This decision emphasizes the strong sentiment of community that has been constructed over these two decades, as well as the true nature of the collective, which is a greatly intertwined process, with multiple stages of the pieces being prepared in collaboration.
If you look closely, very rarely does one area of an embroidery piece consist of a single colour, as their technique consists of feeding threads of three different colours onto a single needle to achieve delicate blends of colour. This needlework creates amazing depth, vibrancy and detail, much like what a painter can achieve with a brush and paint.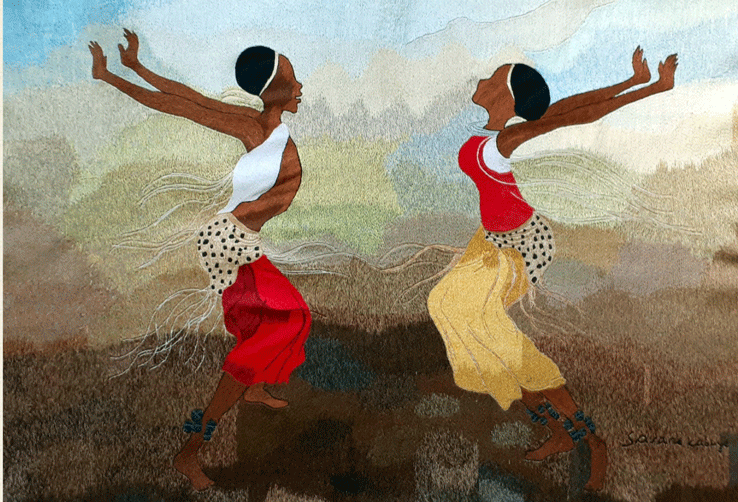 Savane Rutongo-Kabuye's mission is to support women's creativity, talent and livelihoods by offering pieces for sale to ensure continuity of work, and to exhibit these works in venues across the United States to spread the joy of this art. The dedication of Christiane to creating work for women through art embodies the motivations behind the United Nations Sustainable Development Goal for Decent Work and Economic Growth and Gender Equality.
Seeing how these momentary crossroads in the lives of all these women created such a deeply meaningful community of artists is a beautiful reminder of the ways in which we each hold the capacity to amplify someone else's voice. The story of Christiane and Juliana offers a perfect example of how a curious, open mind can make a concrete difference in individual lives and a ripple impact that inspires others to do the same.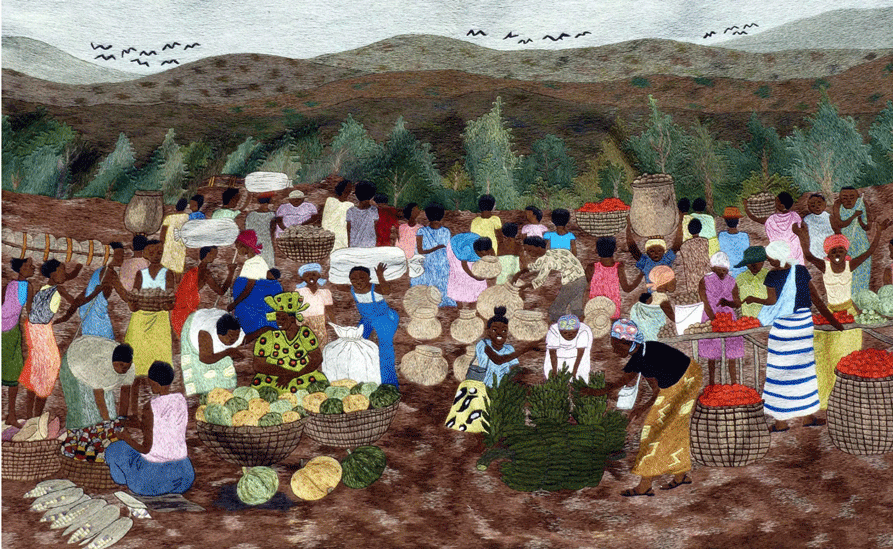 ---
You can visit the Pax Rwanda website here.