At first glance, the Boston-based gallery started by Eben Haines and Delaney Dameron seems to be an ordinary event space featuring new exhibitions daily on social media. After greater examination, viewers learn that the Shelter in Place Gallery, another creative product of the COVID-19 pandemic, operates on a 1:12 scale, meaning one inch amounts to one foot of space.
This "shoebox" gallery began when stay-at-home orders prevented artists from showing work in a traditional sense. Haines and Dameron looked at a forgotten side project, once a model for Haines to experiment with, and saw an opportunity to help struggling artists. The two quickly gained support through the Transformative Public Art grant from the City of Boston Mayor's Office of Arts and Culture and built a system.
Run out of their apartment, the miniature gallery is meant to allow artists to experiment with installations that would usually be too expensive and large. Also, the smaller material costs enable contributing artists to work from home and do not require studio production. Haines and Dameron review each submission personally and encourage ambitious projects. Once selected, artists can drop-off or mail in their exhibition, which is displayed in a solo show for a few days.
Like many galleries, the Shelter in Place Gallery is accessible only through social media and their website. The small-scale makes photography necessary, and alongside safety precautions, both founders believe an online approach is vital. As the gallery exhibits new artists, their Instagram following continues to grow, and their messages of hope continue to spread.
Since its founding earlier this year, the tiny gallery has put on more than thirty shows and continues to plan accessible, innovative programming. Past shows include Wilhelm Neusser, whose dark and intense landscape painting unfolds into the gallery space like a curtain. His work was exhibited and featured on Shelter in Place Gallery's Instagram from April 6-9, 2020.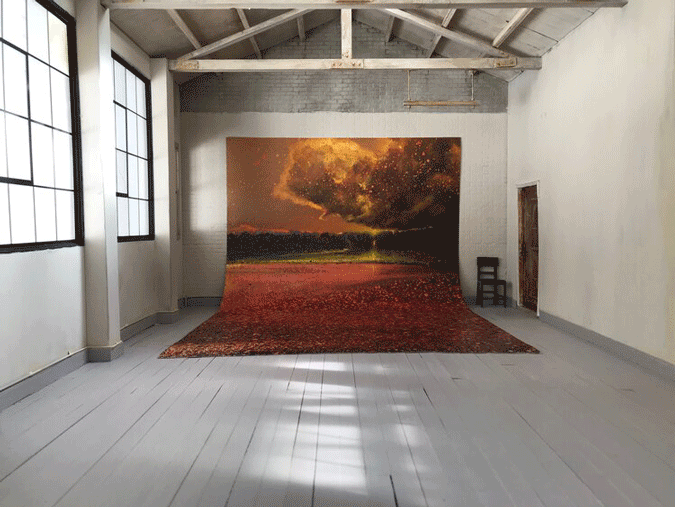 Rae Yuping Hsu's work Contamination (2020) explores the circumstances of COVID-19 itself. Combining the unlikely objects of bacterial cellulose (SCOBY), documents verifying his status as an international student, and hair, the exhibition is a more in-depth examination of what brought the Shelter in Place Gallery into being.
A recently exhibited July artist Jennifer Liston Munson took the very large visuals and made them minuscule. Munson found inspiration from driving through Mexico City, where unrented billboards were pieced together from recycled sign panels, creating an image of their own. Her exhibition is a model office space with walls lined by these unlikely pieces of abstract art and human expression.
Throughout the uncertainty and hopelessness, Shelter in Place Gallery provides a pathway towards change in the art world. As the "new normal" continues to change, Haines and Dameron pledge that the gallery will keep adapting and learning.
To find out more about Shelter in Place Gallery or submit your own work, visit https://www.shelterinplacegallery.com/.