They are undeniably compelling in their complexity, mysteriousness and beauty. The sculptures of artist Simone Leigh are at the forefront of the conversation on Black female subjectivity. After more than 25 years working as an artist, Leigh will be making history at the 2022 Venice Biennale representing the United States. Commissioned by the Institute of Contemporary Art, Leigh is the first Black woman to work on the country's pavilion, estimated to cost roughly $2 million, the majority of which will go towards new work by the artist.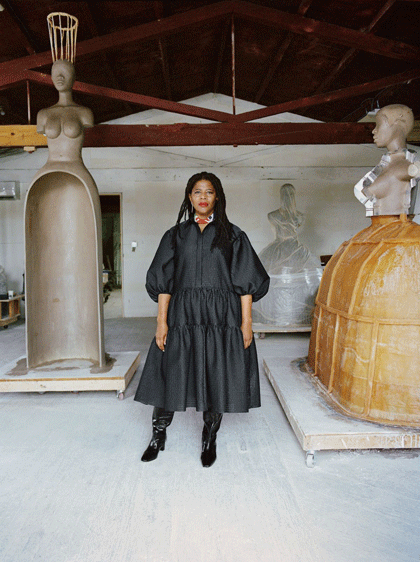 After receiving her Bachelor's degree in Art and Philosophy from Earlham College, she trained in traditional ceramics. After spending a semester as an intern in Washington at the Smithsonian National Museum of African Art, Leigh developed an interest in contemplating issues surrounding the historicization of objects connected with the African diaspora.
As a Brooklyn-based artist, Leigh now holds a high degree of visibility in the art world. While obstacles initially held her back from immediate success, her firm commitment to addressing Black women as both the subject and spectators of her work has set her apart from others in her field. With her target audience being Black women whose narratives have been left out of history, she brings an attentiveness to the beauty and complexity of Blackness through her work. In doing so, she is engaging with Sustainable Development Goal (SDG) 10 on Reduced Inequalities by empowering and promoting the inclusion of all.
"I've been thinking about the labour of Black women, what forms of knowledge they carry, what kinds of labour they are involved in that's not valued. The strategy of doing things underground, doing things secretly, became necessary because being public was often lethal," said Simone Leigh in an interview with Guggenheim Museum.
Commonly known for using materials including bronze, ceramic and raffia in her sculptural works, the artist also spends her time developing performances and films. One such work includes Free People's Medical Clinic, a project Leigh realized in 2014 that was focused on community and healing. Interestingly, because it was only in operation for a month as a community-based art commission, it now only exists through documentation. As an impermanent space, this conversion of a residence in New York allowed for the deeper exploration of the hidden work done by Black nurses and doctors.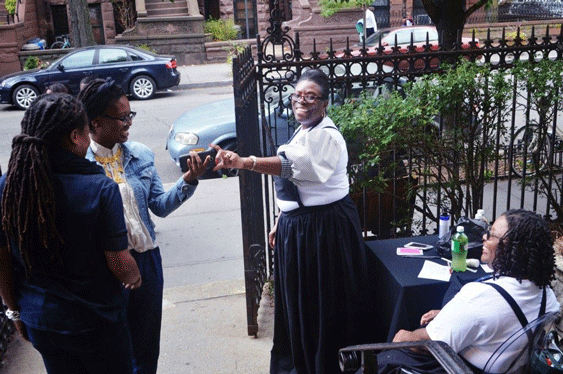 Some of Leigh's most iconic works include her sculptures. What also sets the artist apart is her use of ceramics, a medium often brushed aside. Leigh's sculptures are often missing features. This is evident in her works Stretch (COBALT) and Jug, both of which have no ears, and the spaces where their eyes would be, have been smoothed over. This creates a sense of mystery and suggests that they are safeguarded against hearing from or seeing the viewer or are refusing to see or hear.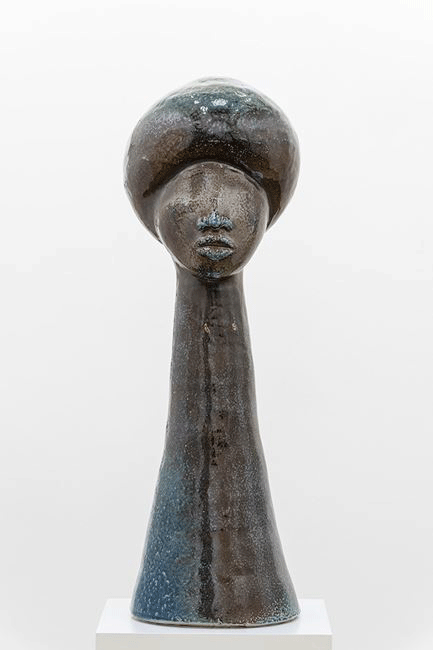 It is clear the artist is both comfortable and enjoys working large-scale as her colossal works take up space, demanding the attention of audiences. An example of this is Brick House. On the High Line in New York City from June 5, 2019 through May 2021, Leigh's monumental bronze bust of a Black woman sat 16 feet tall against the surrounding landscape of steel towers and industrial-era buildings.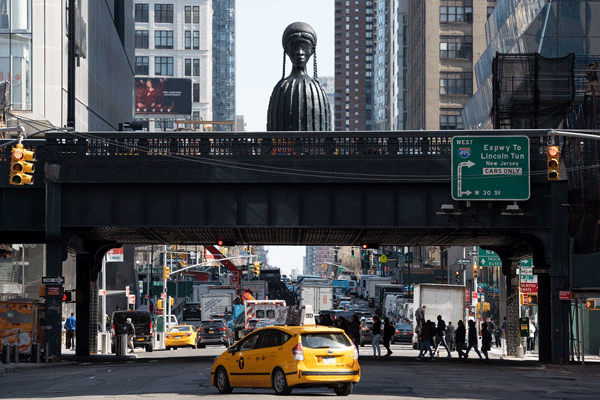 As part of an ongoing body of work, Brick House represents the strength and endurance of Black women. Known for her use of sculptural forms that act as a stand-in for stereotyping Black bodies, the artist uses her entire body and mind to create a sculpture including a torso that simultaneously combines a skirt and the form of a clay house. The resulting work is incredibly powerful and dares viewers to not only confront but move beyond Black stereotypes.
"The way you understand a sculpture is by relating it to your own body, so you feel its edges and its presence in space by that relationship. When I think about a young Black child relating to that sculpture, it's very exciting for me," said Simone Leigh in an interview with Guggenheim Museum.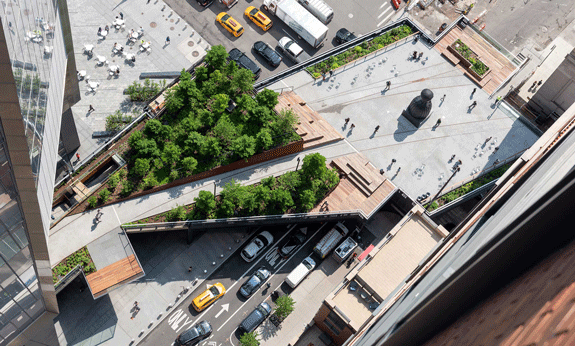 Represented by Hauser & Wirth, more information about Leigh can be found on their website. More of her work can also be seen on Instagram.