"Our generation was thinking, who are we as Native people?" Joy Harjo, the first Native American to serve as U.S. Poet Laureate, observed at a reading of a poem she wrote for T.C. Cannon.
Since his untimely death in a car crash at the age of 31, painter, poet, and musician T.C. Cannon had been largely forgotten. However, a recent rediscovery of his work has brought the impact of his art into the limelight.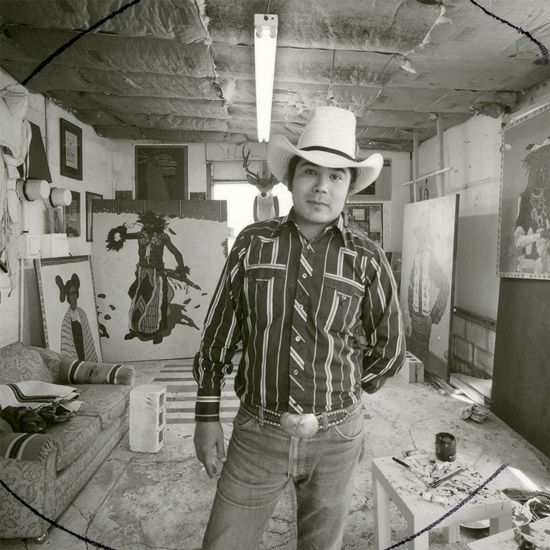 "This exhibit inserts T.C. Cannon's rightful place in American art as well as his place in the pantheon of the great Native American artists," says Karen Kramer, curator for the exhibit T.C. Cannon: At the Edge of America, which ran between 2018 and 2019 in several museums, including the National Museum of the American Indian in New York.
While At the Edge of America comes from a line in one of Cannon's poems, the name of the exhibit also alludes to something deeper. "It refers to how Native people have been marginalized over time and how Native American art has been left out of the American canon," Kramer explains.
Tommy Wayne Cannon, better known as T.C., was born in 1946 in southwestern Oklahoma. Having Native American heritage — his father was Kiowa; his mother was Caddo — Cannon registered as Kiowa with the name Pai-doung-u-day, which means "one who stands in the sun."
In 1964, Cannon enrolled in the recently opened Institute of American Indian Arts in Santa Fe, New Mexico. Described as "a United Nations of Indians" by Alfred Young Man, a Cree student, the IAIA was the meeting point of people from Native American groups across the country.
In an effort to step away from the traditional representations of rituals and hunting and to revitalize Native art, the IAIA chose to offer students the same art education as non-Native art students. Thus, Cannon was able to draw inspiration from great European painters like Henri Matisse and Vincent Van Gogh, as well as American contemporary painters such as Jasper Johns and Robert Rauschenberg.
Cannon attended IAIA for two years and then went on to study briefly at the San Francisco Art Institute in 1966. Just after two months, he left to enroll in the U.S. Army, becoming one of the more than 42,000 Native Americans that fought in the Vietnam War. After serving for two years as a paratrooper in the 101st Airborne Division, Cannon returned home in December 1968.
The war took a toll on him. "He was quieter, more serious. He threw himself into his painting and drawing," says Joyce Cannon Yi, his sister. In the painting titled Soldiers, Cannon depicts a man divided in two: half Native warrior, half American soldier.
With his career on the rise, Cannon and his former instructor Fritz Scholder held the 1972 exhibit Two American Painters in what would later become the Smithsonian American Art Museum. Gallery owner Jean Aberbach purchased almost all of Cannon's paintings. Had he not died, Cannon would have had his first solo show at Aberbach's gallery in October 1978.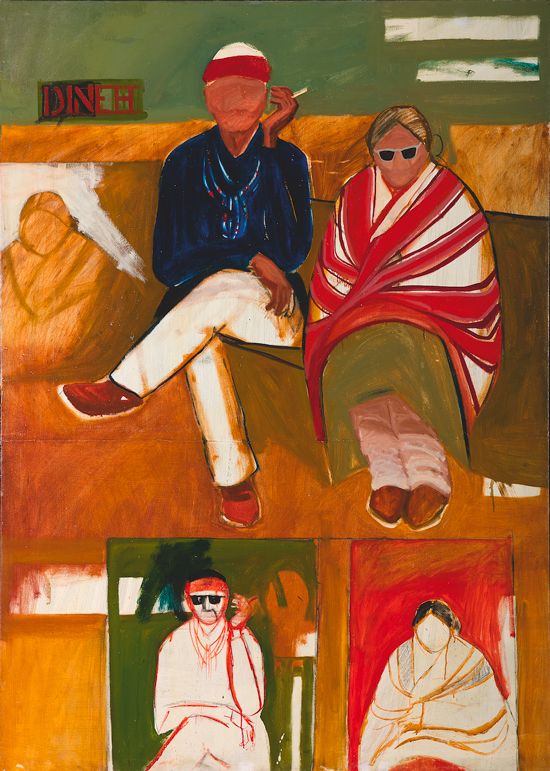 With over 80 works that include 50 paintings, a dozen poems and songs, and some drawings, Cannon left a significant legacy for such a short lifespan. His portraits of Native Americans are bright, colourful, and modern, typically depicting his subjects wearing a mixture of traditional garments and Western accessories, or vice versa. In Two Guns Arikara, a man wears a U.S. military scout uniform and traditional Plains Indian adornments. In Mama and Papa Have the Going Home Shiprock Blues, a man and a woman wear Navajo textiles with dark sunglasses.
"It's not just about survival," Harjo continued. "But it's about how do we know ourselves as we know ourselves, not always up against the colonizer. How do we know ourselves as people, cultural people, with dignity and with these amazing stories of who we are and who we come from and where we're going."
Striving for Reduced Inequalities, one of the United Nations Sustainable Development Goals, Cannon presented Native Americans the way he saw himself — not as a stereotype or a victim, but as someone both proud of their traditions while also able to thrive in contemporary society. Someone who remembers the tragedy of the past but looks hopefully into the future.
"I have something to say about experience that comes out of being an Indian. But it is also a lot bigger than just my race" Cannon remarked.
An artist ahead of their time, T.C. Cannon imagined a world full of possibilities for him — a world away from the edge.
You can see some of T.C. Cannon's works at the Western Eyes: 20th Century Art Here and Now exhibit in the New Mexico Museum of Art until January 8th, 2023.