The drive for sustainable art is steadily growing, with terms such as "recycled", "natural", and "plastic-free" flooding the media in relation to fashion, architecture and more. Sustainable art was taken one step further by Dutch designers and artists Pascal Leboucq (Company New Heroes) and Erik Klarenbeek (Klarenbeek & Dros) in collaboration with Amsterdam-based studios, Biobased Creations/Company New Heroes and Dutch Design Foundation with their project The Growing Pavilion.

The Growing Pavilion received an Honorary Mention at the S+T+ARTS 2021 Prize for "Innovation in Technology, Industry and Society stimulated by the Arts" and stands to reduce the rising impact of climate change and the use of fossil resources. The Growing Pavilion is a house-like installation with an eye-catching exterior, with an interior featuring furniture, clothes, benches and more all made without the use of factories or non-reusable materials.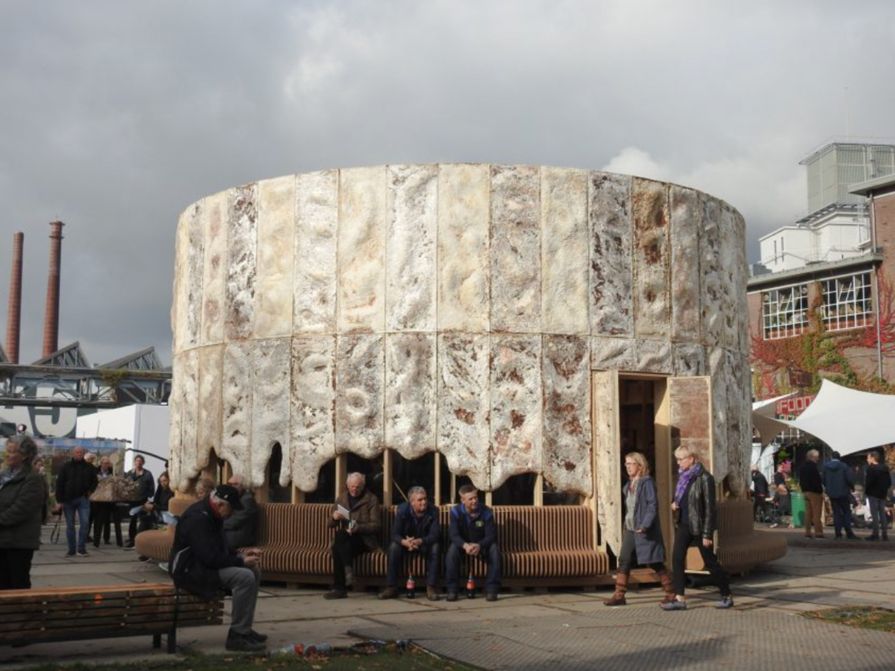 The Growing Pavilion aims to stimulate conversations surrounding fully biobased creations, highlighting the possibility for a more sustainable future in housing design and living. By combining many years of research with aesthetic intent, the prototype home displays "beauty and strength in the construction of the pavilion itself" as described by S+T+ARTS. Designer Pascal Leboucq of Company New Heroes explains the concept of "circular construction" in the creation of his ideal Pavillion, which demonstrates power and beauty without the use of "one-way ticket materials".

Biobased Creations/ New Company Heroes hopes to educate professionals and the general public on the benefits of biobased creations through active storytelling and imagination. They want to spread awareness for the sheer number of biobased materials available for construction use while simultaneously creating a platform for other designers to further explore these materials.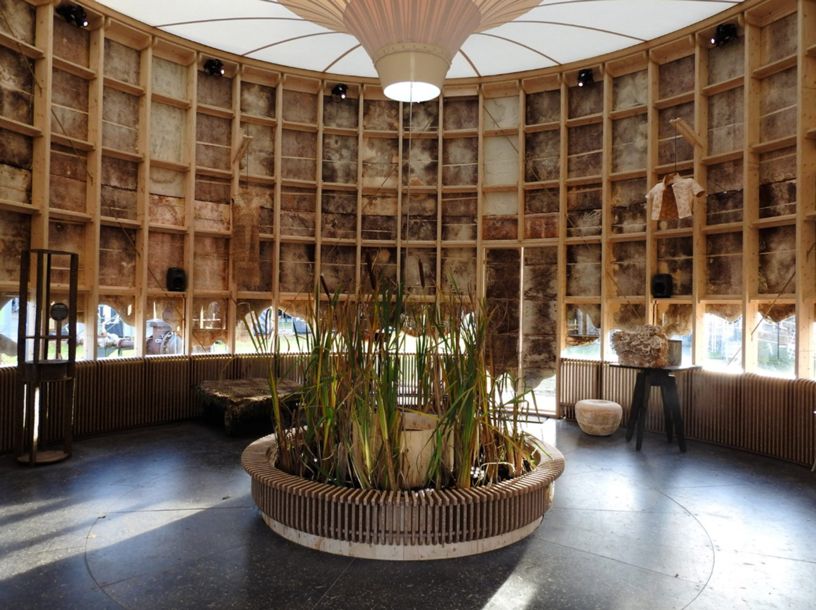 Instead of using factory-made materials, the Pavilion is constructed from raw materials, including wood, residual flows from the agricultural sector, mycelium, bulrush and cotton. The materials are all utilized in a way that emphasizes their natural appeal though organic textures and colors. The project's design includes mycelium outer panels to provide strength, which are then covered in a bio-based coating whose usage can be traced back to the Maya people in Mexico. Attached together with a timber frame, the panels can be removed and adjusted.

Around the Pavillion, benches were created by Atelier NL from trees that fell during a storm in Eindhoven earlier that year, demonstrating functionality by giving viewers a place to sit in an ecological manner. The inside of the Pavilion houses furniture and clothing made by designers introducing materials, such horse-manure based manureality by Martijn Straatman and Living Skin by Aniela Hoitink, made from mycelium, kombucha and algae.

The Growing Pavilion was featured in an article by Forbes highlighting the use of mycelium (a network of fungus fibers) as a future production method that is already commercially available and actively being tested and developed to strengthen the material and finetune its production.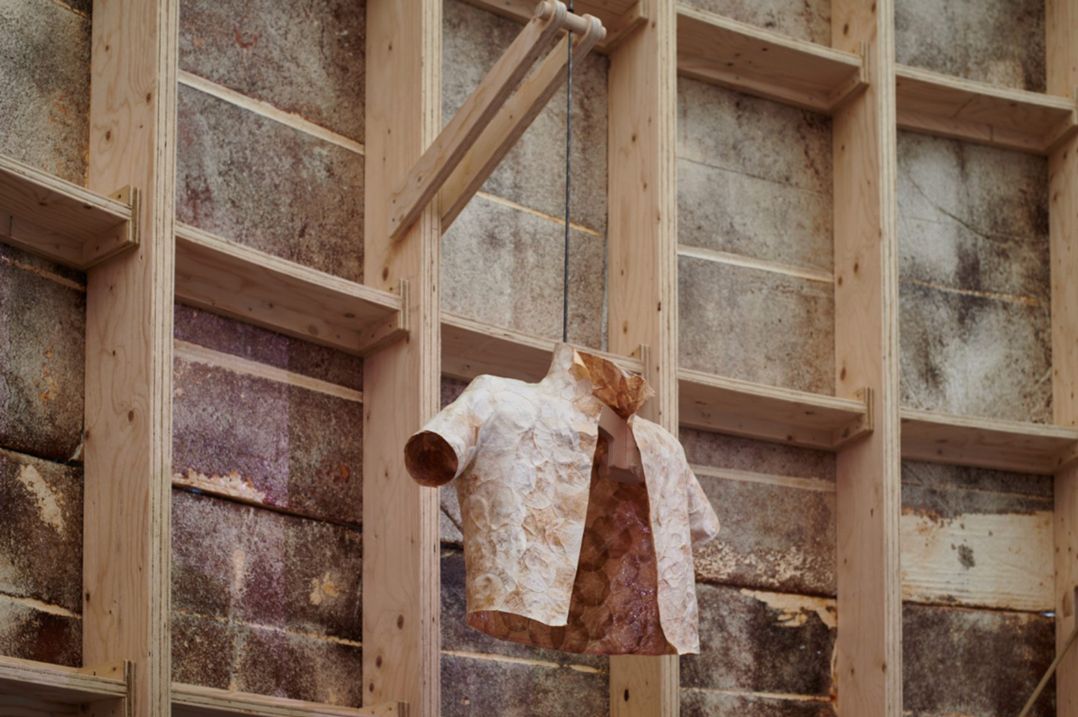 "The core idea of growing instead of manufacturing is seen as a very promising pathway into a sustainable future" say the artists in a statement for the S+T+ARTS awards.

The intention of The Growing Pavilion highlights the United Nations Sustainable Development Goals for Industry, Innovation and Infrastructure, Sustainable Cities and Communities, and Responsible Consumption and Production. In designing and making this installation, Leboucq wanted to expand the parameters regarding sustainable art and work collaboratively since designers and small companies work better and faster when working together.

The Pavilion was first displayed during Dutch Design Week 2019 and will soon be available for viewing during Floriade Expo 2022 in Almere. Visit the IOP Conference Series: Earth and Environmental Science for interesting scientific findings regarding building and insulating with mycelium bricks.