Vipoo Srivilasa is an award-winning contemporary artist, advocate and curator. He was born in Thailand, and now resides in Melbourne, Australia. Through his art practice, Srivilasa creatively blends his cultural heritage with his personal experience as a migrant.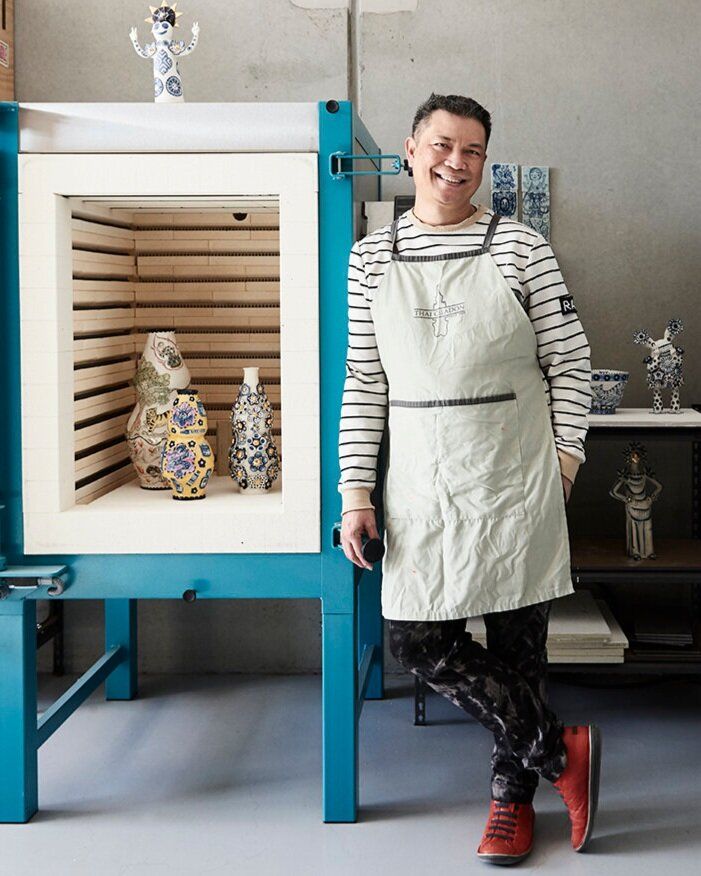 The artist's idiosyncratic vessels and whimsical character-driven figurines are the product of a fruitful imagination, a deep-rooted spirituality and a passionate flair for storytelling. Srivilasa works predominantly in ceramics, specifically porcelain, but has also made paintings and bronze sculptures and designed public art. As a thoughtful artist and mentor, he aims to make work that is, above all, positive, uplifting and full of joy.
In an interview with the National Association for the Visual Arts, when asked why art is important, he responded:
"Art means happiness. Because when I make art, it makes me happy. And when people look at my art, they're happy…happiness is art."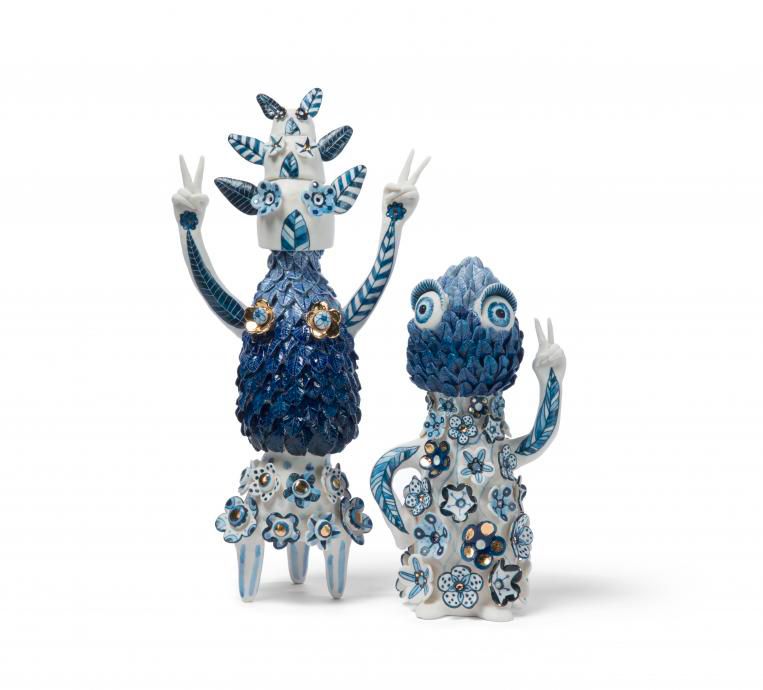 Drawing on a rich arts and crafts tradition, Srivilasa has worked in white and cobalt blue since 2005, when he first exhibited ceramics in Bangkok. In Thailand, this use of colour is known as laicram, and Srivilasa felt it essential to connect with Thai viewers by utilising this palette.

He spoke to Culture Victoria about this colour convention and its underlying meaning, stating: "I just wanted to make something that relates to Thai people or allow Thai people to relate to my work."
At first glance, his finely detailed porcelain pieces appear like sacred religious deities, but upon closer inspection, they are a playful combination of human and animal features. These powerful zoomorphic sculptures comprise series, which is how the artist likes to work. Each series explores a divergent spectrum of issues from same-sex marriage, overcoming negative emotions, social equality, cultural displacement, the effects of colonisation and environmental concerns, to name but a few.
Using his artistic practice as a vehicle to actively communicate these central issues, Srivilasa generates discussion and fosters positive change. His decorative porcelain works convey a light-hearted depth and an infectious sense of joy that ultimately strengthen the United Nations Sustainable Development Goal for Reduced Inequalities.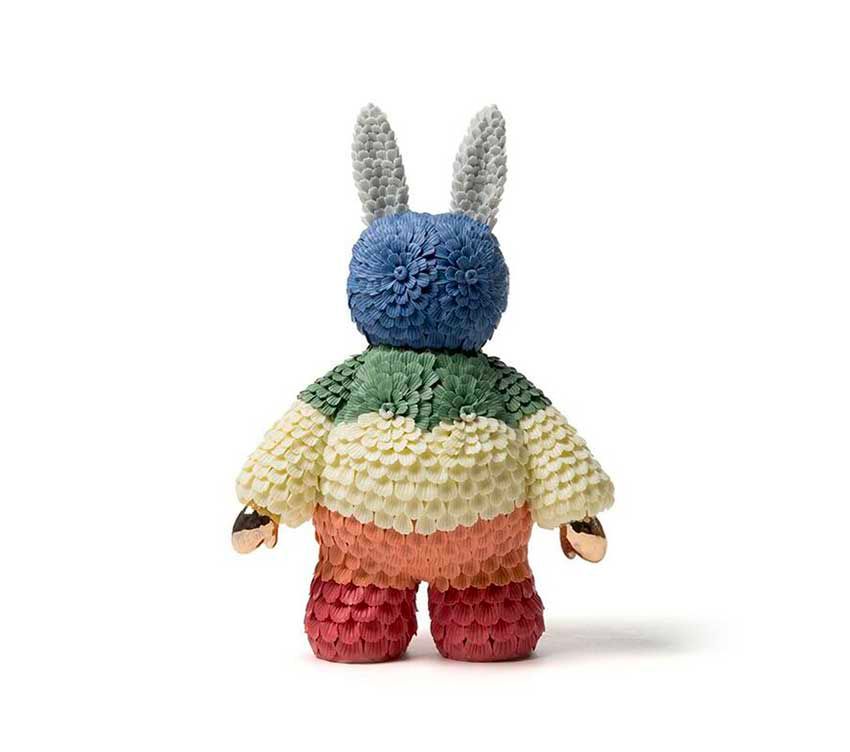 In 2021, Srivilasa exhibited Wellness Deity at Linden New Art in Victoria. Even though Srivilasa had a planned body of work to display, the COVID-19 pandemic curtailed his original approach. The artist engaged with the local community by issuing a callout to submit designs of their own divine being — a deity that has an exceptional emboldening or defensive ability to fight not just the virus but also other consequences, like social limitations.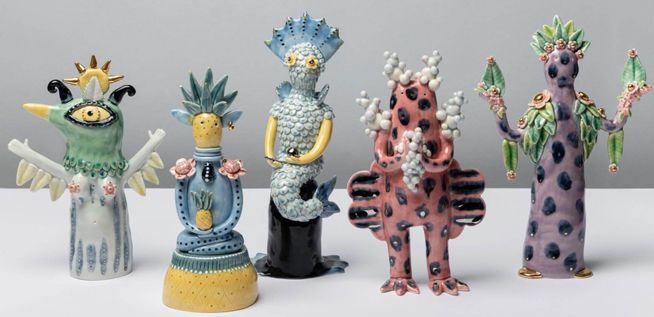 Srivilasa decided upon nineteen deities that struck a personal chord with him. He complemented these supernatural beings with stories he commissioned from artists. Srivilasa was awarded a grant to support the exhibition, and as a result, he was able to pay the artists and contributors for their efforts. Ultimately, Srivilasa successfully documented the pandemic in a way hitherto unseen — and with an unsquashable air of positivity.
"The Wellness Deity project is a record of people's emotions during this unprecedented situation," says Srivilasa.
Currently on display at the Queensland Art Gallery | Gallery of Modern Art, Srivilasa's sculptural installation Shrine of Life / Benjapakee Shrine is part of the 10th Asia Pacific Triennial of Contemporary Art (APT10). Five luminous ceramic deities sit atop pedestals that are set against a vivid blue background populated with a star-like canopy of flowers. Each god-like figure represents a particular characteristic important to the artist, including Love equality, Spirituality, Security, Identity and Creativity.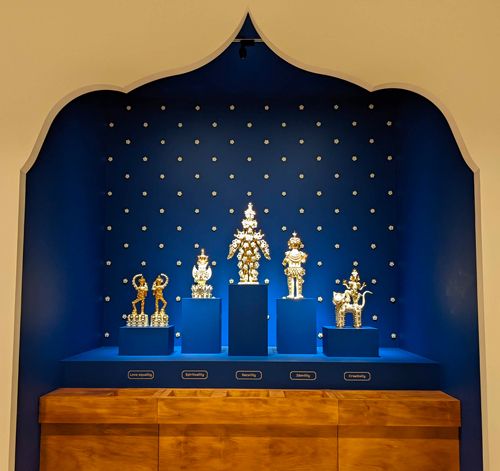 The viewer is invited to participate in this art work by making an offering of a paper flower to the observer's chosen figure. Not only does this shrine operate as a space of quiet contemplation and self-reflection, but it bridges realms of culture, faith and memory that are fundamental to all human beings.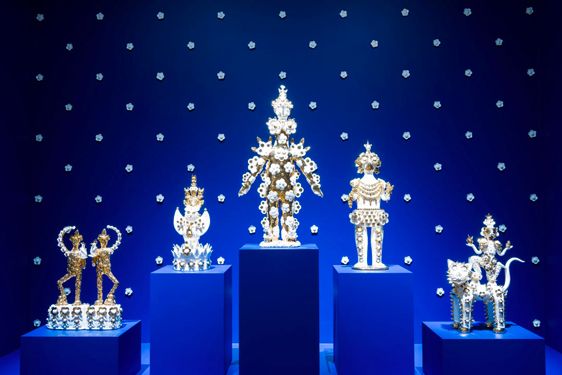 Overall, Srivilasa's sculptural creations possess an intrinsic universality, due in part to their supremely fantastical nature. His quirky characters are open to interpretation; but first and foremost, these magisterial beings are hugely uplifting — they certainly make this author smile.
It is more important than ever to support our local artists and creatives. Srivilasa has an Instagram account and a website through which he runs workshops and other initiatives. He is also working on a new body of work for an upcoming exhibition called Hungry Ghost at Scott Livesey Galleries, Victoria.