The temporary installation, The Wild Table of Love, is currently on display at London's Paternoster Square. The bronze table is six metres long and decorated with plates of food, surrounded by large, big bronze beasts.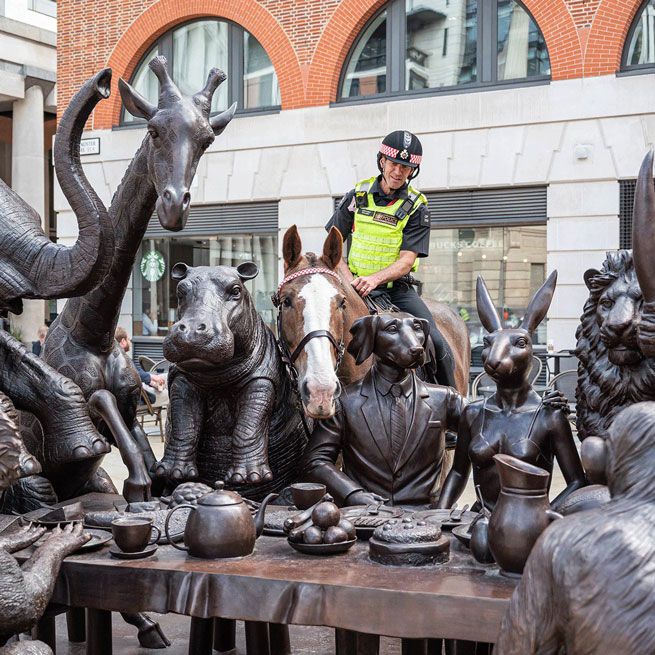 Gillie and Marc Schattner are the Australian creators of this inventive sculpture. They are well known for their bronze works which feature animal-human hybrids and their amazing contributions to public art. Marc studied chimpanzees in Tanzania and Gillie grew up among the wildlife in Zambia, so they have a deep love and appreciation for nature and wildlife. This artistic couple has been creating art together for 27 years and has been prolific in the New York public art scene. Their goal is to spread the love for art and conservation.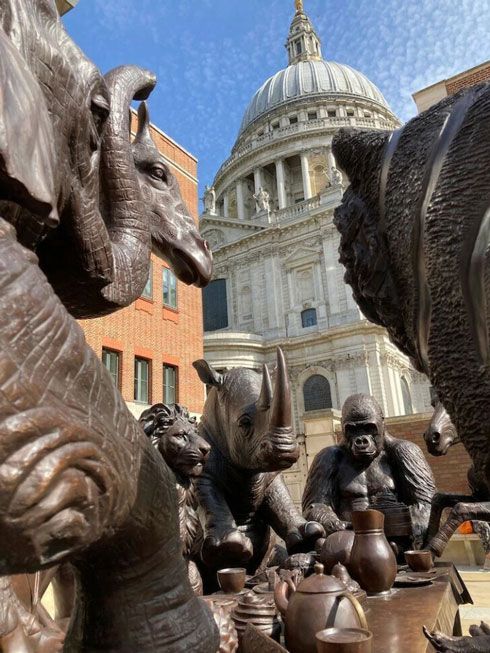 There are two vacant seats for the public, who are invited to dine with these beastly dinner guests. The hosts of this banquet are the Schattner's beloved original characters Rabbitwoman and Dogman, the rest of the guests are six of the world's most endangered and well-known animals. The guest list includes a Masai giraffe, an African elephant, a Bengal tiger, a koala, a Grevy's zebra, a northern white rhino, a lion, a hippo, a chimpanzee and a mountain gorilla. Hippos have seen a 20% reduction in their population in the last decade. The Masai giraffe population has declined by 52%.
The work intends to draw the public's attention to the current sixth mass extinction, in which humans are threatening the lives and habitats of countless species. This installation aligns with the United Nations Sustainable Development Goals of Life on Land and Climate Action.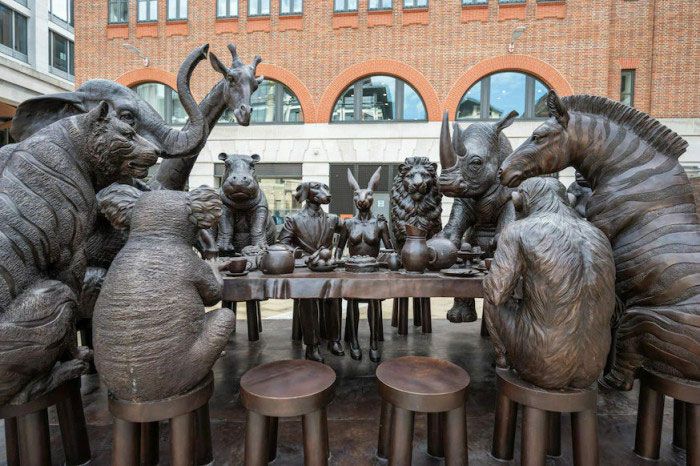 "One of the most intimate experiences we share as humans is also the simplest, sitting down together and sharing a meal," the eco-artists said. "It's a time where we can nourish, support, and enjoy time with each other, a time that is cherished by many families all around the world."
They aim to move people from passive viewers into activists and voices for change. Their works have raised thousands in donations for wildlife organizations through their Love The Last project.
You can see more of their art or support their project here.