The city standard never applied to Thota Vaikuntam, an artist from Hyderabad, and it never inspired him.
Whenever he returned to his village in almost a state of despair some years ago, he hoped that his birthplace would revive him. In a webinar with Saffron Art, an Indian auction house, Vaikuntam describes the harmony he has with his village: "I'm always a villager—even today. I feel very happy like I belong there and they belong to me. The city doesn't make you feel as close. But in the village, there is affection and warmth."
Thota Vaikuntam was born in 1942 near the Karimnagar district of Telangana (formerly part of the Andhra Pradesh state) in India. His art is inspired by the people in rural areas along this region—particularly women and their daily tasks, including household chores, tending to birds or farm animals, celebrating festivals and meeting other villagers.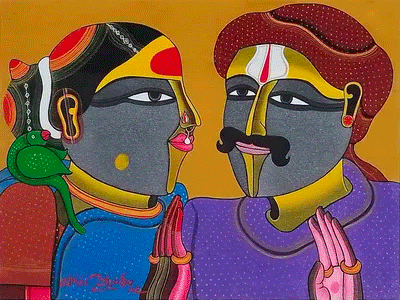 According to an artist profile, the artist graduated from the College of Fine Arts and Architecture with a diploma in Painting in 1970. Two years later, he graduated with another diploma in 1972 in Painting and Printmaking from the Faculty of Fine Arts at Maharaja Sayajirao University, Baroda. Vaikuntam's first exhibition was in Hyderabad in 1973. Ever since then, he has had regular exhibits at various galleries in the cities of Bangalore, Kolkata, Bombay and New Delhi.
Vaikuntam began painting in his childhood. As a young boy, he was physically fragile and would fall sick often, and painting was one of the ways he came to terms with the feeling of helplessness. He was inspired mainly by his mother's care for him, particularly because there were not a lot of opportunities for education or medical care in his village. Vaikuntam's relationship and dependency on his mother fostered a love and respect for the female entities he saw as he grew up.
His love for his mother translated fluently into his work. The village women were his inspiration, and he painted them in a traditional characteristic of full-bodied, earthy women, combined with his modern use of colour to highlight the feminine form of central India. His work is unique because they do not adhere to city standards—whether in lifestyle, community or even beauty standards.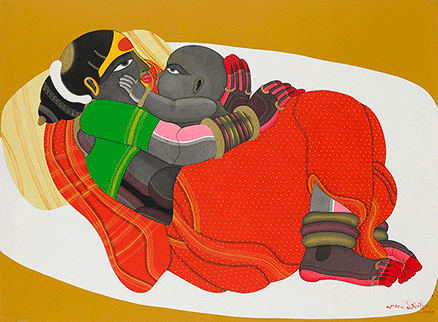 Vaikuntam's artworks are distinct because it shows how his relationship with his mother impacted his way of thinking. The female energy present in his village went on to influence his art style, enabling him to depict women as a central force and figure in almost all his paintings.
Vaikuntam's paintings of women are similar to traditional depictions of women and female deities from Indian mythologies, epics and folklore in sculptures and carved in architectural ruins.
The artist coats his male characters with lighter colours and gives his female characters striking patterns and colours, adorning them with traditional ornaments and jewellery. Vaikuntam's fortuitous advocacy for natural, earthy beauty addresses the United Nations Sustainable Development Goal for Gender Equality. In contrast to the conventional Asian beauty standard of "fair-skinned maidens" in popular illustrations, Vaikuntam's characters have dusky complexions to represent reality, and the women's strength and shakti (power) are embodied in the bold, solid lines and colours in the painted women.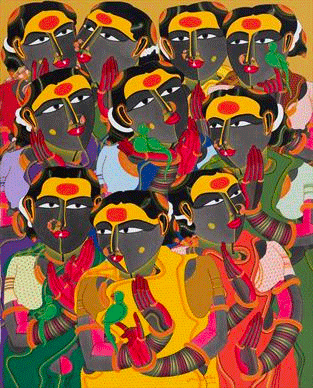 The ways in which Vaikuntam paints women are not voluptuous or immodest, but full, solid and earthy because he accentuates women just as he saw them in his village. Many of these characters' expressions have lips that are parsed in a near-smirk without cheekbones, which allures the viewer.
The characters in his paintings captivate the viewer in unexpected ways; they are static yet animate, paused as if in mid-performance or mid-dance, which highlights the storytelling arts and performative cultures of central India. Vaikuntam elegantly preserves this animate expression and captures the inert motion in a 2-dimensional work. He successfully preserves the diverse storytelling cultures, which reflects the United Nations Sustainable Development Goal for Sustainable Cities and Communities.
"If you want to show bright and vivid colours, you must visit the heart of festivals in a village. There you see women with faces with haldi (turmeric) and in colourful Sircilla sarees. When your mind is present as where you are in a village, the colours come together to depict this vibrant array," Vaikuntam said in an interview with Saffron Art.

This journey back to his roots created his own artistic vocabulary and language. Scenes with farmers and farm animals cultivated a sense of simplistic, down-to-earth duties for the people—an act you carried out alongside others as if working together in performance. Vaikuntam's inspiration underlines an important experience in rural India; in his village, there is warmth, strength and a sense of community which echoes the United Nations Sustainable Development Goals for Reduced Inequalities.
Vaikuntam was awarded several national awards: the National Award for Painting in 1993, the State Award of India, as well as the biennale Award from Bharat Bhavan in Bhopal in 1988-89.
---
Check out Saffron Art, an Indian exhibition and auction house, to find more of his works!