Our world today focuses on consumption without acknowledging the burden of waste produced in the process. Society has a steady need to buy the newest and latest products in every industry. Disposing of anything with a slight tear or break, even things we simply just don't have space for or are out of season. John Lanthier is an artist in Montreal who is combating the phenomena of mass waste production by rescuing items deemed useless or broken and transforms the found objects into eye-catching works of art.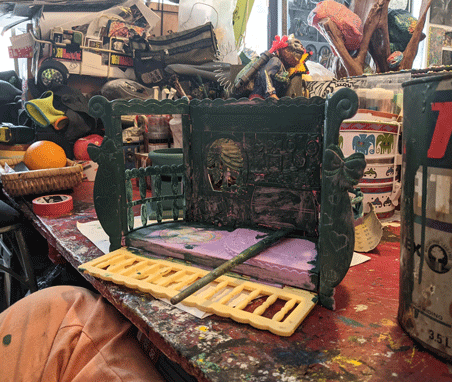 John Lanthier both shows and volunteers at Usine160u. At the gallery, he can be found working on his latest projects and art pieces. Typically, Lanthier works on several projects at once for various durations of time. In the moment, he had just salvaged a plastic brightly coloured dollhouse popular from the early nighties or late eighties. With some wet slashes of military green oil paint that he had found on the sidewalk, the finished product differed greatly from the first monster house. The doll house had been completely transformed using paint and additional found objects, a far cry from the sweet and innocent doll house it once was. The house was now a home for John's monsters, an ongoing project that focused on combining different animal figurines or toys into one seamless creature through the use of paint, glue and imagination. Elements of nostalgia consistently appear and latch onto the viewer with every artwork.
"People see these things and don't know where they came from, but everything has a history. People played with these items, went to the toy store to buy them and then just think it's crap and throw it away. I never really had toys growing up" says Lanthier. He quite literally rehouses previous precious objects that once had a home.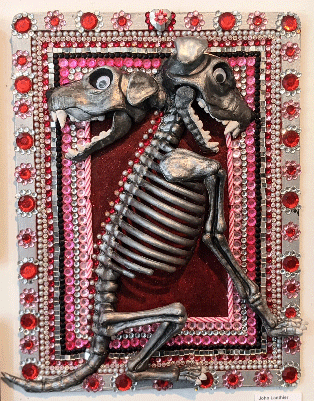 Lanthier's art ranges from sculptures to hangable mixed media art. A lot of his art is reminiscent of a page from an Eye Spy book.  From a single earring to scallop shells after someone's dinner, little is off limits in terms of materials. Many of the objects John finds or are gifted to him express a notion of play. Whether it's the plastic shell from a giant Kinder Egg Surprise or a swimsuit top for a Barbie doll once weaved by a child on their Rainbow Loom. When asked about the idea of play and how it connects with both the raw objects and finished artworks John explained that he grew up in a commune in Pakistan and traveled through Asia. As a child, his experiences of "play" were different from most children in the western world. "We would do a lot of crafts. I did a lot of friendship bracelets, paper dolls, paper mache to make castles and lego. I really love lego. I would also occupy the younger kids putting on puppet shows and little plays." John continues to tell stories within his art, most of his work surrounds different stories he comes up with which plays a role in which found objects he chooses to put into a particular artwork.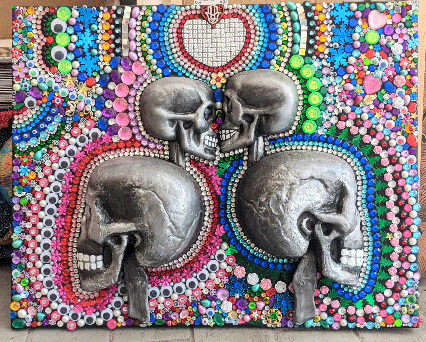 Using patterns has always been a key ingredient to John's style. There are Moorish-style influences that stem from his childhood in Pakistan. He notes that there were rarely paintings of people or animals in that culture because they are considered sacred, so he grew up surrounded by artworks that were based on patterns and the brightly painted art trucks that filled the streets of the country. "I like patterns and math but computers could do that so I like to put a little bit of chaos. I don't like to plan my art, you just sort of work with whatever you have but you need to have a lot to work with." When Lanthier adds chaos and a lack of perfection, he illustrates human touch, similar to how used toys illustrate the history of human touch.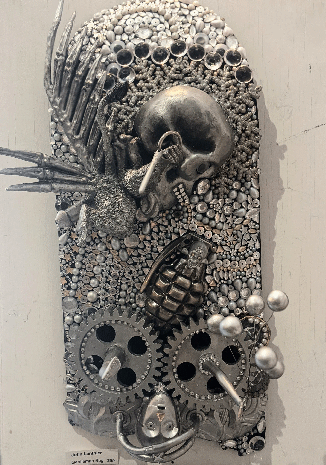 Lanthier's art challenges consumption and waste, which is a key motivation for his work. "I hate waste, dumpster diving is kinda dirty but I like that stuff gets rescued from landfills. The stuff people throw away in Canada is ridiculous. I grew up in Pakistan and Asia where entire cities are mounds of trash and that is people's livelihood. They go through that all day and repurpose it, then sell it." John gives objects that were once precious a second life, a second chance to have a purpose. Almost everything Lanthier uses in his art is sourced from donation bins, sidewalks, dumpsters or his scavenging roommates. John notes that it can take up to a year to finish some artworks because of needing the perfect object or material to create a narrative. He says friends will often leave him trinkets and occasionally take some too. Every tangible thing has a history and in John's art everyone gets to participate. Whether they gave him an object they found or were once an owner of the item, anybody gets the chance to leave their mark on his art even if they don't know it.
The entire practice of fine art is about producing new objects and putting them out into the world, from sculptures to paintings, the art world is about appealing to the consumer. Our planet needs more artists like John who embrace the imperfections and rescues items. He finds beauty in the broken and gives what was once lost a new life and purpose.