[Content warning: femicide]
Evelyne Sincère's body was found at a garbage dumpsite on November 1st of last year in Port-au-Prince, Haiti. Her kidnappers had left her there. Sincère was a 22-year-old high school senior at Jacques Roumain High School. Four days later, more than 100 students from the school marched in the streets of Port-au-Prince, demanding justice for Sincere, The Haitian Times reported.

That same year, Laurena Finéus was working on the paintings for her solo exhibition titled Déchoukaj. As a visual artist living in the Haitian diaspora in Canada, she needed a way to take action.

Finéus was raised in Gatineau, Quebec, by her mother and her grandmother who came to Canada from Haiti in the 1970s. She originally planned to portray the women in her life in her exhibition, such as the ones who raised her, but she decided to incorporate references to violence against women as a response to Sincère's, and other women's, deaths. Her work includes female historical figures in Haiti who are not recognized as much as their male counterparts.

"I think the action was through showcasing these women to the public that wouldn't know about them any other way and talking about their histories through multiple sets of time, from the Haitian revolution to now, to women that also have to experience the violence of being in Haiti," Finéus said in an interview with Arts Help.

The present themes in the exhibit underline the United Nations Sustainable Development Goals (SDGs) on Gender Equality, Reduced Inequalities, and Peace, Justice, and Strong Institutions.

Déchoukaj is a Haitian Creole term that means uprooting. After the dictator Jean-Claude Duvalier fled Haiti on January 7, 1986, a déchoukaj became a political uprooting that sought to erase the traces of a ruthless dictatorship that lasted over 25 years. The Duvaliers' residence, along with other officials and militiamen's houses, were destroyed and burnt down.

By connecting stories of women from the past and the present in her exhibition, Finéus undertakes her own déchoukaj of the Haitian patriarchy.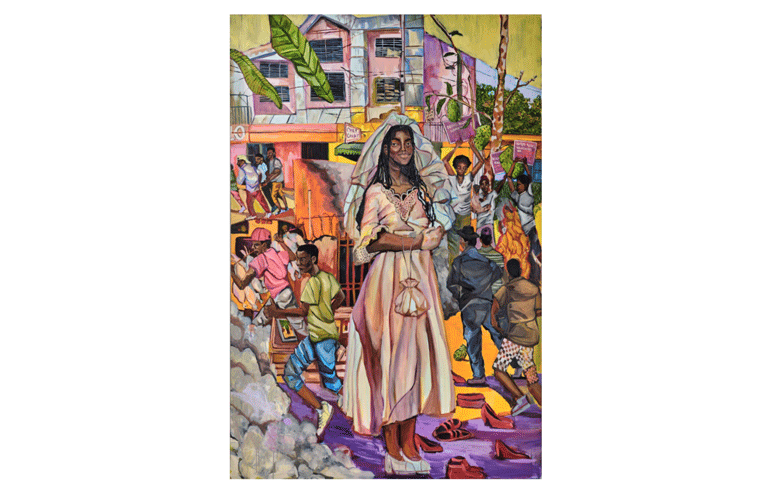 This piece features the artist's niece who she said moved to Ottawa, Canada last year before the COVID-19 pandemic. The title, May this country be hers one day is inspired by The Infamous Rosalie, a novel by Haitian author Evelyn Trouillot, which tells the story of an enslaved girl in colonial Haiti.

In the painting, her niece is wearing Finéus' dress from her first communion.

"I have this moment of her wearing my communion dress and I took a few photos of her wearing it. That was me connecting with her and it was really fun," Finéus said.

In the background, to the right, there are women protesting against femicide. These images are inspired by #StopFeminisid, a campaign organized by Kay Fanm, that called for an end to violence against women. Kay Fanm is a Haiti-based organization that advocates for women's rights.

"Nous nous souvenons de Evelyne Sincère," "Nous nous souvenons de Monique Estimé,"  two of the signs read. We remember Evelyne Sincère. We remember Monique Estimé.

The red shoes on the ground refer to a protest in Mexico City last year, where activists used red shoes to bring attention to the killings of women across the country.

Having lived through the 2010 earthquake in Haiti and several political unrests, Finéus' niece has experienced her own violence and trauma.

"There is so much violence that she had to go through as a child that she will have to face later on," Finéus said.

"I hope that she'll be able to fully come to terms with these stories. May this country be hers one day."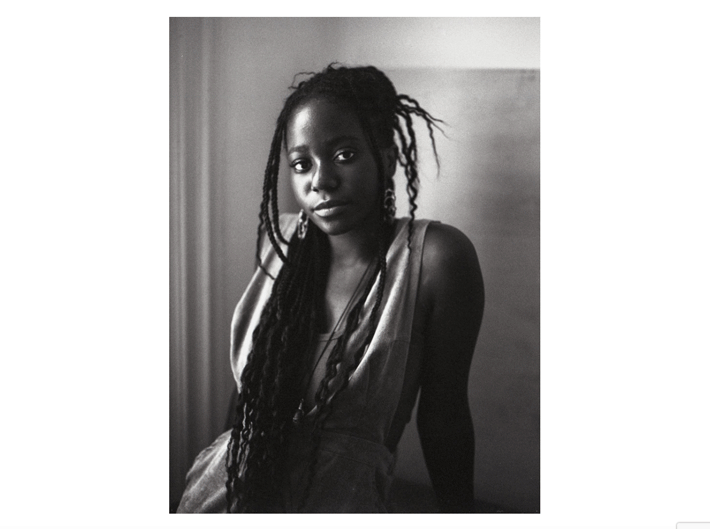 Imagine our surprise when we found out we had limits is a self-portrait of Finéus that is also featured in the exhibition. In this painting, she reflects on how men have been pushed forward in Haiti's art scene, leaving little space for women.

"In this one, I'm emulating the idea of malehood. I had my braids on and I went into my stepdad's closet and I put on this suit," Finéus said. "I had done some photos to inspire this."

Finéus' taking on male characteristics is also a reference to the Battle of Vertières, which marked the end of the Haitian Revolution and gained Haiti its independence from French rule. There is a statue that commemorates the battle in Cap-Haitien in Haiti.

"In the statue, there's a bunch of men and women, but the women are more on the ground and you have the men standing tall even though they're all fighting the same battle. This kind of power relations between how they're being placed in the statue, I felt like I needed to speak on it," Finéus said. "That's why I decided to take on the posture of one of these men in the statue."

The piece is named after a quote in Breath, Eyes, Memory, a novel by Edwige Danticat. It also speaks to how Haitians in the diaspora are sometimes comfortable in not knowing their history, Finéus said.

"I find that my own limits were in the fact that I didn't fully look into my own culture until I started making work," she said. "Through what I've learned so far, I'm able to learn so much about myself and push against these limits."
Déchoukaj was on display at the Ottawa School of Art Gallery from September 7 to October 10, 2021. To learn more about the exhibition and see more of the artist's work, visit her website.