Sculptures come in all shapes, sizes, and materials. For French artist Valérie Hadida, her sculptures are made in a very unique style. Hadida's works tend to be small and made of bronze, depicting stylized young women, often pensive, but making an empowering statement with their big hair.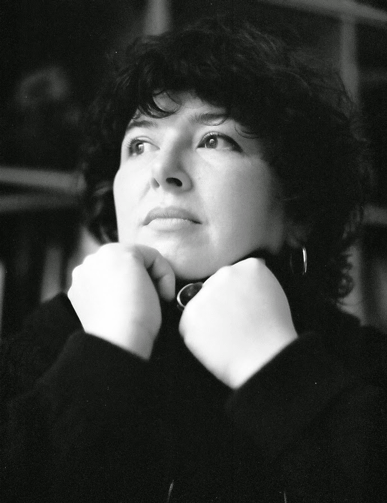 Hadida starts off her sculptures as clay, creating a hand-molded texture on the surface and giving them an uneven finish that makes the product look like it has seen some wear and tear. This technique gives each sculpture its own story.  Just as no two humans live the same exact lives, no two of Hadida's sculptures were brought to life with the same molding and journey.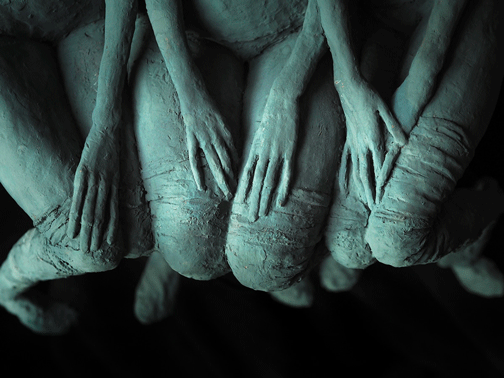 Just like Hadida's sculptures, all women have their own journeys that they face in life that mold them — giving them their own impressions and uniqueness.  Some women travel a rougher road than others, and Hadida expresses those feelings through the hand-molded, roughness of her final bronze pieces.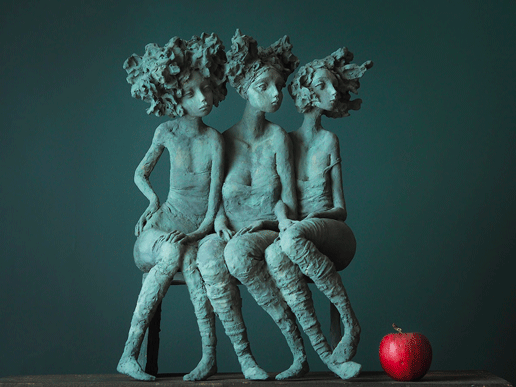 The United Nations Sustainable Development Goal for Gender Equality focuses on empowering women and girls, and Hadida's sculptures, in portraying the lives of these women and girls, empowers them on their own journeys. It is important to show women and girls that no two journeys are the same and that it is ok to come through life with different scars and impressions than others.
The piece La Rêveuse or The Dreamer depicts a young woman with large innocent eyes, her legs wrapped in thigh high socks and draped over the edge. La Rêveuse has Hadida's classic stylization with a long, thin torso, her thighs thick compared to the rest of her long legs, and her beautifully wild hair framing her face as she bites her nail in thought.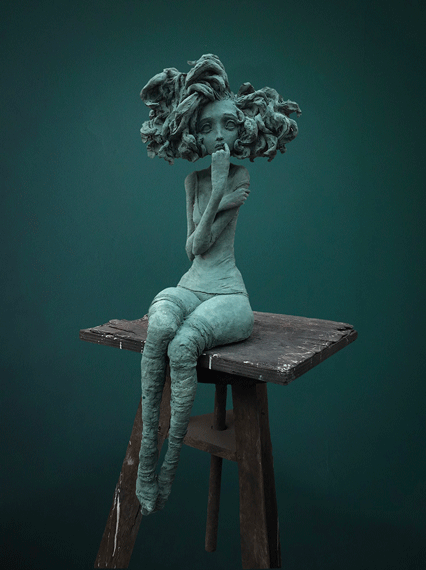 La Rêveuse stares back at the viewer, but does not engage. She lost in her own thoughts and ideas, or even in her own sadness.  What makes the piece so universally pleasing is that the viewer can have their own thoughts on what the subject is pondering.
Jardin Secret, or Secret Garden, is a piece that has less mystery surrounding it, as the subject is sitting with her legs crossed in front of her, her eyes closed and face facing upward with a gentle smile. By the name of the piece, it can be assumed that the subject is sitting in a garden, smiling up at the sky, perhaps bathing in the sun.  Just like the rest of Hadida's bronze sculptures, Jardin Secret is green patina, paired with the molded clay look, possessing an earthy feeling that is characteristic of her artwork.
In an interview with My Modern Met Hadida explains, "Clay is my element.  Carving stone or wood is not my way: there's too much anticipation in the conception.  I love to let myself flow freely in the creative process. Free!"
It is this freedom that allows for the expressiveness and unique molding in each sculpture.
Valérie Hadida was recently featured in a solo show at the Galerie Ariel Jakob in Paris, a group show earlier in 2021, and in several virtual Galry shows. Although there are no new shows listed for Hadida coming up in the near future, she is partnered with Artsy where she sells her sculptures online.  To find some of her work and see some of her past shows, check out her Artsy profile here.