Founded in 2014 by ehayiw Michif (Cree Métis) artist Christi Belcourt and Anishnaabe traditional teacher Isaac Murdoch, The Onaman (ah-nah-mun) Collective is a community based social arts and justice organization interested in helping Indigenous communities, especially youth, with reclaiming the richness and vibrancy of their heritage through traditional art with a contemporary spin.
Regarding their goals and ambitions for The Onaman Collective, Belcourt and Murdoch write: "Our collective combines land-based contemporary art creation with traditional arts, anishinaabemowin immersion, and Elders and traditional knowledge and land-based practices. We believe the arts are the most powerful medium to create positive social change within our communities for the future."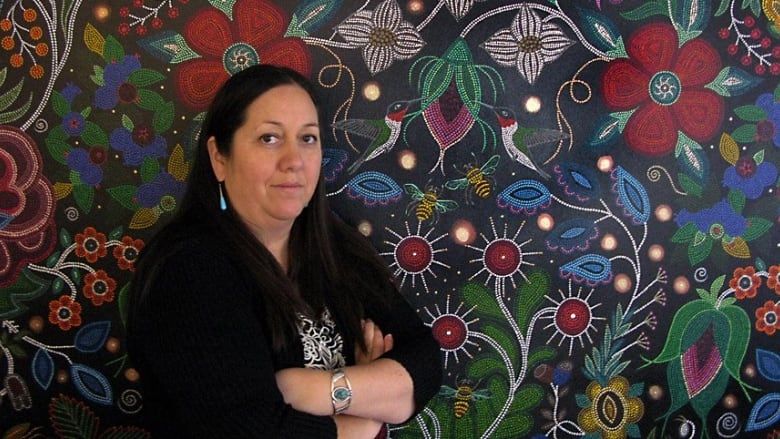 Belcourt and Murdoch's dedication to the environment is expressed through their art projects, with one of their most notable being the Water Is Life project, which aligns with the United Nations Sustainable Development Goals of Reduced Inequalities and Clean Water and Sanitation.
Held in collaboration with the Raíces Cultural Center and its EcoCulture program in 2017, the Water Is Life project was launched to bring awareness for the protection of the natural resources that give us life — water, air, land — through the arts.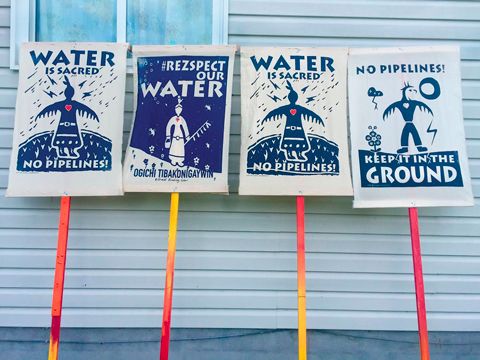 The project was also launched in response to the Dakota Access Pipeline (NODAPL) protests. Started by youth from the Standing Rock Sioux tribe, the Oceti Sakowin encampment was formed on treaty lands that were never ceded and located just outside the Standing Rock Reservation. The encampment aimed to block construction of the Dakota Access Pipeline, protect the tribe's drinking water source, and take a stand against the fossil fuel industry and its history of environmental destruction.
"Mni Wiconi" was a prayerful cry often heard at the NODAPL protests. This Lakota prayer translates to "Water Is Life" and was used alongside The Thunderbird Woman "Water Is Life" banner designed by Murdoch.
While the banner became a symbol for the NODAPL movement, it has also become a symbol for Indigenous water protectors worldwide.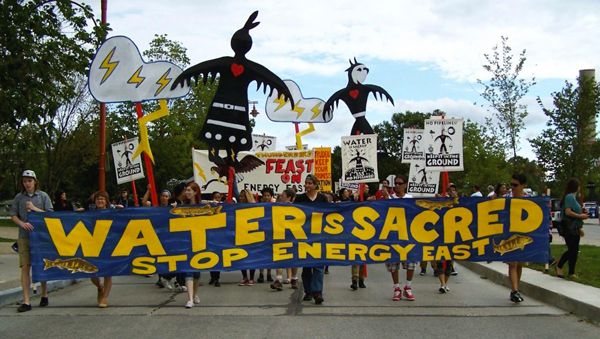 Water Is Life images have not ended with The Thunderbird Woman or the NODAPL protests. Belcourt and Murdoch have created over 20 banner images for use for all water and land protection actions by grassroots people. Each powerfully illustrated image creates a striking visage representing urgent issues facing Indigenous peoples, especially those fighting to keep pipelines off their protected lands. They also serve as a fervent cry against misleading narratives created by proponents of pipelines and the federal, provincial, and municipal governments who continue to undermine Indigenous autonomy.
---
Belcourt and Murdoch's banners are free to download and use for grassroots water and land protection actions.