With bright red lanterns illuminated by soft glowing lights, Toronto Chinatown's Lantern Event Yue Moon 完滿: Tiger With Wings 如虎添翼 is a beautiful community-based multimedia public art exhibit highlighting the festivity of Chinese New Year despite the ongoing pandemic.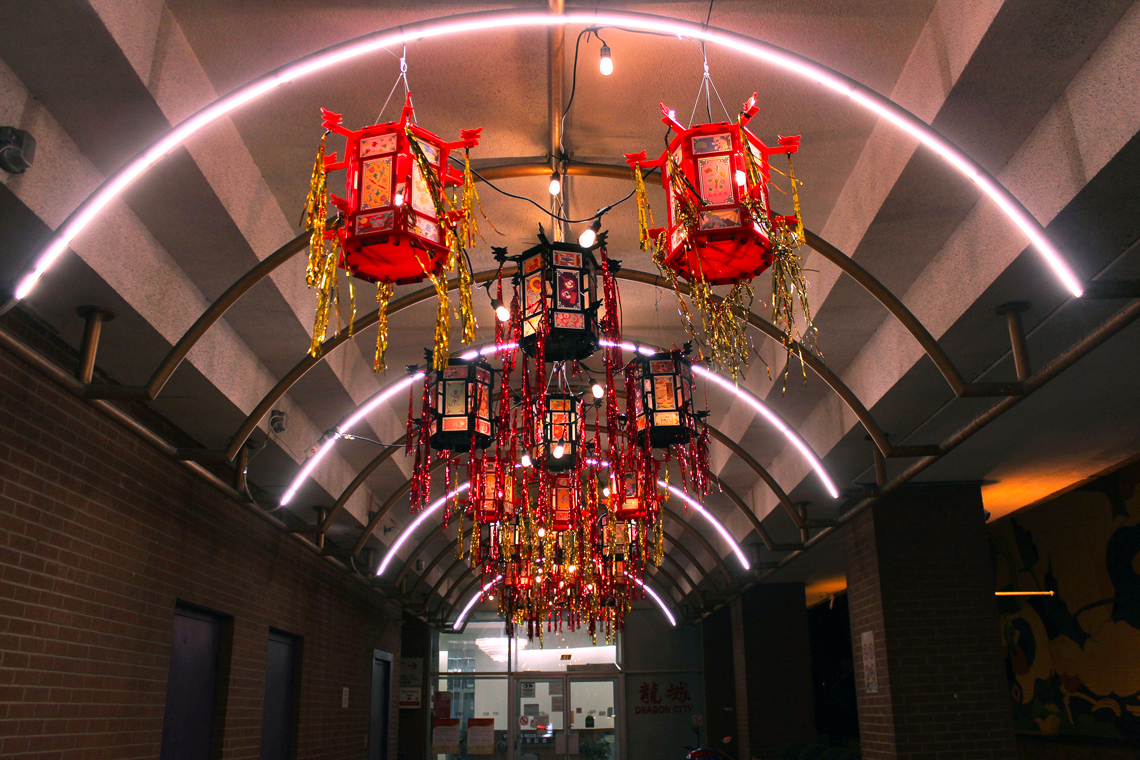 Led by Paddy Leung, an artist focused on activism and community engagement, with the help of artist mentee Meegan Lim, a recent graduate from OCAD, the Yue Moon 2022 exhibit includes 188 original artworks from 146 participants. The lanterns are displayed at the Dragon City Condo entrance facing Dundas Street West until the end of February.

"With a lot of hard work and a great team we are still able to make art during this time and collaborate which shows the power of collective art," Leung says in an interview with Arts Help.  

Lim says that art can be a stepping stone to Reduced Inequalities, one of the United Nations Sustainable Development Goals.

"Art is very much a tool to bring greater awareness, and to facilitate conversations," Lim says. She adds that art can often successfully break down concepts and issues that are difficult to digest when they are only presented in print.

"Art also creates a safer environment to have difficult conversations," Lim says. According to Lim, art allows for more open dialogues about complex problems, citing as an example the anti-Asian racism that worsened during the pandemic.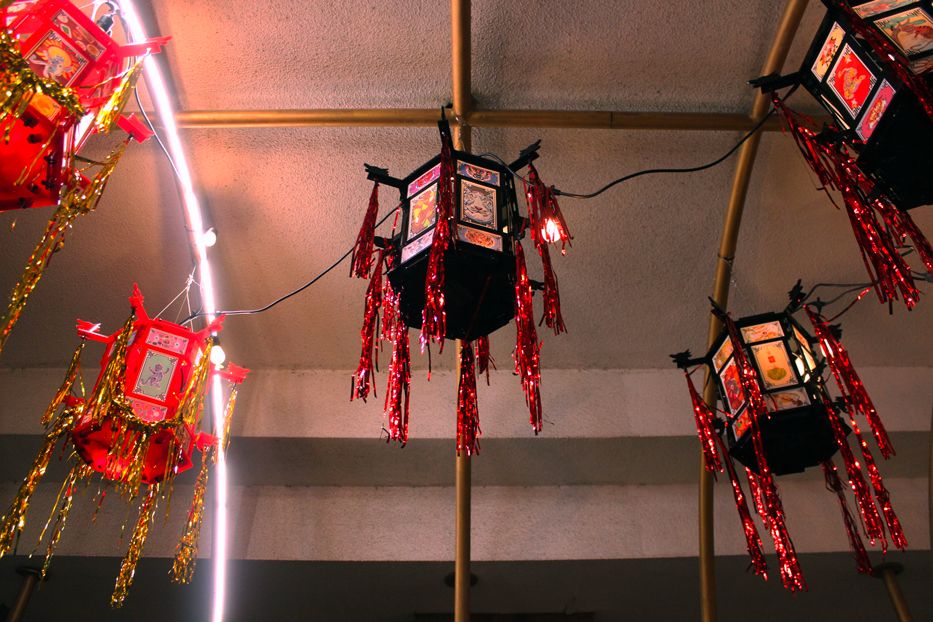 Bringing together the community

The title of Yue Moon means a full circle or completion. "I interpret it as being connected and coming back to the community," Lim says. Especially during the pandemic, Lim said human connection is necessary.

"The community has been impacted significantly because of COVID, and a lot of people wanted to seek therapy through art," she says. "With art, it allows people to connect with the different communities, and the participants coming into the Yue Moon workshops were able to just let go and craft."

"People are able to have some genuine conversations with people that are strangers when they come into these workshops. Some people walked away with friends, and some walked away with ties to the community when they might've been isolated in the past."

Lim says that many participants aren't from the Chinese community, but rather from other groups celebrating New Year or groups that live close to Chinatown, like the Jewish community. She said that their online workshops allowed people from further places, like San Francisco, to also participate.

Leung adds that the nature of collaborative community-based art projects allows for more learning and connection. Through sharing virtual or physical spaces, the participants begin their pieces, work on them, and complete their art together.  

"There's so much dialogue that happens between everyone that doesn't happen when you're on your own," they say. "When you provide the opportunity to create community engagement projects, it gives an opportunity for people to share their stories."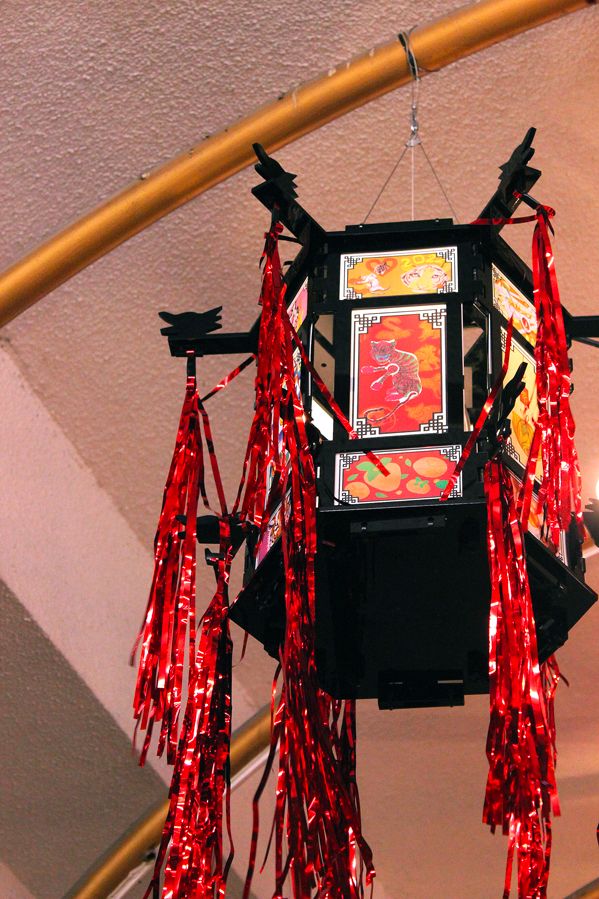 Gathering around the table

While Yue Moon 2022 focuses on various artistic styles depicting tigers, since 2022 is the year of the tiger, there is also a focus on the theme of food. During the workshops, Leung demonstrated different ways to depict tiger-based styles on traditional landscape painting and woodblock printing, and Lim led the parts relating to the traditional foods eaten during New Year.
"I am a big believer that food is a really amazing tool for communication," Lim says. "Food is often at the center of the table, and the food itself can be a catalyst for memory and history."

Both Lim and Leung talk about how strangers would bond over stories and shared experiences with the same or similar dishes. Lim says that people connected in workshops over certain dishes that their parents cooked, bringing back fond memories and forming connections with the other participants.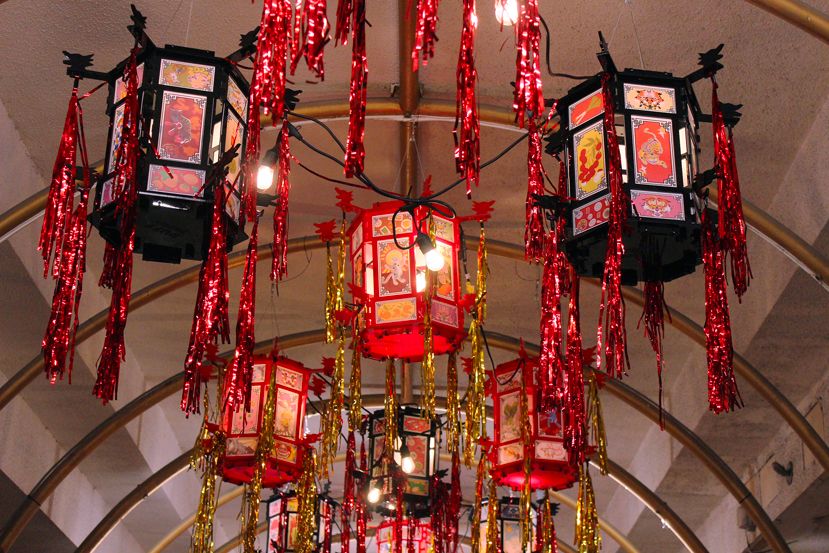 Bringing back tradition and heritage  
"When I think about tradition, I think of the years when I was younger when I used to live with my grandparents, they would have these traditional festive activities," Leung says. "That's sort of been lost over time."

Leung says they want Yue Moon to help bring back tradition and heritage in the form of art. "There are so many people who also experience that feeling like they've lost their heritage growing up here," they say.
"Thinking about Yue Moon really helped me understand myself more and appreciate my culture and heritage more," they say. "Through building Yue Moon, I've learned to understand where I come from and where my family comes from."
Lim adds that Yue Moon is a prime example of the importance of culture-specific art programming. "It creates a very great safe space for people to come together and share their collective experiences," she says. "Being part of something where you can hear your mother tongue being spoken, hear people with their favourite memories being similar to yours, it is just something special."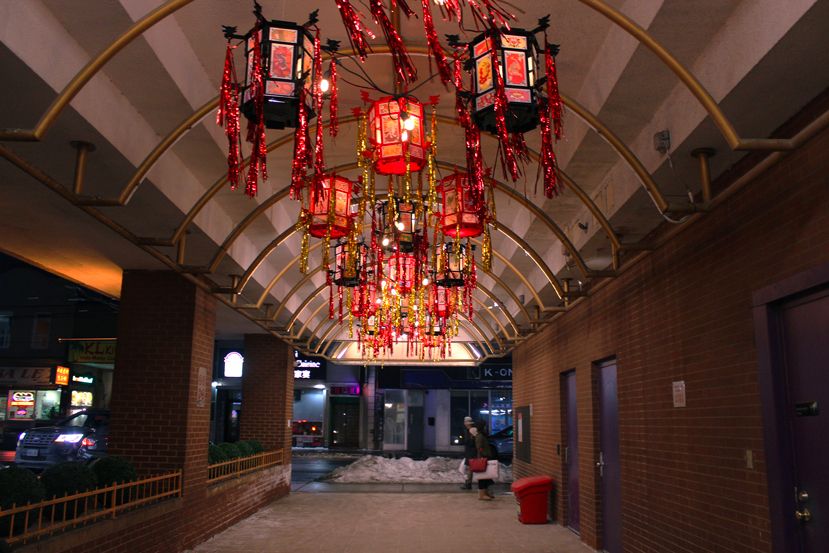 Public art changing the daily tempo

Lim believes that Yue Moon shows how people can come together despite the tough times, both to support the community and to connect with one another. Further, she hopes that the public art aspect can help people who are part of Chinatown or passing through feel more present and aware of their surroundings.

"I hope that when people are going out on their walks, it can slow them down," Lim says.

While many people walked by and took a minute or two to enjoy the exhibit, taking photos of the lanterns and themselves, few stayed long enough to leave a comment. Most of the people who passed by who saw the exhibit were those entering the building, not the ones passing along the street. That said, the glimmering red and gold lanterns definitely catch people's attention.  

"I come here often, and I have never seen this before. It really caught my eye," Karen Greywal said as she was entering Dragon City Condo to visit her friend.

"I think it's so pretty, I love the colours, I love the tigers on them. They are so intricate, they are so beautiful," she said. "I wish I had more time to just stare at them."

The phases of Yue Moon

This is the third year of the Yue Moon exhibit. Created by Leung in partnership with STEPS Public Art and Chinatown BIA, Yue Moon began in 2020 as a series of intergenerational workshops in Chinatown for participants to make paper lanterns inspired by the traditional Chinese gauze lantern. Lim started as a general assistant, but she directly planned and helped Leung this year with workshops.

Unfortunately, the pandemic in 2021 made in-person events impossible, but Leung nevertheless found a way. "I saw the potential in building a new space to create art with the community, which was so exciting to experience and very healing," Leung says.

Yue Moon 2021 took the form of virtual workshops where participants created original lantern designs. Then, the event organizers collected the designs and made them into lanterns, displaying them at shops and restaurants in Toronto's Chinatown.

This year, Leung wanted to create a hybrid program to have in-person and virtual engagement as they found that seniors struggled with technology during the previous year. With two online workshops and four in person at the Cecil Community Center, Yue Moon saw the most artwork created to date: 188 different original pieces.

"We created a new tradition where a lot of people were excited to be a part of this project," Leung says, considering how people in the community would've seen lanterns displayed throughout the streets in past years.


"I hope that I can continue to build Yue Moon and provide opportunities for artists and creatives to work together and improve Toronto Chinatown," Leung says. "I hope that I can bring everyone together to learn, understand each other, and create something beautiful together."

"I would like to invite those who are outside of Chinatown to join in the Yue Moon project and experience the power behind the diversity and inclusivity through the acts of public art."
---
See the exhibit in Toronto, running from January 27th to February 28th, 2022.