When people take action, they largely take action based on emotions, not information - and art is one of the mediums with the largest impacts on emotion. This is not only a theory backed by the latest scientific research in behavioural psychology but is a conviction that drives Zaria Forman in her creation of large-scale realistic drawings of glaciers and the Arctic.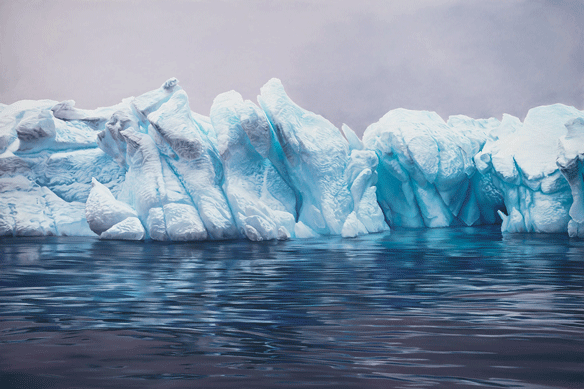 A New York-based artist, Forman wants viewers to emotionally connect with these remote places most will never visit but that are experiencing the severe consequence of climate change and affecting sea levels around the world. This has led her to contribute an art piece on the subject to Arts Help's ZERO GRAVITY: Is This Our Earth? exhibition in space that released on June 29, 2021.
The world's first digital art exhibition in space, the "finger-painter" artist (as she jokingly refers to herself), brought forward a piece directly in line with the United Nations Sustainable Development Goal 13 on Climate Action. This art gallery is part of Arts Help's wider initiative to showcase art and creatives that bring a positive impact to the world.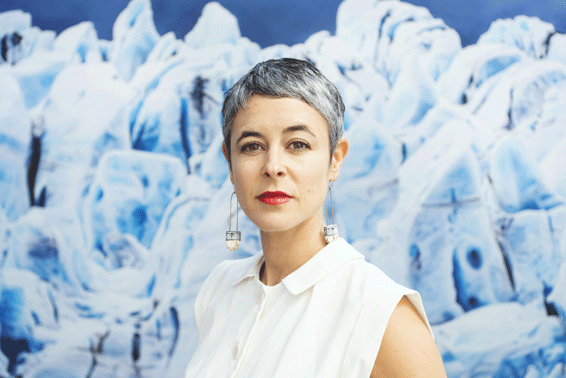 "As an organization, we aim to showcase the global challenges we face with the need for creative ways of addressing them. Our goal with the Zero Gravity exhibit is to connect humanity in a moment of harmony," said Adiam Gafoo, Chief Development Officer of Arts Help.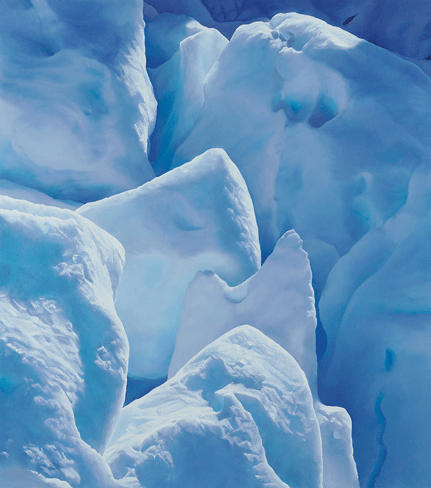 Travelling from places as north as Greenland and south as the Maldives to capture thousands of pictures that serve as her inspiration for her later drawings, Forman was intensely inspired by her late mother. A professional photographer that would bring her family to remote regions of the world - with the Arctic being her favourite - she had a large impact on her daughter's conviction of the majestic and natural artistry of the glaciers.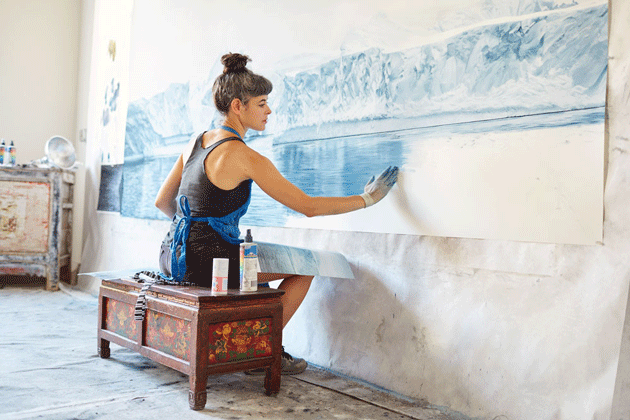 "I choose to convey the beauty, as opposed to the devastation," said Zaria Forman in a TED Talk concerning her artwork.
After capturing numerous pictures of the larger-than-life glaciers and returning home to put it on canvas with just her fingers, palms and soft pastel, Forman spends over 250 hours trying to invoke both their grandeur and fragility. Though glaciers can run as large as hundreds of kilometres wide, they are melting at an alarming rate.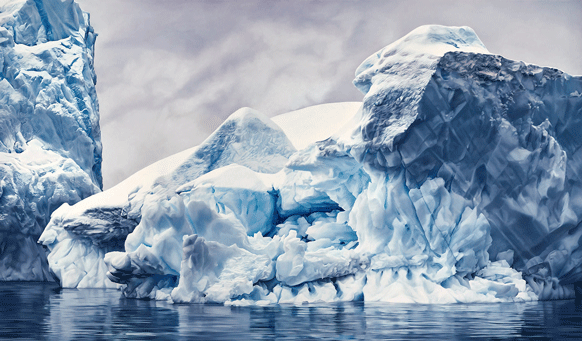 The 'Global Climate Change: Vital Signs of the Planet' mission of NASA calculates that Antarctica is currently losing 151 billion tons of ice per year. Further, the loss of ice sheets and freezing over rate has negatively impacted northern Inuit communities whose hunting and harvesting grounds are diminishing. Currently, the melting glaciers in Greenland are one of the largest contributing factors to rising sea levels.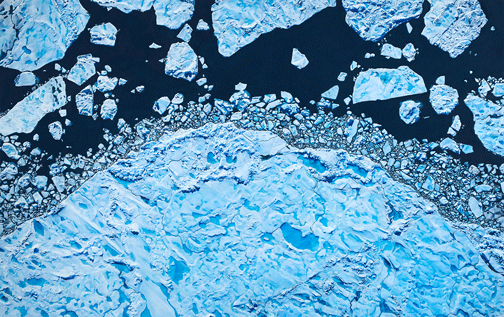 This has led Forman to also illustrate waves lapping on the beaches of the Maldives in her work in order to document how the environmental effects of what is happening in one region - the Arctic - are affecting sea levels in another - low-lying archipelagoes - to the extent that the islands might be submerged underwater by the end of the century.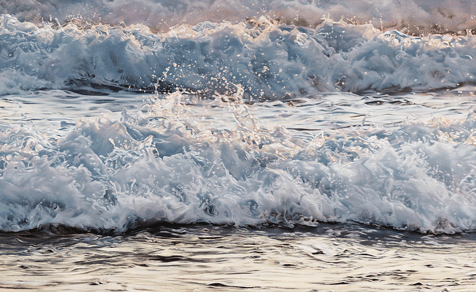 "I hope my drawings can facilitate a deeper understanding of the climate crisis, helping us find meaning and optimism in shifting landscapes and inspiring us to protect them," said Forman in an interview with Arts Help.
Forman's captivating blue and white ice crystals inspire awe of the majesty and powerful tranquillity of regions on our beautiful planet. Hopefully, this is amplified as her artwork is showcased over 100,000 feet above sea level in space and we are reminded of what we have to preserve.
To see Zaria Forman's artwork in Arts Help's ZERO GRAVITY: Is This Our Earth? exhibition, click here.
To see more of Zaria Forman's work, you can visit her website, here, and Instagram page, here.
To see more artists tackling issues pertaining to climate action, visit Arts Help's homepage.