Using wood as a medium in art is not easy and has almost always been the subject of sculptures. However, this has not deterred Nigerian artist Alex Peter Idoko (better known as Alex Peter) from wandering into the realm of pyrography to produce intensely realistic portraits of African subjects and the harsh ubiquities of life for the downtrodden in his society. Never losing focus of this initiative, Alex Peter has contributed a piece on the subject to Arts Help's ZERO GRAVITY: Is This Our Earth? exhibition in space that released on June 29, 2021.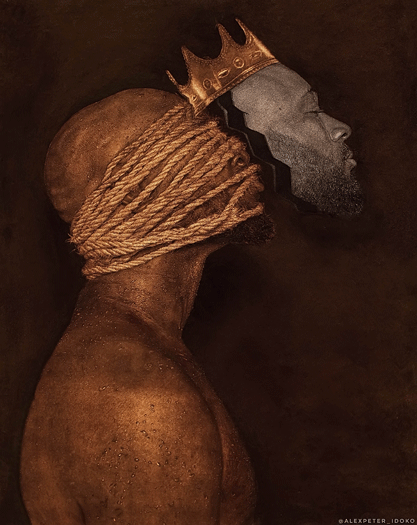 The world's first digital art exhibition in space, the self-taught maestro in pyrography from Lagos, Nigeria, brought forward an artwork directly in line with the United Nations Sustainable Development Goal 8 on Decent Work and Economic Growth. This art gallery is part of Arts Help's wider initiative to showcase art and creatives that bring a positive impact to the world.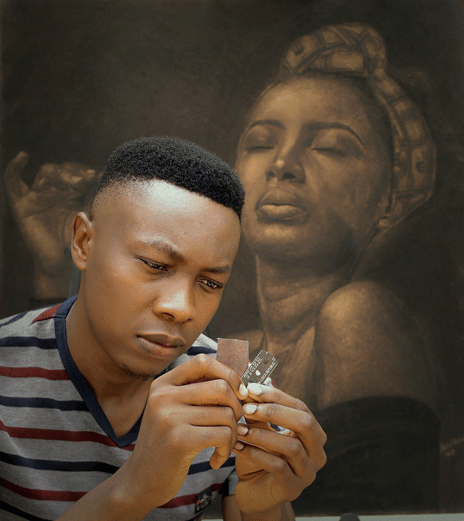 "As an organization, we aim to showcase the global challenges we face with the need for creative ways of addressing them. Our goal with the Zero Gravity exhibit is to connect humanity in a moment of harmony," said Adiam Gafoo, Chief Development Officer of Arts Help.
This is indeed an area of expertise for Alex Peter who decided to use his artworks to give a voice to those who lack power in society concerning sensitive issues that affect humanity and modern-day Africa. These span from topics such as poverty, indecent work, corruption, colonialism and rapid transformation. However, Alex's pieces also showcase the enduring strength, resilience, dignity, creativity and endurance of the African people who are emerging from the shrouds of past and present chaos to create a better future for themselves on the continent.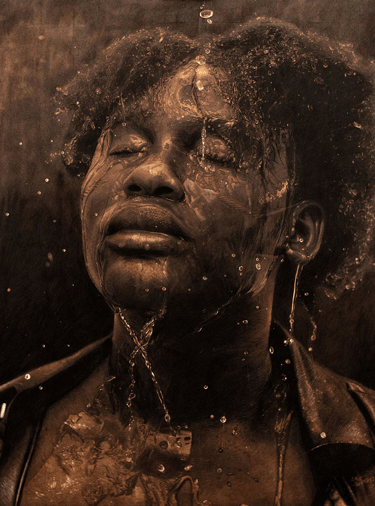 "Hope for a better Africa," said Alex Peter in an interview with Arts Help. "We are at the beginning of Africa's rectification from the ills that have, through time, hindered her growth and further left her divided such as bad governance, unemployment insurgency and many more."
Portraits stare straight at the viewer or at the distance with eyes set in undeterred determination and power, no matter if they are wrapped in chains or smuggled. Others showcase individuals in deep internal thought and shedding themselves from the skin of their past selves. They all, however, have embedded in them a feeling of deep-seated power where the individuals are active participants and shapers of their future - a powerful future they will create themselves which shines through the gold-like burns and scratches of Alex Peter's pyrography.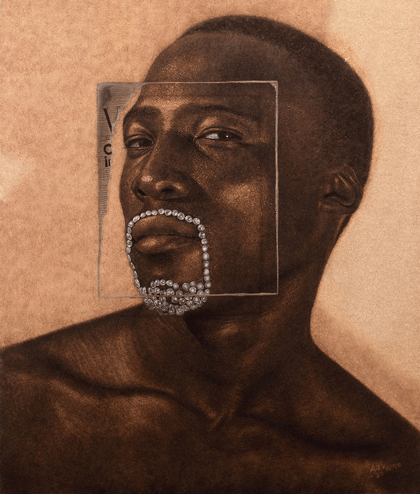 Now using a razor, sandpaper and lighter to bring his pieces to life, Alex Peter's realistic portraits used to figure pencil, pen and pastel when he was a child. However, this changed as wood decidedly became an important feature of his work.
"When I work on wood, I feel this magnetic force that connects with nature interacting with my inspiration to know its meaning," said Alex Peter. "The wood texture, the deep cuts, the rich flesh tones it gives when I scrape with a razor, the aroma when burning the wood with fire gives a redefining meaning to my art, makes it more admiring and captivating."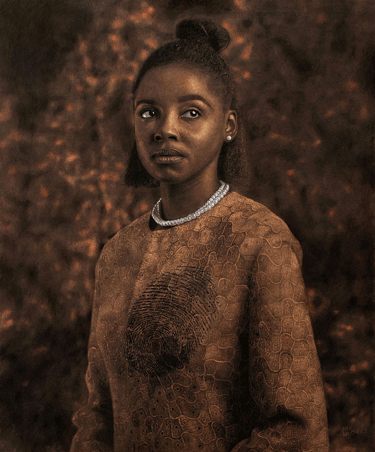 Indeed a moving artist on a moving social subject, more of Alex Peter Idoko's work can be found on his website, here, and Instagram page, here.
To see Alex Peter's artwork in Arts Help's ZERO GRAVITY: Is This Our Earth? exhibition, click here.
To see more artists tackling issues pertaining to the African continent and the subject of Africa Rising, visit Arts Help's homepage.