Merging contemporary portraits with old-world inspirations and techniques, Corlie de Kock's exhibit breaks open eco-feminism in a series of stunning charcoal works. The Chiaroscuro series was exhibited from 14 March to 14 April 2020 at Everand Read Franschhoek gallery. In an interview with Arts Help, the South African artist and curator spoke more about her work.
This series of monochromatic worlds are dark and intriguing charcoal portraits of South African women in the natural landscape, focusing on the South African cultural context.
The exhibit is named after the chiaroscuro technique, which originated with Baroque and Renaissance painters. In this method, light and shadows are manipulated to create the illusion of a light source shining onto objects in the work — a technique used by the likes of Caravaggio and Rembrandt. The method brings contrast and drama into the dark charcoal portraits, making them more striking and bringing the subjects to life.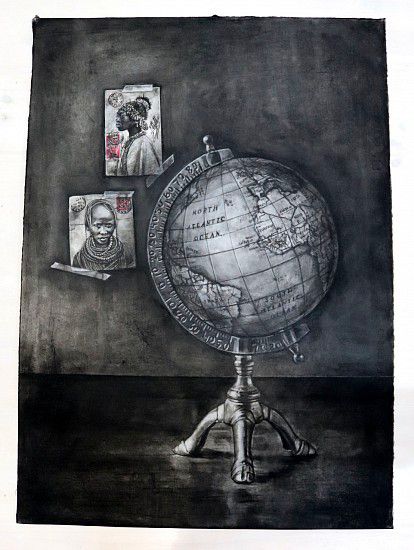 As a child, de Kock would often page through her father's old art history books and study the works of old masters. De Kock grew up in Stellenbosch and began art classes when she was 4 years old, which she continued up until the end of high school. During her upbringing, nature also played a huge part in her life.
"My earliest memories as a child are playing alone in the garden, building mud cakes, or looking at the flowers in my grandfather's garden. I could say that my view of life was formed by the beauty of Nature and my search for identity through art," says de Kock.
De Kock has been working as an illustrator and artist for eleven years, having received her Bachelors of Fine Art in Stellenbosch and later her M.A. in the United States. During her BA, she specifically focused on environmental ethics, and while she later went to study in Germany for two years, she was under the tutelage of leading Neo-Expressionist, Werner Büttner.
De Kock's female subjects are meant to depict colonial-era South Africans from the 17th century. Eco-feminism as a theme — both personally and symbolically — plays a huge role in these works, with each painting depicting how women and nature can be exploited and abused. In a country with unprecedented levels of gender-based violence and a unique bounty of natural resources and wildlife, these forces have greatly influenced the artist's work, which align with the United Nations Sustainable Development Goals for Gender Equality and Climate Action.
"One could argue that the colonisation of the African continent is parallel to the oppression of its people and specifically the women who call Africa home," says de Kock.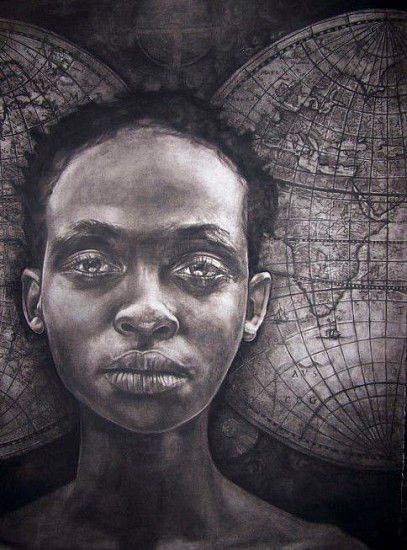 Being a lifelong art dealer has made her more cognisant of how the art world operated commercially, which has greatly helped her to manage her own career while driving her to further the South African arts scene.
De Kock has been working as a curator at the Knysna Fine Art Gallery for four years. She had been dabbling in curation since university, and even lectured and taught art, but didn't seriously consider curation as a career until she became a single mother after her divorce and needed to support her family. It means a great deal to her to be a curator in South Africa.
"Our country has amazingly talented artists from all walks of life," she explains. "I want to preserve a South African legacy, help artists to make a living, and at the same time assist clients to find the right works of art to enrich their lives."
South Africa has been no stranger to the effects of climate change, with draughts, water shortages and floods escalating over the last few years. Instead of doomsday depictions of natural and ecological disasters, de Kock intends to inspire a sense of personal responsibility with this series, saying: "I emphasized the beauty, fragility and ambiguity of women and nature and try to touch the heart of the viewer on a personal and emotional level."

De Kock is very process oriented. For her, the creative process is as important as her final work. Her piece The Clay Dam is almost empty, but the pincushions are in flower depicts a strikingly intricate and detailed landscape, with the use of light and shadows adding drama and depth, drawing the viewer into the plant life. The masking tape used to divide the image emphases an incomplete process.
The works are intricate beyond the detailed contemporary portraits with the background containing accurate depictions of antique maps and indigenous plant life. The maps symbolise the invasion of the land and the infiltration of Western ideas, while charcoal, to de Kock, represents the rewriting of history. Some paintings, like Post Card of the World, are based on real-life postcards of African women that were popular during the colonial era and were often sent to families in Europe or used as advertisements.
De Kock says that she wanted the women to feel universal but at the same time be personable for the viewers to connect with them.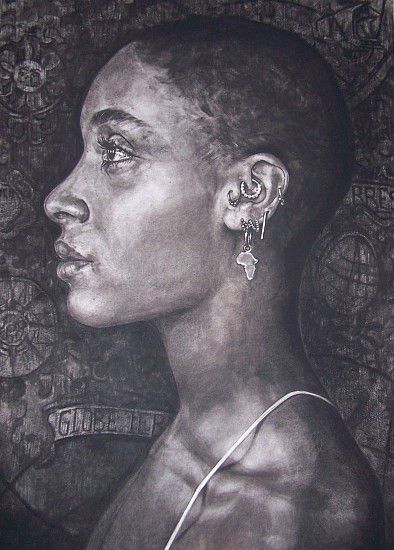 In the words of de Kock, "We are not above nature — we live and die on the earth and are supposed to look after each other and our environment."
You can find out more about her work here and learn more about the Knysna Fine Arts Gallery here, or view more works from this exhibition here.