Mark Bradford has always been interested in using found materials in his work. He began making art by using endpapers: small sheets of translucent paper used to protect hair during the process of receiving a perm. Bradford had been working at his mother's beauty salon, before and after receiving a Master of Fine Arts from the California Institute of the Arts in Valencia, when he found inspiration. He was a traditional painter, using brushes and paints in school, but began to pick up the endpapers as a medium after graduating. He started to incorporate the found material into his abstract paintings and from there, branched out and picked up other materials culled from his Los Angeles surroundings like street posters and parts of old billboards for his work.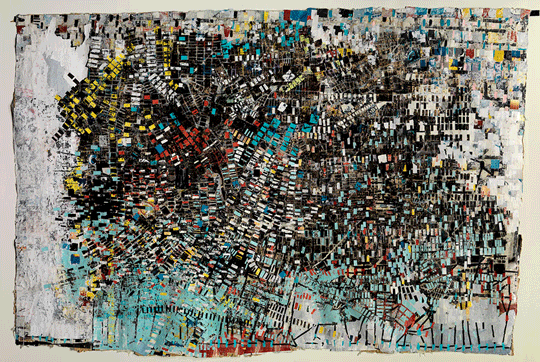 Bradford, born in 1961 in Los Angeles, sought to combine his love of abstraction with his personal perspective steeped in American culture. While working in the salon, he felt a natural inclination to begin using the endpapers that he worked with each day. The familiarity with the material allowed him a sense of comfort and ownership that was new to his practice. He could create interesting abstract grids and also express the world in which he was living. As he became more comfortable with the grids he was making, they started to become too flat for him. He wanted more dynamism with his material, missing some of the viscosity of real paint. So, he began experimenting by dipping the paper in water and found that he could work with the disintegrating pulp, which flowed like paint and added a new texture with which he could play. Bradford's methodology is deeply reflected within the process. He starts with the material, and then pushes and pulls until he gets it to how he wants it to go. If he came up against a problem with material, he'd work until he found a solution. There is an inherent integrity within each one of his paintings. Even if it takes years, he'll never give up on one.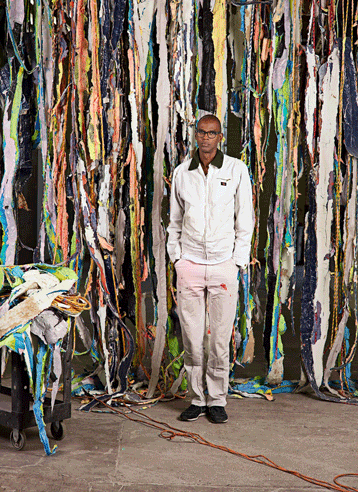 Bradford's paintings, made of paper rather than paint, are not exclusively abstract works. He reveals grids on the canvas as he layers paper, creating map-like images with subtle borders. Bradford likes to classify his work as "social abstraction," as it is visually and formally abstract with social and political context layered in along with the paper. Most of the material he gathers comes from informal economic systems of the inner city, which he's known all his life. They are advertisements that offer legal services for divorce or debt, cosmetic improvements, or programs for sobriety, weaving together tales of a particular marginal part of American society. Through manipulation he abstracts the words and the cheap, disposable papers into powerful images of a connected mass recalling histories, community, and stories of race and economics.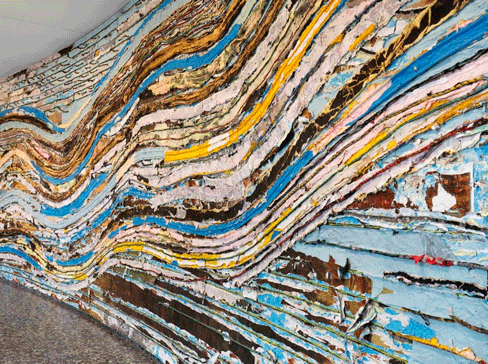 He's created map-like works beyond his Los Angeles hometown, revealing the urban density of cities like Philadelphia and Hong Kong, and exploring historically and racially charged events like the AIDS epidemic, Hurricane Katrina, Watt's Rebellion, and the Battle of Gettysburg in his aggressively crafted works. He applies ripping, cutting, burning, sanding, and scratching to his surfaces revealing violence and American trauma through the work.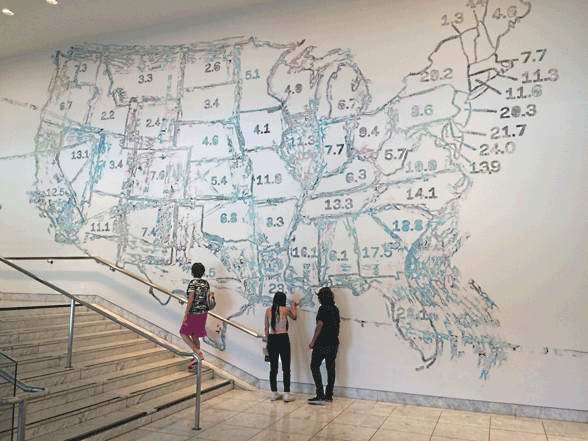 His process has expanded and grown as larger than the artist himself over the years. Bradford, is a six foot seven man, who works with material in a very physical way. His expansive works begin with a stretched canvas, which he builds up with ten to fifteen layers of different types of paper gluing each layer with shellac. Sometimes he includes lines of string or caulking to enhance the borders of his maps. Then he attacks the surface with power tools, washing and sanding away the layers to expose flashes of color and bits of previous layers. He excavates his canvases, discovering the painting through the process and revealing a personal meditation that also explores whatever social issue or historical event is on his mind.