As we strive for a more inclusive society, we start to question the past, to reinterpret it, and to uncover the truth behind what we were taught.
Looking through the Western European perspective of celebrated painters like da Vinci, Van Gogh, Michelangelo and Picasso, we see minority figures off to the side, in the background or none to begin with. Much like the time these artworks were created, racialized bodies were portrayed as servants, caretakers and ultimately "othered." We can understand the notion of "Other" through literary theory, including Edward Said's Orientalism and Gayatri Chakravorty Spivak's Can the Subaltern Speak? as people who are outside socially acceptable Western norms and do not hold the same level of status or power. This practice of isolating people for their differences perpetuates a standard of unworthiness.
One example is Picasso's Les Demoiselles d'Avignon (1907), a painting showing five naked women, depicted with flat and jagged lines, with two figures on the right whose faces are abstracted as if they are wearing African masks. African art during this time was taken away from its original geographic and artistic context to be shown across Europe. These artifacts of colonial conquests inspired an aesthetic in Western visual culture known as "primitivism," an idealization that prompted the appropriation and exploitation of these cultures.
In response to Picasso's Les Demoiselles d'Avignon, American conceptual artist Fred Wilson created Picasso/Whose Rules? (1991). He used a full-size photographic reproduction of the original image and placed an actual mask of the Kifwebe people on top of Picasso's rendition of an African mask. The elongated shape and warm tone of the mask highlights the difference between what Picasso portrayed. As viewers approach the mask, they can also see through the eye slits, a monitor showing a video of Wilson looking back to return the gaze of its onlooker and to European modernism. The title of this artwork asks "whose rules," confronting the practices of art and the utilization of African cultural motifs.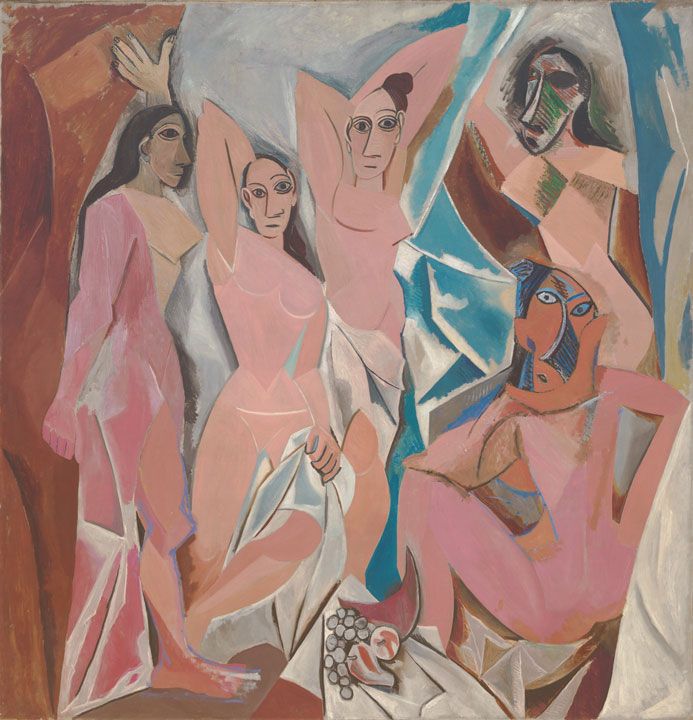 American mixed media artist Faith Ringgold also reconstructs the narrative of art history and uses Picasso's Les Demoiselles d'Avignon in her quilt story, Picasso's Studio: The French Collection Part I, #7 (1991). Ringgold creates a new scene where the Black female body—a fictional African-American woman and artist named Willia Marie Simone—takes the centre, challenging the history of Western art and its male European gaze. Along the border of the quilt, viewers can read messages Simone shares to her aunt, describing jarring instances of African masks in Picasso's studio talking to her and reflections of becoming an artist. Picasso's Studio: The French Collection Part I, #7 blurs the lines between the representation of Africa and Black bodies in art and the physical experience of the white male gaze upon Black bodies.
We can see from these two responses to Picasso's Les Demoiselles d'Avignon how art provides an opportunity for us to feel what we see and experience in the moment—to think, reflect and react to what stands before us. Wilson's Picasso/Whose Rules? and Ringgold's Picasso's Studio: The French Collection Part I, #7, both call upon viewers to acknowledge African art and its often overlooked impact in Western art history.
Museums and galleries draw from the same dominant white narrative in art history as they inherently uphold an elitist status, demonstrating an exclusionary colonial power. One can examine the people in attendance in exhibition spaces, the staff on the floor or in the office, and the Board of Directors and get a grasp of which voices are represented and not, and who gets to hold positions of decision making. A study from 2019 found that, in major U.S. museums, 85% of artists were white, while only 1.2% were Black. And while a recent survey details positive efforts such as Diversity, Equity, Inclusion and Accessibility (DEIA) training, more Black members of museum boards, and acquisitions by BIPOC artists, it is still too soon to tell if this will be the kind of long lasting change that marginalized artists have demanded for decades.
From the inside out, art institutions have much to improve for cultural equity and authentic explicit change from its systemic norms of a white patriarchy.
The significance of the racial composition art councils possess is also shared by the artworks they choose to praise. Controversially, the 2016 Whitney Biennial included Open Casket (2016) by painter Dana Schutz. The painting depicted the lynching of teenager Emmet Till in Mississipi in 1955, a brutal event of racial violence which became a pivotal moment in the birth of the Civil Rights Movement. However, Schutz, while earning critical acclaim, had no cultural connection to the subject matter. Tone-deaf situations arise when we neglect to recognize whose stories we are representing. Writer Maisha Z. Johnson describes cultural appropriation as a "power dynamic in which members of a dominant culture take elements from a culture of people who have been systematically oppressed by that dominant group." We need to acknowledge this power dynamic and provide the space for oppressed groups to tell their own stories.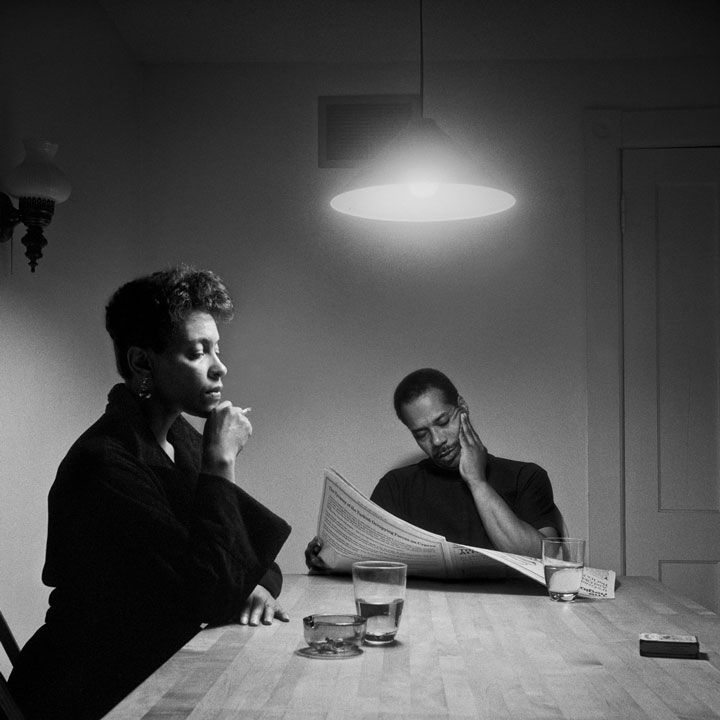 Appropriation of Black culture can be found in other forms and instances beyond visual art. For example, "Hound Dog", a song about female empowerment originally recorded by Big Mama Thornton, a Black woman, is better known by its famous cover by American singer Elvis Presley. In literature, the sanitized version of slavery in the United States in Gone with the Wind by author Margaret Mitchell, is a lot more well-known than actual testimonies, such as Narrative of Sojourner Truth, the memories of a Black woman who escaped from slavery and became an abolitionist and a women's rights activist.
If we aim to represent Black culture in a more truthful manner, Black voices are the ones we should amplify.
Appreciating the humanity of a person is appreciating their complexity. It is what we find when we meet the kind and disagreeable characters in author Toni Morrison's Beloved, the erratic but empathetic Edie in novelist Raven Leilani's Luster, in the bold but natural photographs of artist Carrie Mae Weems in The Kitchen Table Series, the coming-of-age story in the film Moonlight by director Barry Jenkins, or in the friendship of Issa and Molly in "Insecure," co-created by comedy writers and actors Issa Rae and Larry Wilmore. A trove of authentic, unapologetic Black people.
2020 was a year for reflection and questions about our current landscape of doing things. The COVID-19 global pandemic changed the course of working on-site to at home, altering the opportunities of connection and support to one another. Moreover, the violent murder of George Floyd at the hands of the police in Minneapolis catalyzed Black Lives Matter protests around the world. People's call for justice rippled across social media, organizations, companies and everyday interactions to actively oppose anti-Black racism. Society had to face this sustained problem head-on.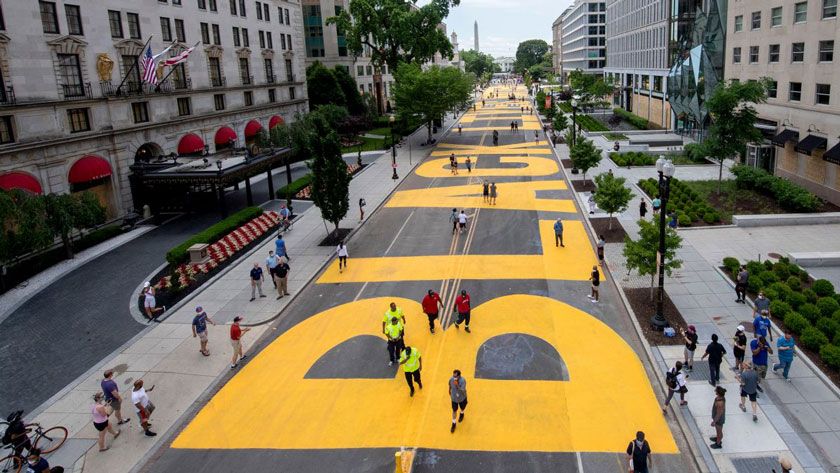 Evidence of the urgency to end systemic racism has only been accumulating. Constant distress takes a toll—mentally, emotionally and physically. "Weathering," a term coined in 1992, addresses how discrimination increases the emergence of health issues. In a study from 2006, Dr. Arline Geronimus states that Black adults "experience early health deterioration as a consequence of the cumulative impact of repeated experience with social or economic adversity and political marginalization." A decay that results from the failure to acknowledge that no one is above anyone.
All around us, racial violence happens in various forms and layers from systemic, institutional, interpersonal and internalized actions. We see that the art world is no exception from its history of exclusion, appropriation and disregard of Black life. Representation matters because we live in a diverse society. We can make choices to dismantle our white patriarchal history and pave the way to radically transform our culture.
In an effort to combat anti-Black racism with the power of the written word, Arts Help conceived Black Artistry Series.
Black Artistry Series is a year-round program committed to supporting, celebrating and showcasing Black creatives and storytellers around the world. For hundreds of years, the presence and portrayal of Black people in art history has been overshadowed by a Eurocentric point of view. Anti-Black racism continues to grow in our current climate, reminding us that society has a long way to go towards authentic reform and accountability. Arts Help meets with Black creatives and leaders within their communities each month to highlight projects and publish exclusive interviews to share their stories. There is always a place for Blackness and we can use art to assert it by sharing truthful and diverse Black narratives. Arts Help stands in solidarity against systemic anti-Black racism and racialized discrimination of any community in the arts and beyond globally.
Black artists and arts matter.
---
Authors' note:
As women who belong to racialized communities—Filipino-Canadian and Latinx—but do not identify as Black, we recognize that our perspective is limited. There is still more work to be done to end anti-Black racism in all its forms, and we are committed to continue to learn and educate ourselves on the complexities of race.
Use the hashtag #ArtsHelp365 to follow the series online.
Cover image: Curated billboard by Jose Adamu in Toronto.