Art evolves through inspiration. In the case of 20th-century artist Hiroshi Yoshida, art evolved through inspiration blended with knowledge of different cultural aesthetics parallel to Japanese art traditions.
Yoshida (1876-1950) is renowned for painting and exhibiting Japanese and non-Japanese sceneries—particularly by travelling to those places rather than painting from imagination. He produced artworks with landscapes and architecture from all around the world, including the United States, Singapore, India and Afghanistan to name a few, in traditional Japanese woodblock painting styles.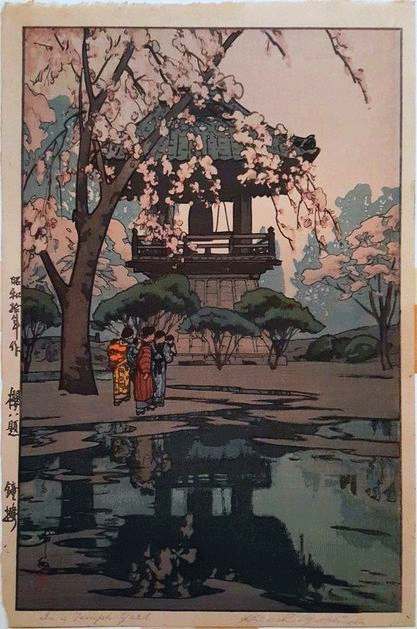 Born Hiroshi Ueda in Kurume, he was adopted by Kasaburo Yoshida, an art teacher in public schools who nurtured his talents in art from an early age. He left for Kyoto at age 19 to become a student of Tamura Shoryu, a well-known teacher of Western painting styles and studied under Koyama Shotaro in Tokyo three years later.
In 1899, Yoshida travelled to the United States and had his first art exhibition at the Detroit Museum of Art (now the Detroit Institute of Art), followed by exhibits in Boston and Washington. His travels around the globe added to his vast knowledge of Western aesthetics and artistic influence, yet he always adhered to the Japanese art movements and traditions.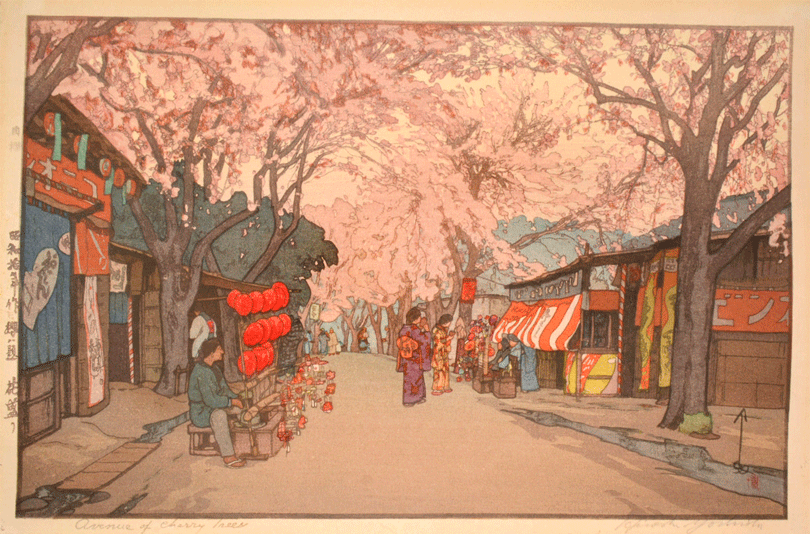 He moved on to working with prints 20 years later. Yoshida worked with Shozaburi Watanabe (1885–1962), a woodblock print publisher and pioneer of the shin hanga movement, an art movement that revitalized the traditions of ukiyo-e art schools from the Edo and Meiji periods in Japan. Working together, they produced a large number of prints and landscapes.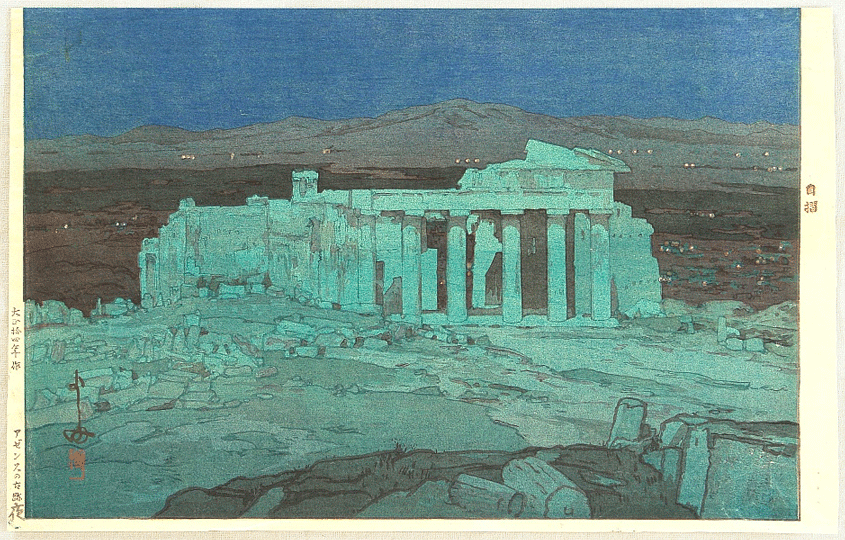 The shin hanga (literally, new print or new edition) style was an art movement from the 1910s to the 1960s in Japan that incorporated some European elements in the otherwise traditional ukiyo-e art. Examples include the use of bright colours as opposed to simple colours, a horizontal picture plane, European pigments, and playing with light, perspective and shading techniques.
These Western elements combined with the traditional ukiyo-e art in depicting narratives and people, such as city life, travel, romantic landscapes, birds and other animals.
The combination of Japanese narrative depiction with European Impressionist influence was successful and revitalized the ukiyo-e art schools.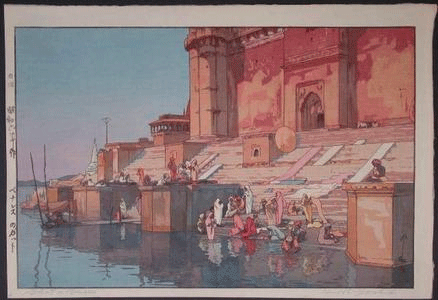 In 1925, Yoshida instituted his own printmaking studio, where he was proactive in learning the process alongside his employees. He felt it crucial to study the carving and woodblock-making process and become as skilled as his fellow carvers and printers. He was also innovative with new ideas for different techniques.
Throughout his early phases of life and in his youth, Yoshida gained a vast knowledge of Western styles in Classical drawing and Impressionist painting using watercolours and oil, alongside Japanese brush techniques. His dexterity with Western styles and Japanese art traditions, combined with his skill in carving, innovative ideas and travel, inspired him to develop his own artistic style.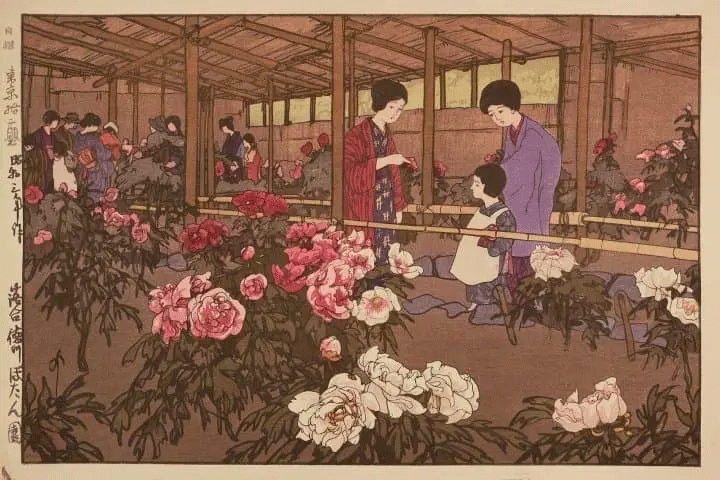 He drew inspiration for his paintings from landscapes, sceneries, temples and temple gates, avenues, gardens in different seasons, mountains and valleys, and even fish and birds from Japan as well as China, Korea, India, Singapore, Afghanistan, Egypt, Europe and the United States.
Yoshida's background and exposure to different aesthetic styles and art movements influenced his art styles from different phases in his life, which allowed him to paint sceneries from all around the globe. The artist's background and aesthetic eye are reflected in three of the United Nations Sustainable Development Goals for Reduced Inequalities, Sustainable Cities and Communities and Peace, Justice and Strong Institutions.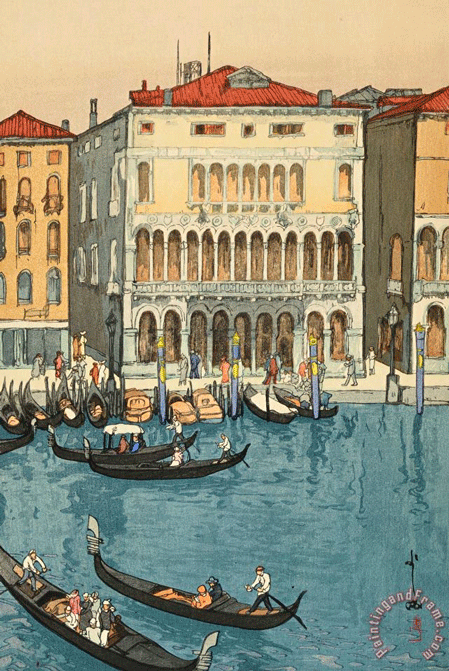 Yoshida was a pioneer of his own artistic style, combining traditional Japanese block print schools with American oil paintings. His rich career and family history are great examples of how art styles are translated into other cultures and worlds, into the language of art everyone can understand and appreciate. In his own words, he describes how unique his style is: "I have never met any artist who is painting work similar to mine. This realization made me persevere and develop my own style of painting."
---
Check out Hiroshi Yoshida's work at the National Museum of Asian Art in Washington, D.C., the Mount Holyoke College Art Museum in Massachusetts, U.S.A., and the Asian Arts Collections website!