The South African artist, Kilmany-Jo Liversage, works her magic on large canvases with bright colours. She reports Renaissance portraits as a big source of inspiration. Her works boast interplay between figure and ground. The figures are brightly lit with the same drama and poses of Renaissance women without the finery and expensive furnishings that were common at the time. Now, their colourful backgrounds contrast or occasionally envelope the subjects in graffiti tags.
In this way, Liversage breathes new life into her 15th-century inspiration and elevates her subjects with a different kind of urban drama. Liversage's work perfectly melds the look, scale and techniques of street art with the intentionality and scope of fine art.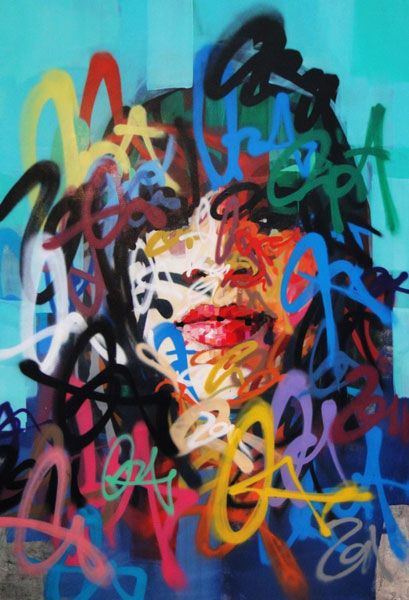 The women in her works are "staring defiantly out at the viewer," and she intends to comment on the patriarchal society at large. Their strong facial expressions allow them to break through the colourful and chaotic compositions to still hold our attention in a sea of lively graffiti.
"I draw inspiration from street culture and source portrait images from mass media and social networks," she wrote. "The portraits are randomly selected and although the person portrayed might not be familiar to the viewer, it conjures up a universally recognizable sense of familiarity. The viewer is confronted with a complete stranger yet senses a mutual common ground."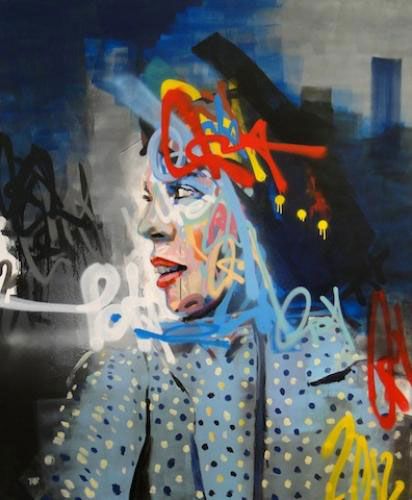 Her female subjects are made modern and interesting by the use of graffiti techniques, making her take on street art all the more interesting. She gathers her subjects from social media, but they remain anonymous.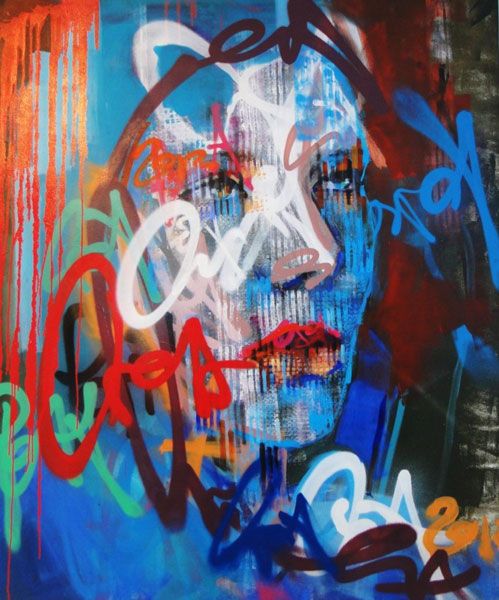 "During the Machine Age, artists would reduce their compositions to its smallest constituent parts," Liversage explained to Everard London. "With my current paintings, I manufacture this deconstruction by combining the painting tradition of portraiture with idiosyncrasies from the urban culture of tagging. This enables me to explore the intersection between street art and fine art while reconstructing them into a new genre of portraiture."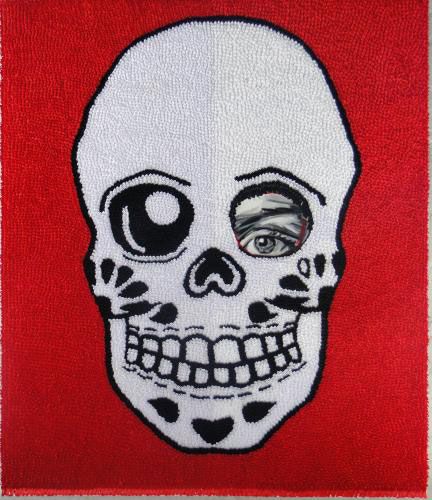 The silk ribbons were her primary medium until 2005. Ribbons are usually worn to show support and create awareness about abuse, breast cancer and other diseases like HIV/AIDS. Using this medium, she told Global Citizen that she wants to bring attention to these issues because they deeply impact women and children. The medium coupled with her carefully chosen symbols speak volumes about inequality and injustice, while also being visually striking.
Liversage isn't just a creator, she's an artist in action who believes in using her platforms to speak for women. South Africa, her home country, has one of the highest femicide rates in the world, with a woman being murdered every 4 hours. Liversage has made it her mission to speak out. Her work as an artist aligns with the United Nations Sustainable Development Goal for Gender Equality.
She threw her weight behind protests against fellow Cape Townian artist Zwelethu Mtethwa in 2013. Mthethwa, a celebrated painter and photographer, murdered Nokuphila Kumalo, a 23-year-old sex worker and mother. Despite video evidence, his trial was continuously delayed until his eventual conviction in 2017, and his art is still prominently displayed. He was able to carry on with his life and career, meanwhile, during the trial Kumalo's name was erased.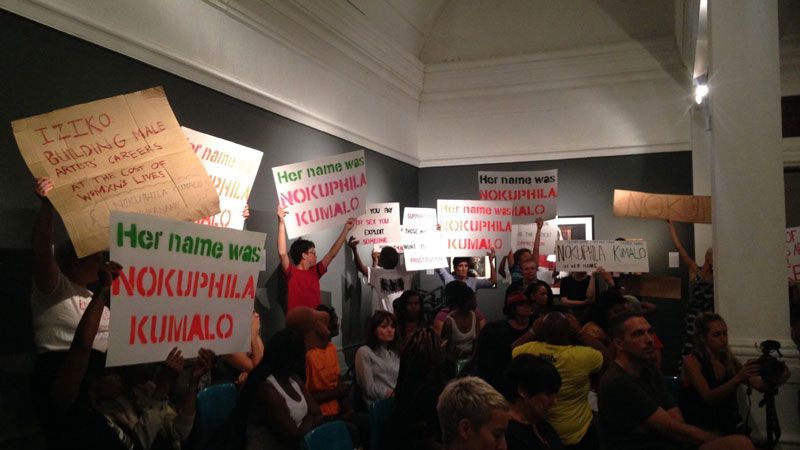 "Being an artist within the creative community of Cape Town and having briefly met Zwelethu Mthethwa, I was absolutely taken aback by the level of support he got for maliciously kicking Kumalo, and how rife [patriarchy] is in South African galleries," Liversage said in an interview. "…Even though video footage shows evidence of Zwelethu committing this crime, he was able to get bail and continue his normal life until the trial two years later."
A 2021 UNDOC report noted that women are the primary victims of intimate partner homicide. Furthermore, these crimes are part of larger patterns of neglect which lead to preventable deaths: "Killings by intimate partners are rarely spontaneous or random, and should be examined as an extreme act on a continuum of gender-related violence that remains underreported and too often ignored."
Apart from the continued support and success Mthethwa enjoyed while on bail, real outrage sparked when his work was shown in 2016 in the 16 Days of Activism exhibit at the South African National Gallery, which aimed to raise awareness for abuse against women and children. Here, she participated along with SWEAT (Sex Workers Education & Advocacy Taskforce) to have his works removed from the exhibit and to call for justice for Kumalo.
"The patriarchal system is very much alive and kicking in the art world—nationally and internationally. The current times have, however, allowed more focus on women's voices through protest on gender equality than ever before, which is a great step forward," Liversage remarked.
While the art world and the justice system continue to miscarry justice and silence women's voices, it is important to support artists working against the grain.
To learn more about Liversage's work you can visit her website here.