Turning something that is declared ugly and insignificant into something beautiful may seem like an act of magic. In the case of anamorphic street and graffiti artists, it is the magic of their artistic talent and creativity that makes such stunning transformations.
One such artist is Sergio Odeith, or simply Odeith.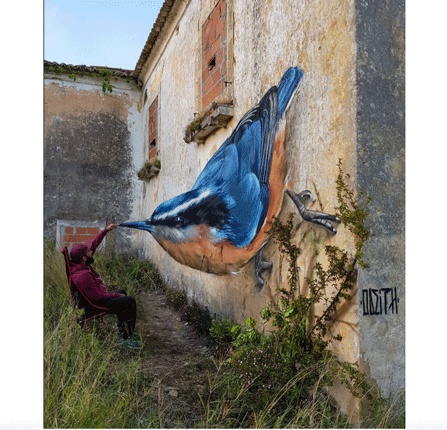 Turning blank walls into eye-catching illusions are especially important in an age in which sustainability and inclusiveness are increasingly necessary to build a better future, as highlighted in the United Nations Sustainable Development Goal on Sustainable Cities and Communities. Apart from the obvious beauty of his work, Odeith's pieces are also setting a new standard within the art world by using already existing backgrounds and patterns, focusing on refurbishing rather than rebuilding, a practice that aligns with the SDG for Responsible Consumption and Production.
With hundreds of thousands of followers on Instagram, Odeith became one of the most popular street artists of social media, joining the likes of Banksy and many others.
Inspired by his first ever graffiti piece in Lisbon, Odeith started his career in this challenging field of art and hasn't stopped since.
He recalls his early days as an gravity artist, explaining in an interview with Bombing Science, "I remember the first time that I was caught by the police, I was 15 years old, and I was painting the building where I was living, and the cops made us clean with some liquids until they were driving at the round abound near the building at 4 am in the morning. Me and my friends, we were exhausted."
His social media started to blow up when he began posting ordinary cement structures  and asking his followers to guess what he is going to create out of them.
Starting with the bare concrete, Odeith's art makes you question your vision with his optical illusions.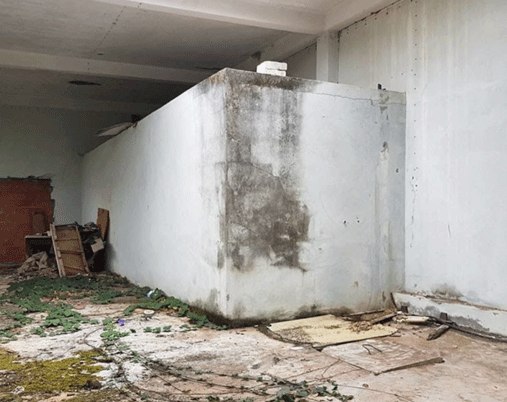 A post where he transformed a cement block into a bus was the start of Odeith's success on social media, boosting him right to the top of street artists world wide.

Now he creates large-scale murals for national and international enterprises, like London Shell, Kingsmill, Coca-Cola, Samsung and the Portuguese government.

He explained in an interview with Abduzeedo how he developed his unique brand of 3D realist art.

"I was kind of tired of the conventional regular 3D letters, so I was always searching for something original, this was till I got the first leg from one of letters coming out of the wall, making a cool effect. Since then I'm always trying to reach a new level," he says.
Even though he sometimes uses computer animation to prepare his pieces, his favourite media to work with is remains spray paint. However, it is still hard to make a living as a graffiti artist, Odeith states.

"I got to say that I'm still struggling, since I got to spend money on walls to practice, evolve my style and publish my work on a daily basis. Sometimes I can reach really good results using only a few cans or a roller paint. It's way easier when you have all the right conditions to do your work, for example the alligator piece I did thanks to Kevin Harris," he explains.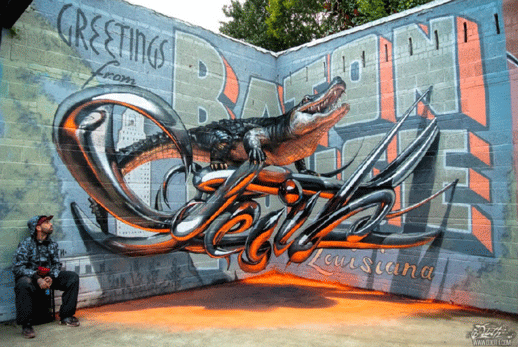 Following his social media, his fans can gain a slight clue on how Odeith works his "magic" using black spray paint to create the outlines and mark points where perspective lines should cover.

Even with this little insight, the precision and perfection of his pieces remain breathtaking and convey to the viewer the true magic of art, where illusion and creativity meet to create something stunning and long lasting.
---
To support Odeith, you can see and purchase his work on his website.