An arched sign over the entrance to downtown Flint, Michigan, welcomes visitors to "Vehicle City."  A nineteenth-century history of carriagemaking earned Flint this moniker which remained à propos even as that industry gave way to the nascent auto industry of the early twentieth century. In 1908, Flint was the birthplace of General Motors, itself an amalgam of several early auto companies including Buick and Oldsmobile.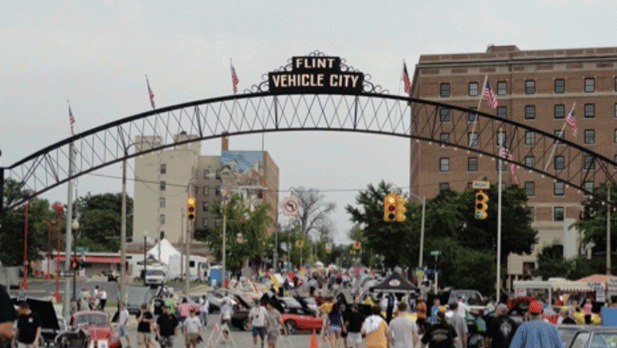 Sadly, in more recent years Flint became better known for deindustrialisation, urban blight, environmental injustice, government negligence and inequality. Decades of systemic oppression, discriminatory policies, institutional racism, and classism have kept residents of Flint disadvantaged.
Many of Flint's struggles have been well-documented, especially the Water Crisis of 2014-2016, when a switch in provider allowed lead to leach into the water supply. Nevertheless, there are indications of hope and resilience, as the community has banded together to reimagine the city and show the world that there is more to Flint than its litany of problems. Of note, is the Flint Public Art Project (FPAP), a nonprofit headquartered in downtown Flint, that has worked to reinvent the city as a street art destination and international art hub.
The FPAP was founded in 2011 by Flint native Stephen Zacks, an advocacy journalist, architecture critic, urbanist, and organizer, with a $250,000 grant from ArtPlace — an alliance of foundations, federal agencies, and financial institutions that operated between 2010 and 2020 to support and strengthen the field of creative placemaking. This initiative has been defined as  "the intentional integration of arts, culture, and community-engaged design strategies into the process of equitable community planning and development." Zacks established the FPAP to creatively address challenges to and opportunities for beautifying his hometown through mural installations and to contribute to community-defined social, physical, and economic redevelopment to revamp Flint's image.
The FPAP supports collaborations among residents and organisations as well as with leading artists, architects, city planners and community organisers from around the world, connecting Flint to regional, national and global movements to revitalize neighborhoods and cities through art and design. The core impetus of its program is "to amplify value in devalued spaces" in Flint through public art. In this way, FPAP addresses a wide array of the United Nations Sustainable Development Goals, including Quality Education, Gender Equality, Decent Work and Economic Growth, Industry, Innovation, and Infrastructure, Reduced Inequalities, Sustainable Cities and Communities, Peace, Justice, and Strong Institutions and Partnerships for the Goals.
In 2015, Joseph Schipani, MPA, with the Flint Leverage Points Project, a contracted position with the Community Foundation of Greater Flint in association with Michigan State University, took over as President and Executive Director of the FPAP. Though originally from Oakland County, Schipani has been a resident of Flint in Genesee County since 2006. Upon assuming leadership of FPAP, Schipani has elaborated and expanded upon Zacks' mission of "inviting visionary practitioners of contemporary art, design, architecture, and urbanism to team up with local artists, residents, and institutions to collaborate on a series of public art installations, performances, educational programs, small-scale sculptures, and urban designs to reimagine Flint."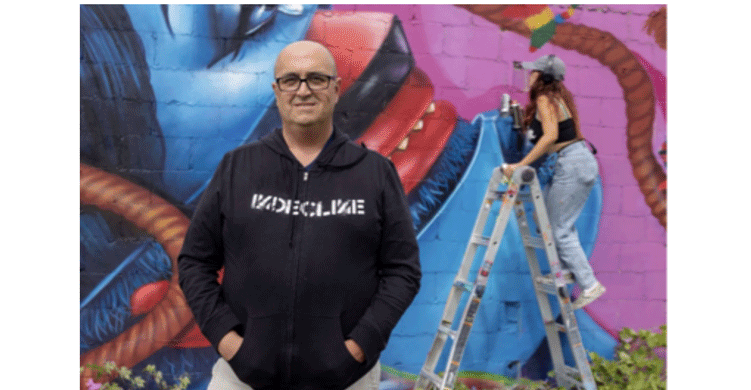 Under the direction of Schipani, the FPAP has further partnered with community arts organisations including the Greater Flint Arts Council, the national public art advocacy organisation CO_Labs  in San Francisco, and the Italian spray paint company KOBRA Paint, as well as community organisers such as Flint artist Sandra Branch. Branch, a founder of the Greater Flint Arts Council and proprietor of the Earthworks Art Studio Gallery and director of its Gallery on the Go — a community art project to help get youth off the streets through art, culture and heritage — is now also Vice President of the FPAP. She has worked with Schipani since 2016 to bring leading street artists and architects from across Michigan and around the world to Flint with the participation of Gallery on the Go program volunteers.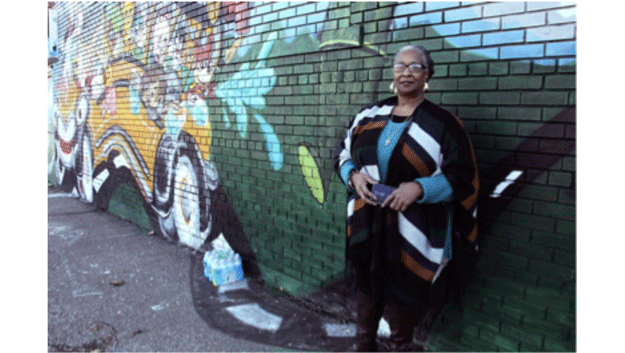 A business or organization must be located within the city of Flint to submit a proposal for consideration to receive a mural, after which local and visiting artists are commissioned with the help of FPAP. As of Spring 2021, over 160 murals have been painted throughout the city and its neighbourhoods courtesy of the FPAP and CO_labs. Some of the murals are colourful and celebratory, others more solemn. Many are filled with symbolism. The murals often commemorate real events, persons, or issues. For instance, there is a 2019 mural of Frida Kahlo by Charlie Boike for Knoblock Hardware, and a 2019 mural by Flint native Kevin "Scraps" Burdick depicting the 1965 54-mile march for voting rights from Selma to Montgomery, Alabama that pays homage to civil rights icons Martin Luther King Jr. and the late U.S. Representative John Lewis on Martin Luther King Avenue, and a 2019 mural by Murales Lian referencing immigration on the Flint Latinx Technology and Community Center.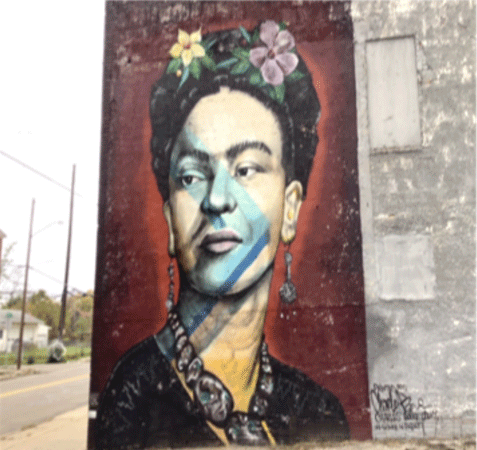 Other FPAP murals honour the businesses or neighbourhood spaces where they are located, deepening a sense of place. Such murals include the 2017 Gallery on the Go neighbourhood mural by Sandra Branch and volunteers, the 2018 Totem Books mural by the UK street artist duo Nomad Clan, and the 2019 mural by Britt Flood for FLI-City Studios, an alternative dance education organisation serving Flint and Genesee County. These are just some of the noteworthy murals to see in downtown Flint and its surrounding neighbourhoods.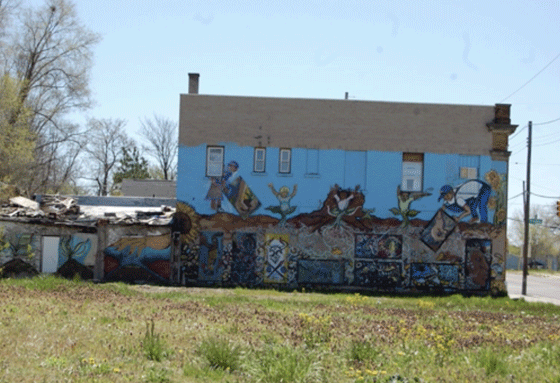 A map of the murals created in association with the UM-Flint Economic Development Program is available on the FBP website here. Guided walking tours of the murals are also offered once a month through the What's Up Downtown Project, led by former muralist, public art advocate, street art teacher and Flint director of placemaking, Kady Yellow. Tickets can be purchased online or for those who want to explore on their own, one can engage in a self-guided tour using the PIXELSTIX app available to download for free on the Apple Store or Google Play.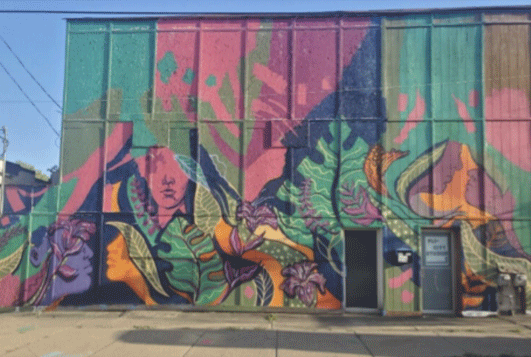 The FPAP also organizes public events, workshops, and temporary art installations. These include Free City, the Neighbourhood Art Parade, and earlier this year, the Flint Mural Plays in association with the Flint Repertory Theatre. Held from June 5th to August 31st, 2021, the Flint Repertory Theatre, known as The Rep, presented 25 world premiere audio plays from local and national playwrights corresponding with a different mural around the city of Flint. Included here are the mural plays So this is Random… by Harrison David Rivers, Sunflower by Douglas Lyons, Sonnets for Mother, Daughter by Lauren Gunderson, and A Dove by Eliana Pipes.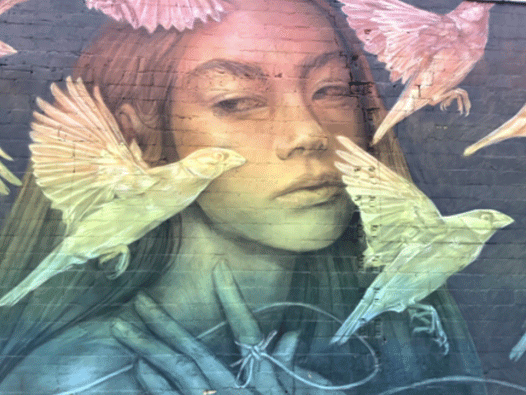 Free City, a large-scale public art festival, originally reclaimed the former Flint-Chevy manufacturing site along the Flint River for public use in 2013, turning a neglected area into an active public space. Since then, each collaboration has temporarily reclaimed a different neighbourhood or area to highlight the ongoing transformation of the city. The event attracts thousands of visitors from across the region, featuring music, dance, theater performances, and art installations to reconnect residents. On October 12, 2019, the FPAP hosted the inaugural Free City Mural Festival, a group mural painting project that focused on the Southside of Flint in which over 20 local and international artists participated.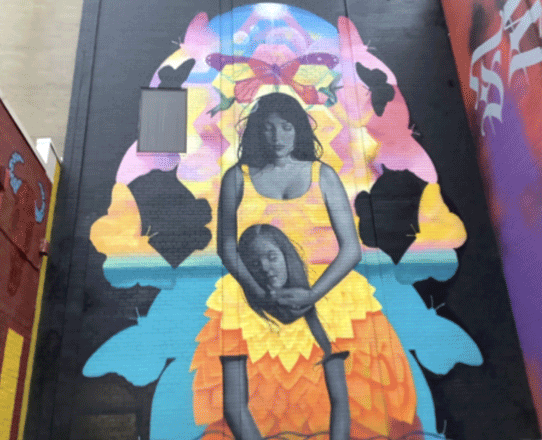 Begun in 2014, the  Neighbourhood Art Parade is another event that brings together Northside Flint residents with artists and performers for monthly walks and gatherings to help reclaim the streets for the community. Led by Sandra Branch, the Neighbourhood Art Parade series partners with Light Up the City, a community policing initiative of the Michigan State Police. The event uses flags and banners to amplify voices and broadcast messages of healing and repair within the city.
The FPAP also participates in the Cool City Art Auction in association with Buckham Gallery, the Greater Flint Arts Council, and the Art at The Market gallery at the Flint Farmers Market, an annual fundraiser for non-profit organisations in Downtown Flint featuring silent art auctions with local art.
In addition to its mural and community outreach events, the FPAP runs an after-school arts program focusing on helping students develop critical thinking skills as well as to navigate issues of trauma. They bring high-quality arts instruction to Flint children from kindergarten to eighth grade along with weekend and summertime arts programs.
Lastly, the FPAP has teamed up with Kady Yellow, street art specialist and public art advocate Melissa "Zippy" Downing of CO_labs, and KOBRA Paint, to create a cultural art exchange between Flint and New Orleans called Flint x Nola. In September 2019, it brought artists from New Orleans to Flint as part of an ongoing effort to "strengthen the relationship between the two visual art hubs and elevate the mural arts scene of both places."  Murals created for Flint x Nola were unveiled in October 2019 at the Flint Mural Fest.
---
In April 2019, the Flint Public Art Project received its registration as a 501(c)(3) nonprofit. If you want to get involved, the FPAP is always looking for volunteers. Send them an email expressing interest at info@flinbpublicartproject.com.