Sculpture installations, textile works, costume design, instrument-making and video, Nick Cave: Forothermore is an exhibit like no other. Pondering the past, present and futurism of the United States, while colourfully critiquing the prominent and debilitating injustices across the nation, Cave's exhibit amplifies the voice of multiple generations.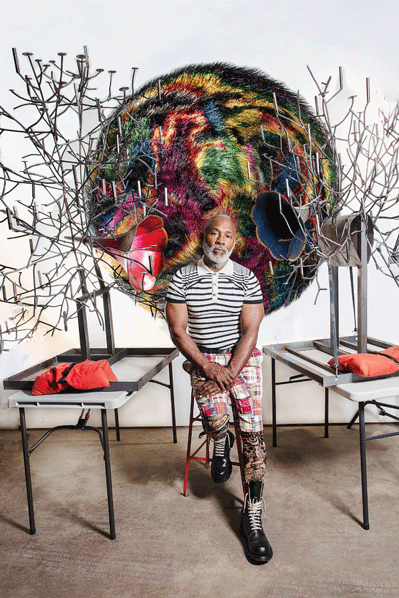 Following some of the largest racial injustice movements and unrest in the United States – with 15 to 25 million people participating in protests, Cave's six month exhibition takes on the daunting task of examining the past, present and future of marginalization in the United States. In doing so, the exhibition covers the entire breadth of Cave's career, ranging from his famous Soundsuits to his rarely seen early works, working together across three sub-exhibits to highlight how art of various forms can act as a conduit for the promotion of United Nations Sustainable Development Goals like Reduced Inequalities and Peace, Justice and Strong Institutions.
On display at the Solomon R. Guggenheim Museum in New York City from Nov. 2022 to April 2023, Nick Cave: Forothermore is the first survey bringing together works across the artist's three-decade long career. Showcasing his "unusual ability to upend and confound common senses of value" through displays of his commonly utilized discarded and "kitschy" items, Forothermore explores Cave's influences from the design philosophy of the Bauhaus School to the Arte Povera postwar era elevating mundane objects to fine art and to the "creative frugality" of his upbring and family.
Centered around the exhibition's title Forothermore, a neologism, the entirety of the exhibition reflects Cave's lifelong commitment to developing a space of safety and inclusion for everyone, but especially for those that have been "othered" by society. The notion of "the other" or "othering", a centuries old philosophical notion describing the exclusion of those that do not fit the norm of typical social groups, is most directly utilized by Cave to highlight the feeling of exclusion, isolation, segregation and discrimination that queer, working class and people of colour experience daily in the United States. In exploring and emphasizing these feelings, while also providing a historical exploration of the treatment of minority groups throughout the entirety of exhibit, every nook and cranny of Forothermore aims to not only highlight these negativities but also to actively promote the aforementioned Sustainable Development Goals.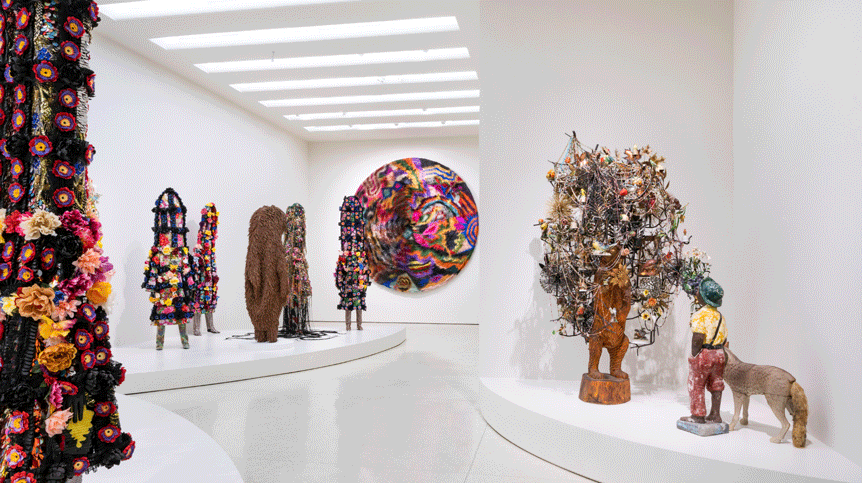 While developing the entire exhibition around forothermore and otherness, the exhibition unfolds across the museum's multiple levels as a tripartite story, framed around a traditional African American greeting – "what it was," "what it is'' and "what it shall be," a greeting used historically by African Americans that incorporated important Bible verses and a reflection of their treatment in segregation era United States. Each chapter corresponds to said greeting whilst delving into Cave's interpretation of otherness across America's history, present and what he hopes the devolution of the future of his practice will entail.
Chapter 1: "What It Was"
Born in 1959 Missouri, but living and working from Chicago, "What It Was" showcases Cave's earliest works, honouring his creative and social foundations rooted within family life in Missouri and the 1970s Chicago art and music scene. Citing the "psychedelic pageantry of George Clinton's collective Parliament Funkadelic and the flamboyant excess of Chicago house music" as formative influences on his artwork and personal development.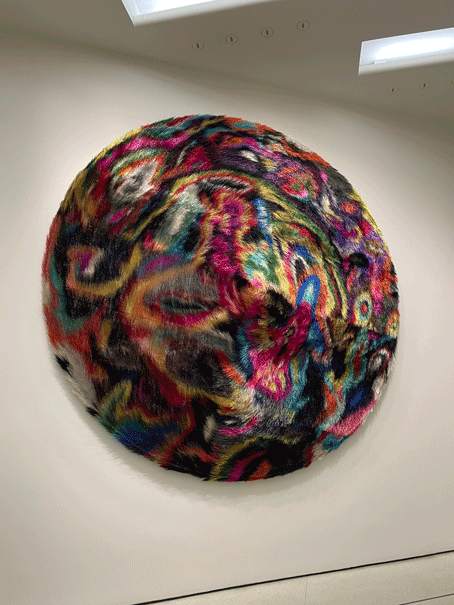 Not quite delving into influential racial injustice moments and developments, "What It Was," acts more as a steppingstone to Cave's more prolific works, a steppingstone in which his experimentation with reclaimed materials, music and colour begins to evolve from his earliest works to what is seen within his work today. It is through these works that Cave's tendency for vibrancy and flamboyance in the face of hardship truly develops in his artwork.
Chapter 2: "What It Is"
The exhibition's second chapter, featured on its own level within the Guggenheim takes a different approach. Rather than displaying the whimsy and vibrancy of Cave's earliest works that highlight flamboyance and pageantry experienced in his early life in Chicago, "What It Is" addresses darker issues surrounding his artwork.
Taking on the "present" portion of the exhibition, What It Is explores the darkest and most pressing instances of oppression within the United States. Including earlier versions of his iconic Soundsuits, political pieces and sculptures abstractly depicting racism and violence in America, the chapter addresses "oppression, loss, mourning and remembrance."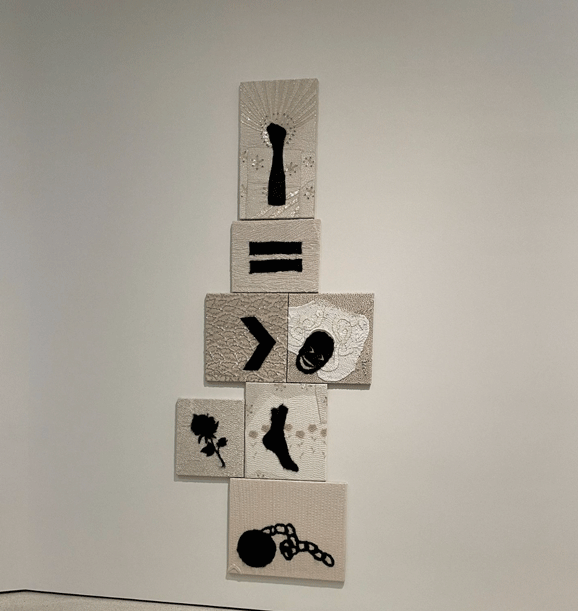 In  Cave's 2018 untitled pieces, featuring a carved wooden head of a Black man lying on an American flag made solely from used shotgun shells, What It Is highlights how the United States and its institutions have continuously failed to meet specific Sustainable Development Goals. Works like these, showcased throughout this chapter, so deeply and drastically underscore what exactly is wrong with formal institutions in the nation and how divided the nation is when it comes to reducing inequalities.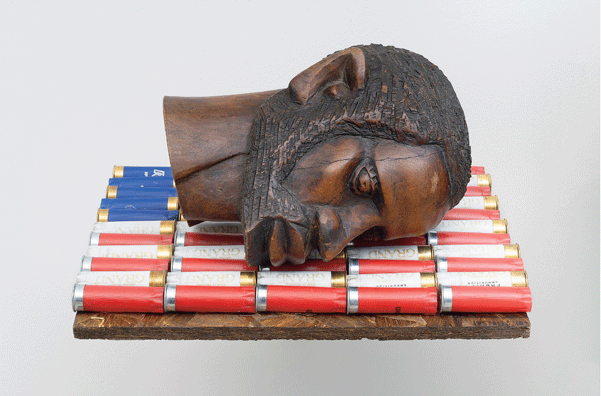 Regardless of the darkness encompassing the second chapter of the exhibit, Cave's work throughout the chapter exhibits brief highlights of hope for the future that is thoroughly explored in the exhibit's final chapter.
Chapter 3: "What It Shall Be"
Closing out the exhibit, "What It Shall Be" features Cave's most prominent works over the years, works that exemplify his survival strategies amid injustice. While remaining focused on injustice, it is within this chapter that Cave's works incorporate joy and light reflecting hopes for the future of meeting sustainable development goals.
Most prominently, "What It Shall Be" features Cave's most recent incarnation of Soundsuits, various suits made from "found objects" and existing material that represent "suits of armor" protecting marginalized individuals from injustice. The Soundsuits were originally conceived by Cave in the 1990s following the LAPD's "brutal beating of Rodney King in 1991, which a witness captured on video, with Cave sitting in a Chicago park contemplating King's treatment and injustice at the hands of police and government institutions. As he sat pondering, he collected various twigs from the ground and later sewed them into a suit of armor, a suit which he "envisioned as a means of obscuring his identity as a queer Black man for protection while paradoxically amplifying his racial otherness."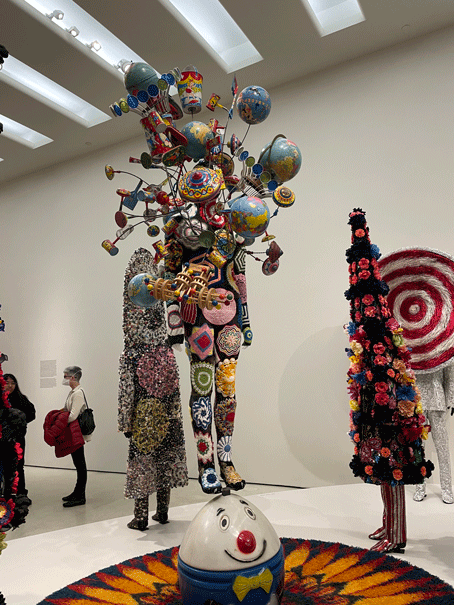 "What It Shall Be" includes Cave's foremost Soundsuits as well as his newest reiterations of the works, inspired by widespread Black Lives Matter protests and the murder of George Floyd. Created out of varying mediums and materials such as beads, buttons, shoelaces, toys and antiques, the Soundsuits although representing sorrowful events in the U.S. act as a beacon of hope.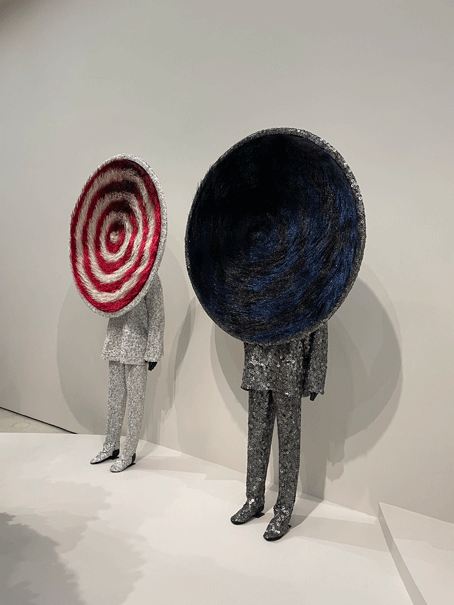 Making something from nothing, something resembling a modern suit of armor, something that produces unique sounds when worn, Cave is not only creating unique and masterful art, but also conjuring feelings of celebration and reminders that joy and vibrancy can too be a form of resistance.
"When I was a young artist, what did I think the work would look like in 2020?" responded Cave when asked what catalyzed this exhibition. Strolling through the Forothermore exhibit at the Guggenheim Museum, one must ask themselves that while Cave's work itself has progressed over time, what in terms of racial equality and the advancement of strong institutions has changed by 2023?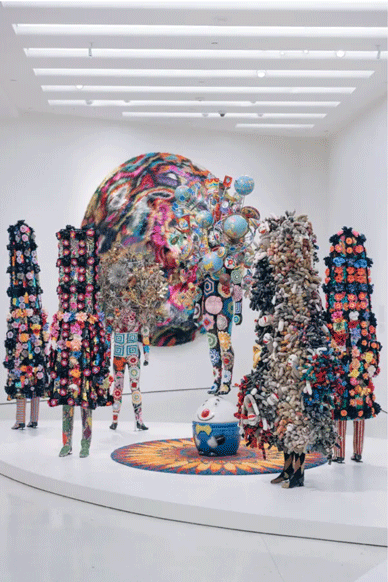 Pondering Cave's work at face value, it almost seems as though nothing has changed over the course of his multi-decade career, as his earliest work and newest work seem to all reflect similar issues of injustice. Yet, exploring the vibrancy and noisy resistance in pieces like the Soundsuits, it is evident Cave's work has changed, and that maybe the United States is slowly changing as well. The evolution and the messages of joy and hope in the face of adversity seen within Cave's work highlights that with enough protest, our world may progress closer to meeting the United Nations Sustainable Development Goals for Reduced Inequalities and Peace, Justice and Strong Institutions.
Nick Cave: Forothermore focuses on the notion of marginalized people as the other. An "other" that has been overlooked, misjudged, discriminated against and abused by the rest of society. In Forothermore these communities are still the "other", but Cave and his work is vibrantly and loudly distinguishing them as an "other" with a voice that can no longer be ignored.