Trigger Warning: Mentions of transphobia, queerphobia and suicide.

"The outcome of love is death" – during a quiet moment of intimate connection in a drama film, Joyland, Haider, the protagonist, delivers this line in the guise of a joke. However, Biba, his trans paramour, is not amused. She chokes on her cigarette smoke and lets him know the joke is not very funny. The weight of the moment is palpable and the audience realizes that this seemingly light-hearted remark is indeed foreshadowing. The sense of impending tragedy lingers, leaving a haunting impression that this story will not have a happy ending.
Director and writer Saim Sadiq's film, Joyland, portrays the pain of deferred desire. Set in Lahore, Joyland reflects the flaws of conservative South Asian society. The characters suffer under patriarchal torment, unable to live their desired lives. The film centers around the Rana family's household, offering a glimpse into the everyday lives of those in an exclusive and conservative society.
In this story, Haider  (Ali Junejo) is a stay-at-home husband criticized by his wheelchair-bound father, Abba (Salman Peerzada). His wife, Mumtaz (Rasti Farooq), is the main provider, working at a salon. Haider's older brother, Salim (Sameer Sohail) and his wife, Nucchi (Sarwat Gilani), have four daughters, which upsets Abba who desires a male heir. Adding to Abba's disappointment, Haider is unemployed and he and Mumtaz have no children, which is frowned upon in their traditional household.
Haider finds work at a "Mujra," or Bollywood dance theater, hiding the fact that he is a backup dancer for the trans entertainer Biba (Alina Khan). He falls in love with her, but their relationship ends when Haider fails to meet Biba's expectations of manliness. In culling their relationship from the plot in this fashion, Sadiq speaks to his dejected audience – the oppressive patriarchy thrives even in the most liminal spaces and among its most transgressive players.
Mumtaz, pregnant and confined to the house, faces an unwanted fate. She longs for freedom and attempts to escape but realizes there's no way out. Tragically, she takes her own life, leaving no hope for a happy ending. In a poignant moment, Nucchi mourns, acknowledging their collective responsibility for Mumtaz's death. The outcome of Mumtaz's one true love, her freedom, was indeed death. The film ends with Haider on a beach in Karachi that he was meant to visit with Mumtaz and the audience is left with many things to carry home, a heavy heart among them.
In focusing on the stories of those repressed by the patriarchy, Saim Sadiq's Joyland draws attention to the United Nations Sustainable Development Goals, specifically, the goals of achieving Gender Equality and Reduced Inequalities within countries. The film's contemporary setting in Pakistan serves as a commentary on the persisting regressive attitudes and conditions in the country, as well as the South Asian region in general.
The Government of Pakistan banned Joyland as a response to the backlash from the country's conservative factions and rescinded the film's authorization for theatrical release due to its depiction of the romantic involvement between a man and a transgender woman, which was deemed "highly objectionable material." While this ban was lifted a week later, the film still drew ire from more conservative Pakistani audiences. Despite the hostility the film received at home, it was the first film from the subcontinent to win the prestigious Un Certain Regard Jury Prize, as well as the Prix Queer Palm at the 75th Cannes Film Festival.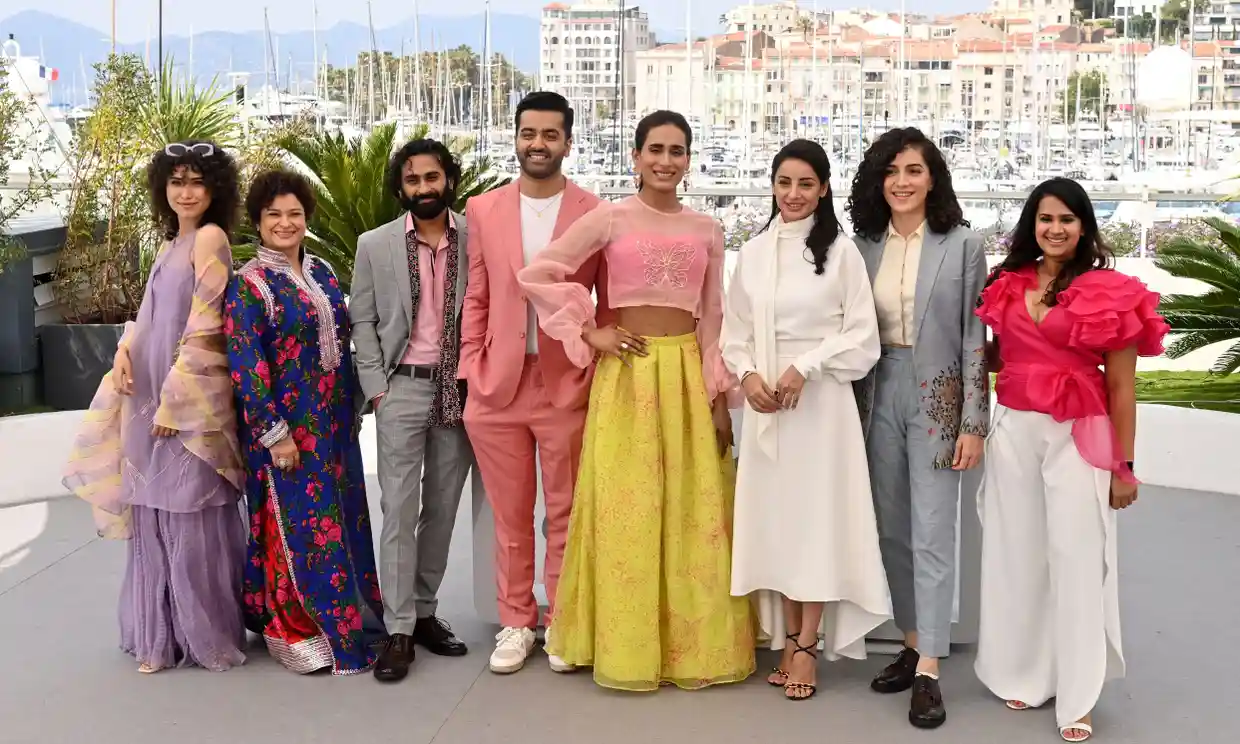 Equality, as in life, is hard won for the characters in the film and often escapes their grasp. Among the many things that are notable about the film is its unrestrained depiction of queerness and what it means to be trans in a South Asian society. Although progressive legislation was passed in 2018 to allow for self-determination and protection for all transgender people in Pakistan, the country's trans community still faces several challenges.
The film highlights the discrimination and oppression they face in numerous ways. Biba, whilst traveling on a metro, faces a cis woman who says, "Beta, tum yahan nahi baith sakte, mardon ka section mein chaley jao" (son, you can't sit here, go to the men's section). While her womanhood is being abjectly denied, Haider inserts himself between the woman and Biba, ending the conversation. Biba and Haider laugh lightheartedly, while the women around them say, "Everything is vulgar now."
Biba faces transphobia in her professional and personal life, including discrimination from cis women performers and the tragic murder of her guru, Tina. These instances underscore the urgent need for awareness, empathy, and protection for trans individuals in Pakistan and South Asia.
Biba, a strong and unapologetic trans woman, faces oppression but remains fiercely independent. She boldly expresses her desire for gender-affirming surgery, despite Haider's discomfort. In a powerful scene, Biba performs in a blackout at the theatre, symbolizing her resilience. With torchlights from cell phones illuminating the packed theatre, she dances, defiantly asserting her presence and resistance. It is almost as if she wordlessly says, "I'm here, I'm queer, and you will watch me." Biba's story is Sadiq's ode to all trans people who defy society's attempts to erase and silence them, and Alina Khan's performance is the verse at its very heart.

Sadiq's film portrays the multi-faceted nature of patriarchal oppression, with transphobia and misogyny as its key aspects. The cis women characters are intricately developed, showcasing their flaws, transgressions, and unfulfilled aspirations, particularly embodied by Mumtaz. In Abba's patriarchal world, women are expected to be financially dependent on their husbands. Pregnant and hopeless, Mumtaz tragically takes her own life, illustrating the devastating consequences of patriarchy. Sadiq's film highlights the urgency of combating gender inequality through impactful incidents, urging for change worldwide.

Sadiq's portrayal of gender inequality acknowledges the nuanced hierarchy between cis and trans people. Nucchi and Mumtaz, affected by patriarchal structures like Biba, don't perceive her as a "real woman." Their casual transphobia reveals a lack of understanding. Sadiq emphasizes that while the struggles of cis and trans women are interconnected, cis individuals have much to learn and grasp about this reality.
Understanding the impact of patriarchy is crucial, but it's also important to recognize the joy found in defying it. Saim Sadiq beautifully captures these moments of trans and gynocentric joy in his film. Sadiq highlights victories for the oppressed, like a wedding between a trans woman and a cis man, showing his realistic and nuanced approach. Nucchi and Mumtaz sneak out for a fun night at Joyland, an amusement park near their home. Sadiq names the film not after its protagonists or its themes but this amusement park. His intent here is clear – joy is a stone's throw away if one can escape the suffocating walls of one's patriarchal setting.
The film's artistry captivates with its intimate 1.33:1 aspect ratio, immersing the audience in the characters' stories. The Bollywood-style dance sequences are highly entertaining. The everyday cityscape of Lahore is transformed into a magical blend of kitsch and realism. Sadiq's gentle and generous approach behind the camera avoids exploiting the film's themes for shock value. The talented cast, including Ali Junejo, Alina Khan, and Rasti Farooq, delivers standout performances.
Overall, Joyland is a haunting tale of desire and the consequences of repression in a patriarchal society. It warns against the dangers of neglecting systemic inequality, which stifles our true selves. Yet, the film also reminds us that joy is within reach as we strive to address these inequalities in our daily lives.