At this very moment, our planet's bounty of sustenance is plentiful enough to nourish every human being living upon it. . Yet according to the World Food Programme, hunger claims 9 million lives every year. These are more than the number of deaths resulting from major diseases like AIDS, malaria, and tuberculosis worldwide. The Food and Agriculture Organization of the United Nations estimates that one-third of all food produced worldwide is lost or wasted.
Food waste and loss negatively impact economies (costing the global economy $940 billion per year) and the environment (an estimated 10 per cent  of global greenhouse gases come from uneaten food.) Not to mention the other unsustainable consumption and production patterns we have with clothes and technology.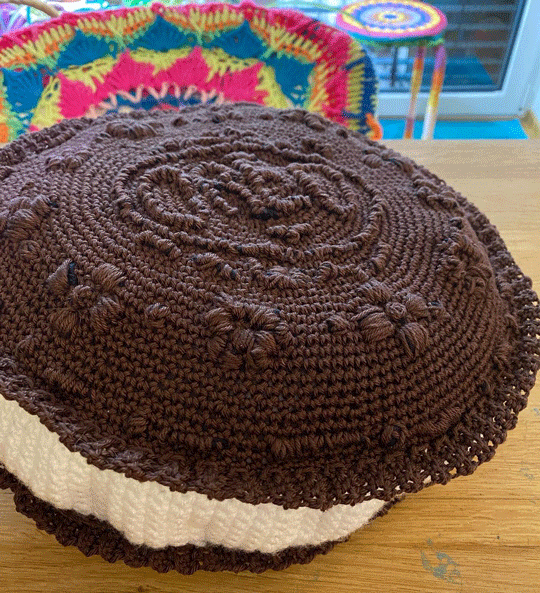 According to the World Economic Forum, approximately 931 million tonnes of food are wasted each year at the household level, representing 17 per cent of total food waste. Severe hunger in a world that produces more than enough good is nothing short of paradoxical. Food waste, loss, and shortage are linked to the cultures, patterns, and behaviours of our food production and consumption.
The 2022 Sustainable Development Goals Report attributes the triple planetary crises of climate change, biodiversity loss, and pollution that the world is experiencing to unsustainable consumption and production.  
Swiss-food, a platform dedicated to agricultural and nutrition research for large-scale sustainability, reports that Switzerland loses 2.8 million tonnes of food every year, which translates to roughly 330 kilograms of food waste per person per year.
Sabina Speich is a Swiss artist whose crochet art project, Crochet Giantfood highlights unsustainable consumption and production patterns through oversized crocheted foods. She uses her art to highlight causes close to her heart: justice and environmental protection.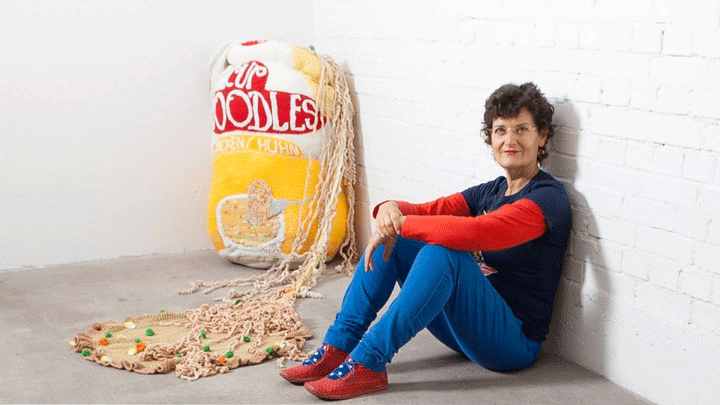 Despite the absurdity of Speich's oversized crocheted food, her art draws attention to urgent issues affecting the world; food waste and the consumption patterns of a growing world population, reflecting the United Nations Sustainable Development Goal for Responsible Consumption and Production. The project is part of an exhibition, Seeing full, which is made of artwork by Swiss artists exploring the theme of food consumption in their society.
Although Crochet Giantfood speaks to a broad, universal concern, the work is also linked to her personal history with food - she has been on a strict diet for health reasons since 2019. Given this perspective, her crocheted giant food also speaks to conscious consumption from a health perspective in addition to a food waste or environmental perspective.
To create her colourful pieces for Crochet Giantfood, Speich used recycled wool and yarn from her followers, materials that would have otherwise ended up in the trash. Her medium is quite apt considering the theme of responsible consumption and production.
Wool and yarn are traditional clothing materials. Although not explicitly expressed by the artist, their use in this particular piece may also allude to the unsustainable and harmful production practices of the fast fashion industry.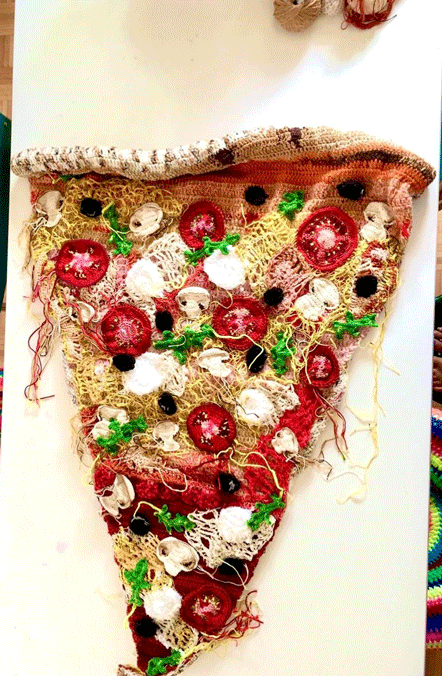 According to the United Nations Environment Programme (UNEP) the fast fashion industry is the second-biggest consumer of water. In addition, the Carbon Literacy Project reports that it is responsible for about 10 per cent of global carbon emissions.
She also adds further layers of complexity to her work, inspired by human life and activity. Her pieces are also interactive, with a creative call to action embedded in her work.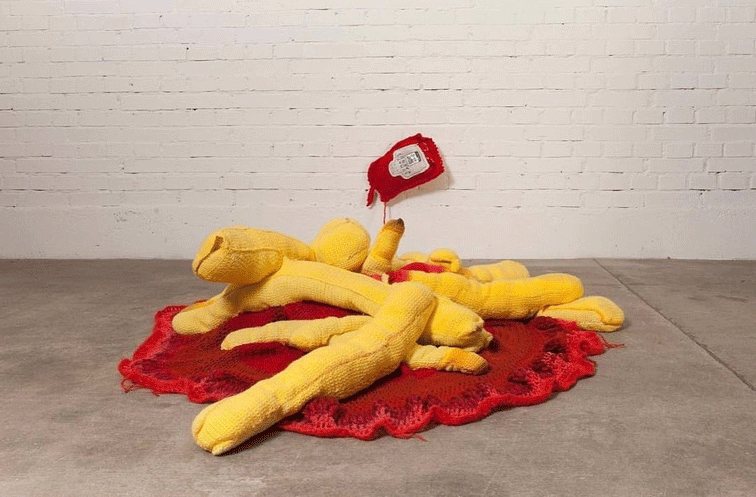 Beneath the layers of secondhand wool and yarn, Speich has also added information on what she is doing to end unnecessary waste or a bar code that leads to the process videos behind her pieces or environmental protection organizations she supports.
Speich can take up to three months to complete a single crocheted giant food. The thought and time that goes into this work are interestingly juxtaposed with the culture of over and irresponsible consumption that they critique.
Often, we are not conscious consumers, with little thought to the implications of our consumption on the environment. Perhaps the absurdity of Speich's work can also inspire us to reflect on our absurd purchasing patterns.

---
To see and support Sabina Speich's work, you can visit them on Instagram and the website and help her create more art by gifting her materials.