Poulomi Basu is an Indian transmedia artist and period activist globally known for championing the rights of women. Basu addresses the injustices of menstrual exile, the intricacies of misogyny and the normalization of violence against marginalized women. Another element often incorporated into Basu's work is conversations about environmental justice, with particular emphasis placed on how climate justice cannot truly emerge without racial justice, for it is the Indigenous, Black and Brown bodies of colour located in the most impoverished regions of the world, that bear the brunt of climate change.
Drawing her inspiration from documentary, dystopian and science-fiction filmic genres, magic realism and ecological feminism, Basu creates photo series and immersive installations that facilitate the transcendence of oppression through empathy, emotivity and the intimacies of womanhood.
"The tropes of science fiction allow for the reimagining of reality; of creating an exterior world that is comprised of elements that are normally interior. In this way the dystopian landscape becomes a metaphor for my vulnerabilities. The landscape as trauma", says Basu in an interview with Lightwork, when explaining her use of fantasy to universalize her interior world and relay her abstract thoughts to an audience.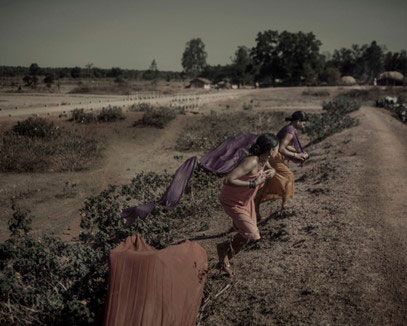 Basu's most renowned work, Blood Speaks: A Ritual of Exile (2013-), is an ongoing multimedia social justice project centered on the Nepalese practice of "chaupadi", that exiles women to remote small huts, referred to as "chau goths", during menstruation and after childbirth. During their menstrual isolation, women are often at high risk of being sexually assualted, bitten by snakes or exposed to carbon-monoxide poisoing that are caused by fires that are built within these chau goths that lack proper ventilation. Strict adherence to chaupadi entails that menstruating women are forbidden to enter the home, touch fruit trees, collect water, look at the sun, drink dairy products and are barred from any interactions with livestock and men.  
Quite common in the rural regions of Western Nepal, the custom is part of a Hindu tradition dating back centuries and interrelates with issues of child brides, child widows, dowry deaths, abortion and women subjected to life in prison for killing their abusive husbands.
Born from superstition, the source of "chaupadi" can be traced to the curse of Indra that ensued after executing his guru, Vishvarupa. In ArtReview, Basu explains that "to alleviate his curse, Indra (the king of heaven) distributed it among four entities: the land, the trees, the rivers and women. In women, it was said to manifest as the menstrual cycle, with the blood releasing the sin and therefore rendering the women and everything they touch or come into contact with impure. Another form of the 'untouchability' that characterizes India's pernicious caste system."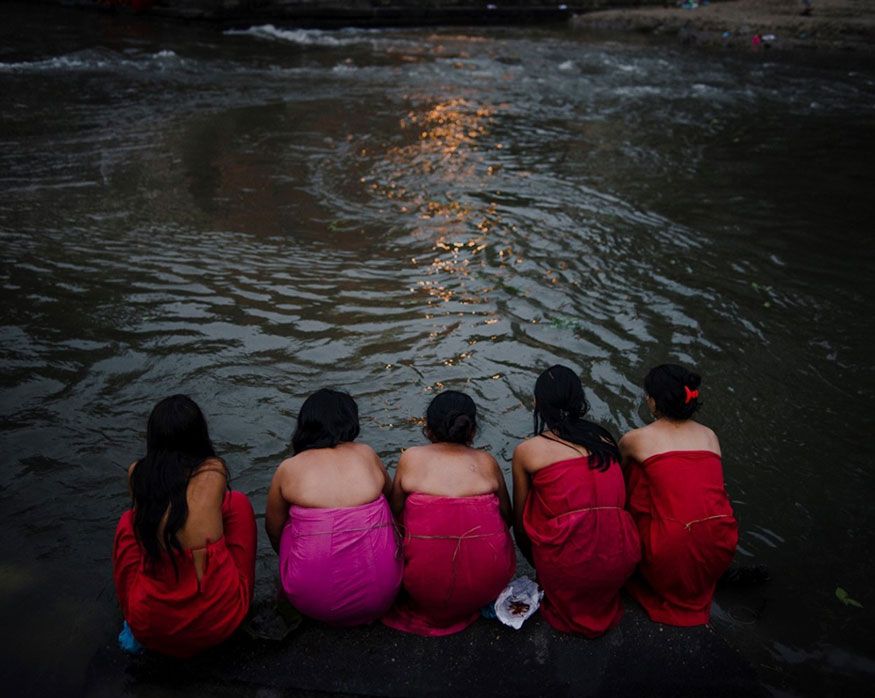 Fireflies (2019-) captures the relationship Basu has with her mother and contends with personal experiences of patriarchal and domestic violence. Using photography, video and sound, the series features the two women situated alone and together in vast, sublime and psychologically charged Earthly terrains. The series gives voice to matrilineal history and its link to the complexities of collective trauma that courses through blood lines; passing down generationally. Through moments of tenderness and closeness, Fireflies allows a space to reclaim stolen agency and the radical self-love necessary to navigate gender subordination and the contentious contours of bodily shame.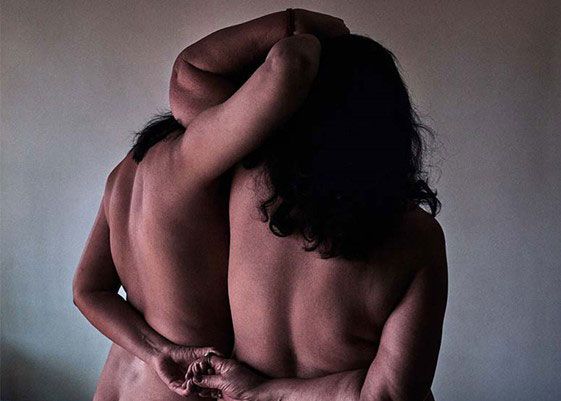 Basu's recent conceptual work, titled Sisters of the Moon, was shot in Iceland. The 14 dystopian self-portraits portray barren landscapes culminated by the absence of  the rights and liberties of women. The series is a tale of ecological feminism depicting the sacred relationship between women and the land and water of the Earth. In some Indigenous cultures women are perceived as being protectors of natural resources and that the territory a woman occupies coincides with the territoriality of her body.
The surface of the series explores many topical issues such as how the potential of women and girls are impacted by climate change, the global water crisis, a lack of clean water and sanitation, the wars waged for natural resources and the extent to which the responsibility of collecting water is relegated to women and girls in a community, often at the expense of their education and safety.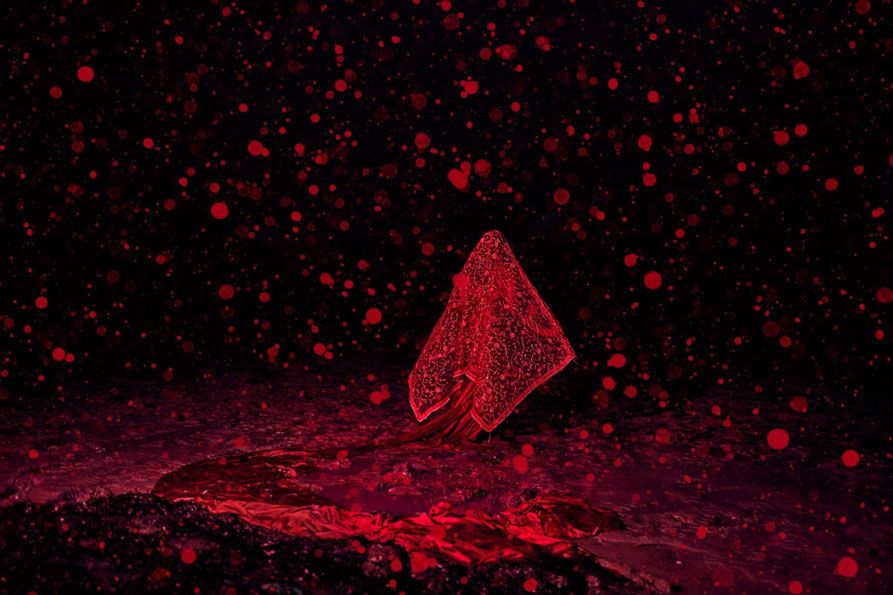 The core thematic concerns of Basu's work not only strive to dismantle the taboos and stigmas attached to menstruation, but profoundly grapples with the politics of blood, water, class and female bodies of colour.
Here, access to clean water, proper sanitation and reproductive health education, which is not readily and easily available in the Global South as it is in the West, correlates to the discrimination and violence perpetrated against women. Basu's work thus advocates for the related United Nations Sustainable Development Goals of No Poverty, Gender Equality, Clean Water and Sanitation, and Reduced Inequalities.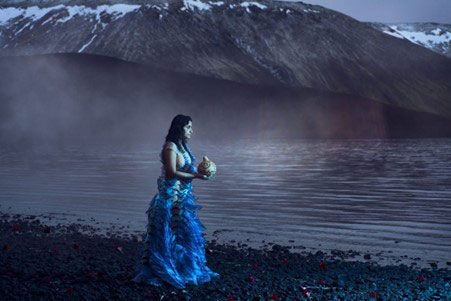 Basu is known for collaborating with marginalized communities, working with activists and contributing to charity campaigns such as To Be a Girl and Thirst for Knowledge by WaterAid and #MyBodyisMine by ActionAid. Wateraid works toward implementing sustainable clean water, decent sanitation and hygiene education, and ActionAid fights against global poverty and injustice. These international non-governmental organizations have both been allies to Basu, becoming an extension of her social activist art practice, making her work a reflection of the United Nations Sustainable Development Goal of Partnership for the Goals.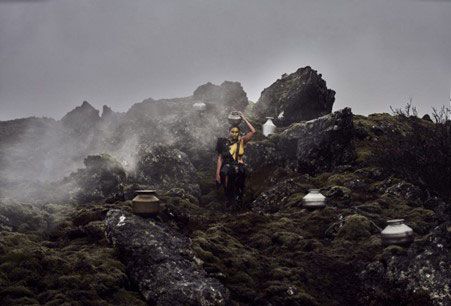 The works by Poulomi Basu embody activism and document narratives of isolation and ritualized forms violence. Basu's works highlight the difficulties embedded in breaking cycles of abuse that occur under the guise of tradition. Drawing from personal and collective experiences, Basu maps the intersection between untended stories of gender roles, the rights to clean water and sanitation and environmental destruction. Basu's hybrid works of fantasy and reality are political inducements to eradicate norms and policies that perpetuate the social and economic oppression of women, for failure to do so would catalyze dark and ominous Earthbound futures.
Find out more about Poulomi Basu in the podcast in the link. See more works by Poulomi Basu here.