In the light of Russia's recent declaration of war against Ukraine, how will both countries' respective art scenes be affected? Where does the Eastern European cultural community stand on this matter? And how will solidarity make its way through culture and art?
As the world will soon be invited to visit the 59th edition of the Venice Biennale (the oldest and most prestigious International Art Exhibition) to see the best of the global art world, 213 artists and 58 countries will be representing their vibrant cultural scenes. However, uncertainty regarding Russia's and Ukraine's attendance spreads.
Regardless, the Venice Biennale recently announced that Ukraine will remain represented within its own pavilion in the exhibition, despite the ongoing war. That said, the artists and curatorial team that were supposed to represent Russia resigned from the exhibition, meaning that no official Russian representation will attend.
On their website, the Biennale's administration declares their "firm condemnation of the unacceptable military aggression by Russia". It is stated explicitly that they will continue to reject "any form of collaboration" with those who support "such a grievous act of aggression" and demonstrate full support for Ukrainian civilians and artists.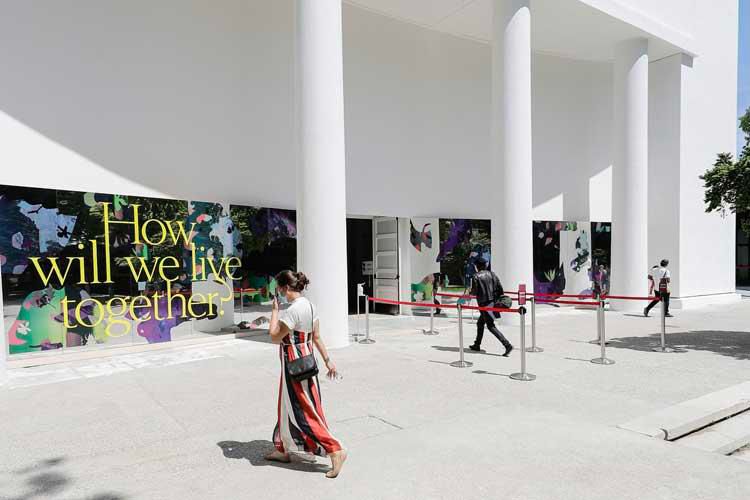 The Importance of Art in Times of War

It goes without saying that art is one of, if not the most important human mode of expression in times of crisis, as much as in everyday life. As the tension was escalating between Russia and Ukraine at the start of February, voices were already defending the importance of art and expression in the face of political uncertainty.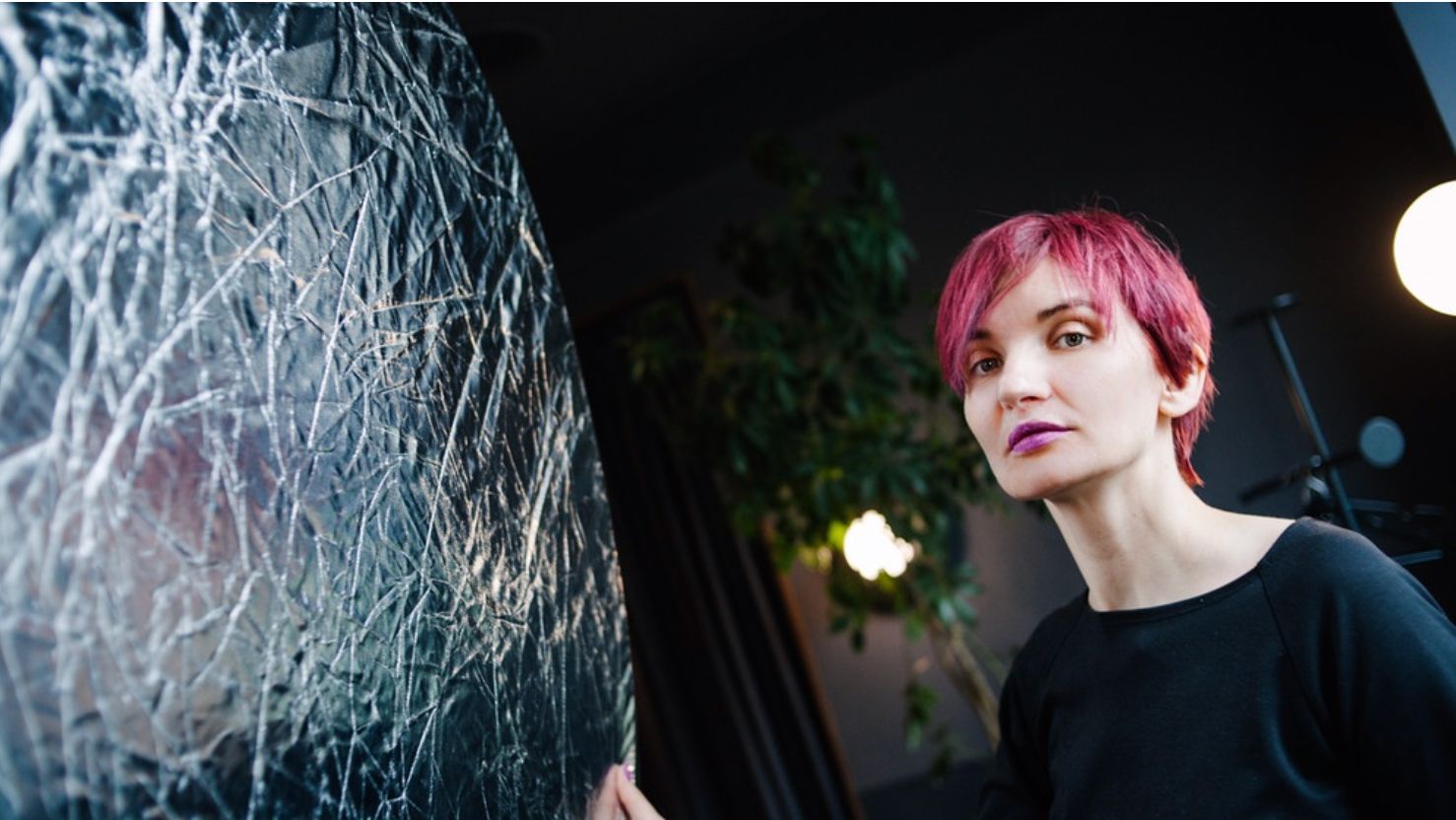 One of them, Alona Karavai, Ukrainian resident, cultural producer and co-founder of the NGO Insha Osvita, an organization responsible for cultural and education management in remote locations of the country, insists: "the role of art in conflict is to make sense of what is going on, to articulate strategies for the future. It's about maintaining our connections to the outside world."

In fact, an underestimated issue in Russia at the moment is the fragility of freedom of speech and press. Any information going against the official position of the Russian government on the war in Ukraine, coming from professionals or civilians, can be subject to Putin's crackdown on the spread of "false information". Further, Moscow recently adopted a new law threatening anyone who shares information deemed "false" about the Russian army with up to 15 years in prison.

Following in BBC's footsteps, CBC recently made the decision to suspend journalistic activities in Russia until further notice to ensure the safety of its employees on site.
As one can imagine, menace of judicial punishment for expression can have a monumentally detrimental effect on culture and art. As artists bear witness to their home going up in flames, the right to take a stand for peace and for their safety is fundamental.
The Cultural Dimension of War
Sadly, this war is also one of information. The Director General of the Ukrainian Institute on cultural management, Volodymyr Sheiko, believes that since the 2014 conflict between Ukraine and Russia that led to the Russian annexation of Crimea, his country has been a victim of what he calls "hybrid warfare". He explains to ArtNet News that there is a considerable cultural dimension to the war, "from historical revisionism" to "false campaigns of disinformation".
Art Helps' own Head of Design, Alex Filipas, is currently in Ukraine and shares his experience in an open letter: "Russian propaganda attempts to hide the horrors of what's happening in our country from Russian citizens. This is an information war, and we are fighting back with truth."
Activists have been aware of the issue of censorship and misinformation well before the conflict, and considerable discussion arose to try to put an end to it. At the Kyiv 2021 Biennial (international forum for art, knowledge, and politics), Keti Chukhrov, Russian author, art historian and philosopher, leads a lecture on how Post-Socialist governments "intercept" contemporary culture. She describes how, during the last decade, Russian cultural policy has been built around the appropriation of "contemporaneity" to define its meaning in correspondence to the country's political interest, and thus, allowing the government to gain control over art production.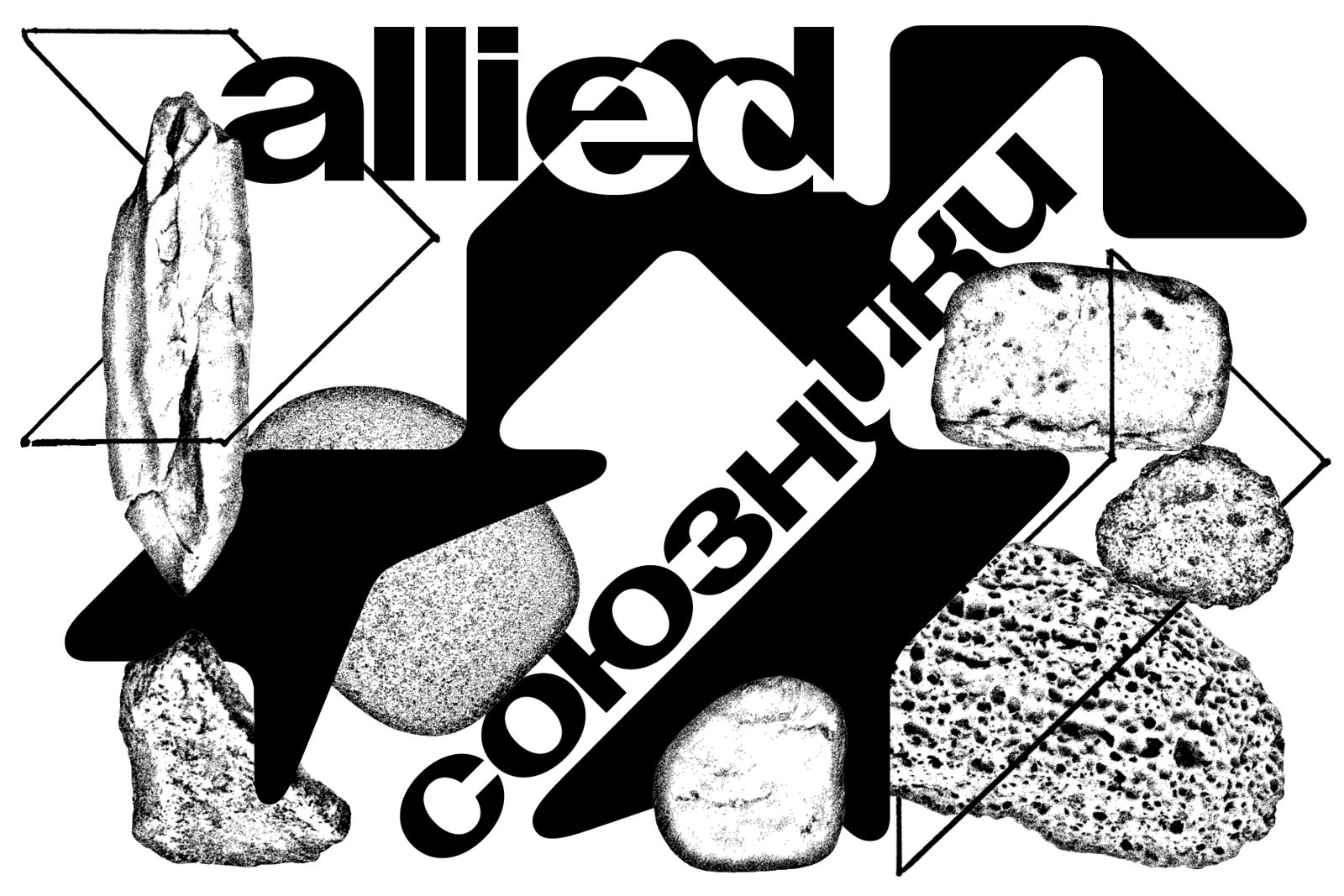 Kyiv Biennial's events have a specific mission, and their 2021 "Allied" international exhibition located in Kyiv was no exception to the rule. Within the atmosphere of political tension, the biennial intentionally fostered diverse East Europe partnerships with the purpose of redefining collaboration between cultural institutions and suggesting new narratives of international solidarity for conflict resolution.
Tragically, since the launch of the Russian offensive on February 24th, the same city is now host to the scariest spectacle of all: war. Russia's attacks on Kyiv intensify, targeting civilians as well as the military, while they continue to advance by encircling several other Ukrainian cities. Recently, Reuters reported that 2.5 million Ukrainians have been forced to flee their country in hope of finding safety.

Evidently, bombings affect lives — but war also physically destroys cultural landmarks, museums, and thereby, art. Indeed, Alona Karavai believes that one of Russia's strategies is to attack Ukraine's identity by targeting culture. She fears that cultural monuments are already being deliberately destroyed, like in the city of Kharkiv, where the Docomomo Conservation Group counts up to 30 heritage sites to have already been targeted by the Russian army. Among them are an opera house and a concert hall — landmarks of Ukrainian architectural heritage.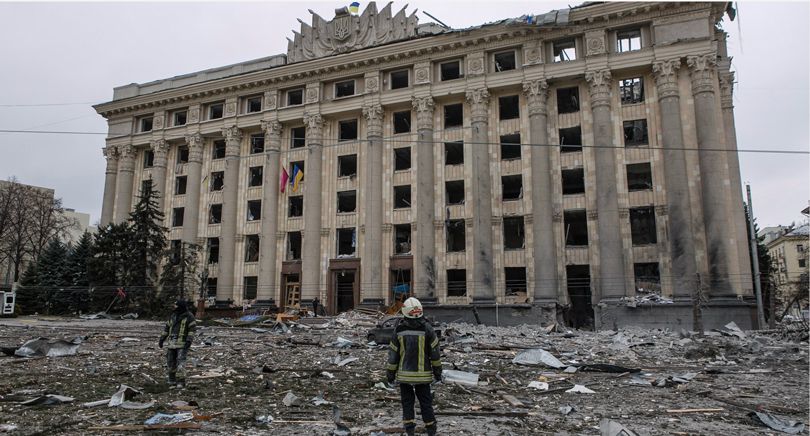 While there is no clear way to protect cultural monuments and architecture, works of art may still be saved. For this reason, security measures are currently being undertaken by the Minister of Culture of Ukraine in collaboration with important museums to evacuate "cultural facilities" and artworks from Kiev and other cities under fire. As for small galleries, rescue operations from independent activists and cultural leaders are underway to protect the art by storing it in bunkers.

What many fail to realize is that Ukraine has a rich cultural history and is host to seven World Heritage Sites. UNESCO is intervening for the protection of territories and monuments by marking them with blue flags, an international signifier of protection for cultural property in armed conflict, under international law. However, one could be doubtful of the efficacy of the measure, as Russia's blatant disregard for such regulations has routinely been made apparent.

Also, according to past events, the fear of cultural destruction is justified. Indeed, during the 2014 crisis in Crimea, the Donetsk Regional Museum of Local History, amongst more than 30 other cultural facilities, was hit 15 times by anti-tank missiles, costing more than 30% of the museum's 150,000 pieces.

How Solidarity Can Make a Change
Currently, the cultural community in Ukraine is finding ways to join forces and stand strong together. For example, the East Europe Biennial Alliance, installed in 2019, rallies the Biennale Matter of Art Prague, Biennale Warszawa, Kyiv Biennial, OFF-Biennale Budapest, and Survival Kit Festival Riga, making use of the power of contemporary international exhibitions as central vehicles for global cultural influence in "shaping new forms of international solidarity, expanding socio-political imagination, and developing alternative cultural solutions."
The ongoing conflict's consequences on free expression, culture and art in both Russia and Ukraine is only one of the many horrifying reasons behind the international community's general objection to Russia's acts of violence. The growing need for international partnerships fostered by cultural organizations becomes fundamental and calls upon the United Nations Sustainable Development Goals for Peace, Justice and Strong Institutions, and Partnerships for the Goals.

How We Can Help

The East European Biennial Alliance is encouraging people from all over the world to speak up to government authorities and to boycott Russian institutions in the sphere of art as "the hesitation from the rest of the world leads to more actual lives and livelihoods being endangered every day."
To donate to the Ukrainian Red Cross and help their humanitarian work on the grounds, click here.
To find more ways to help, click here.
To learn more about Ukrainian artists taking the stand against war, check out Joana Alarcão's article on Stanislava Pinchuk.