Leonardo da Vinci once said, "Water is the driving force of all nature."  Water shapes our landscape and defines our environment. Life on earth cannot survive without water. For Indigenous women throughout North America, water is considered sacred with spiritual meaning encapsulated in the Lakota phrase, mní wičhóni  ("water is life"), which has become a rallying cry among Indigenous populations and others fighting to preserve this invaluable resource.
Historically, water protectors have been led by or composed of women, because as water provides life, so do women. Due to their ability to give birth and their roles as mothers and caretakers, Indigenous women are believed to have a sacred relationship to nature. Therefore, it is their social responsibility to advocate for sustainable, ethical water management to ensure clean water for future generations and all of creation.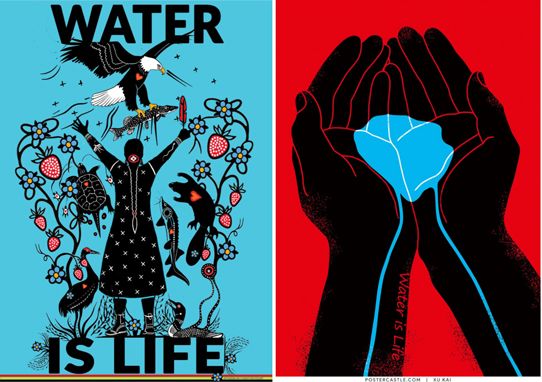 Driven by their respect for water and cultural beliefs that teach them to honour and care for the planet, Indigenous women in the Water is Life movement argue against projects that harm the environment, trespass sacred sites, threaten their economies and violate tribal sovereignty and treaties that the United States and Canada have signed with Native American tribes and First Nations people.
The Water is Life Festival held annually in Mackinaw City, Michigan, celebrates our connection to water while working towards living holistically with and protecting the Great Lakes, especially from exploitation and potential climate disaster. These objectives incorporate the United Nations Sustainable Development Goals for Clean Water and Sanitation, Reduced Inequalities, and Responsible Consumption and Production.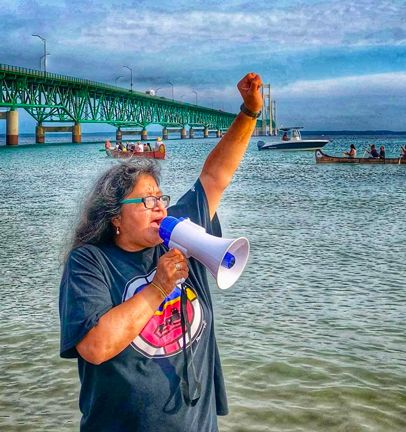 Jannan Cornstalk, a water rights activist and member of the Little Traverse Bay Bands of Odawa Indians in Harbor Springs in northern Michigan, seeks to raise awareness of issues affecting the Great Lakes, a source of drinking water to millions. She founded the Water is Life Festival in 2017 after growing concerned about the decaying Enbridge Line 5 gas pipeline running beneath the Straits of Mackinac which connect Lake Michigan and Lake Huron. The pipeline also traverses Odawa tribal fishing grounds. It was built in 1953 and is owned and operated by the Canadian oil company Enbridge, headquartered in Calgary, Alberta.
Line 5 diverges into two twin 20 inch diameter parallel steel pipelines that cross the Mackinaw Straits for 4.5 miles at depths ranging up to 270 feet, carrying crude oil from Northern Canadian oil fields through Michigan to refineries in Sarnia, Ontario. The Water is Life Festival both celebrates the Great Lakes and our connection to water while advocating for climate justice, water rights and the removal of Enbridge's aging Line 5. An anchor strike by a shipping tug-and-barge in 2018 damaged the pipeline and severed submerged power cables, highlighting the potential danger. Six hundred gallons of dielectric fluid spilled into the Straits of Mackinac. Yet, as bad as it was, the next accident could be catastrophic.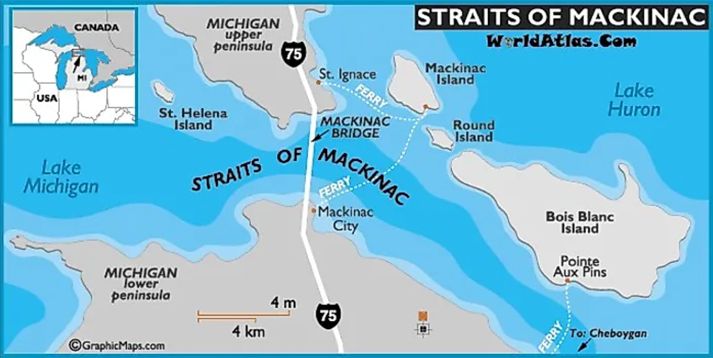 The Festival's name was inspired by the grassroots Water is Life movement which grew out of the self-described "Water Protectors," Native American women protesting the Dakota Access Pipeline (DAPL) at Standing Rock Sioux Indian Reservation on the border of North and South Dakota from April 2016 to February 2017. Led by Indigenous women from tribes across the United States and First Nations in Canada in solidarity with Sioux women, the Water Protectors carried signs proclaiming, "Water is Life" and similar messages.
Indigenous women in the movement continue to defend waterways, fighting to protect them from harmful environmental damage, waste and pollution. They speak out against policies and practices around the globe that threaten clean drinking water and its availability — a problem that disproportionately affects marginalized populations, BIPOC communities and those living in chronic poverty.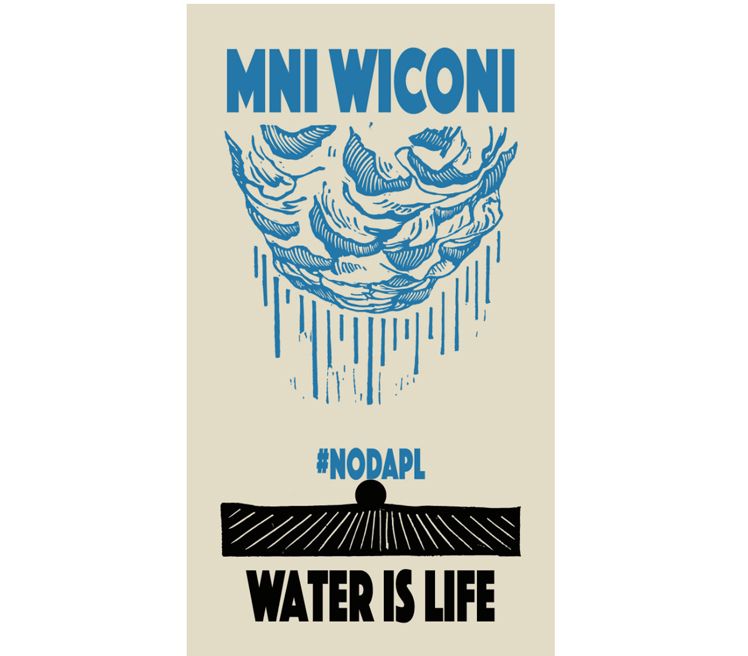 The annual Water is Justice Festival commences with the Pipe Out Paddle Up Flotilla , consisting of kayaks and jimaans (traditional Odawa birch bark canoes), crossing the Straits of Mackinac and Lake Huron below the Mackinac Bridge. The Flotilla is sponsored in partnership with Oil & Water Don't Mix, a coalition of nearly 100 organizations working together to keep oil out of the Great Lakes and spur a transition to a sustainable energy economy. The coalition aims to protect the Great Lakes from Line 5 and to stop construction of the proposed underwater tunnel intended to sheathe Enbridge's corroded pipes — a solution believed to be insufficient to staving off the threat of environmental disaster.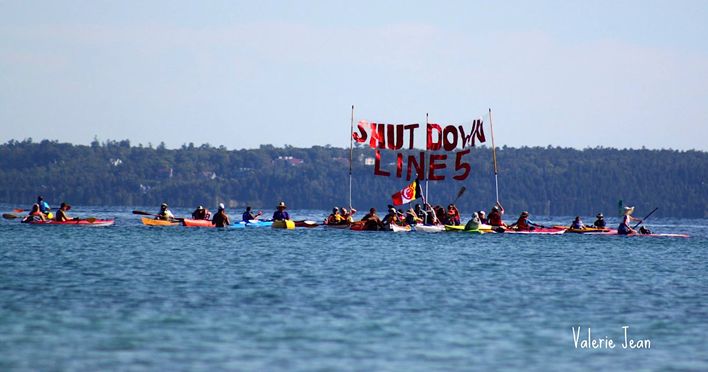 In a January 2022, interview with Arts Help, Cornstalk, along with a group of volunteers, spoke more about the evolution of the Water is Life Festival. They explained that the Festival is held annually in September on the Saturday before the U.S. Labor Day commemoration at Conkling Heritage Park in Mackinaw City, Michigan, in association with Title Track, a Michigan nonprofit with a commitment to water, equity, justice and youth. Title Track is the home of the Clean Water Campaign for Michigan, a social movement initially launched in February 2018 that uses music and storytelling to "motivate groups and individuals to step into advocacy and stewardship" and ensure the protection of the Great Lakes. The noon to 8 p.m. event is free and open to the public with a different theme each year.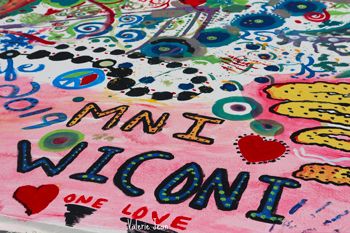 The theme of the 2021 Water is Life Festival was love for water. The festival featured art, youth activities, food, presentations from Odawa tribe members, community organizers, and nonprofit sponsors, traditional Odawa drum music and jingle dancers, music from Title Track artists, Odawa youth, and water rights activists. New to the 2021 Festival was a community drum circle led by Samuel Nalangira, a musician from Uganda in East Africa where over 21 million people live without basic access to safe drinking water. In addition, the festival featured a dance contest, an awards ceremony for community youth activists, and a discussion panel on manoomin (zizania palustris) involving Ojibwe representatives from the Great Lakes Indian Fish and Wildlife Commission (GLIFWC) and moderated by Cornstalk.

Ojibwe for "the good berry," manoomin is a species of grain-producing grass, often referred to as wild rice. It holds cultural, spiritual, and nutritional importance to many Indigenous people. Manoomin grows in the shallow waters of inland lakes and slow-flowing streams native to the Great Lakes area, including the states of Michigan, Minnesota, and Wisconsin, and portions of Canada. It is one of the few grains native to North America. However, manoomin populations have dwindled due to colonization, habitat loss, urban development, degraded water quality and over-harvesting by non-Indigenous groups. They are also threatened by climate change.
The 2021 Water is Life Festival was filmed as a live Facebook stream by DeJuan Jordan of Alpine Media Co. in Petoskey, Michigan. Watching the stream, Cornstalk emphasized the concept of reciprocity as advocated by the Potawatomi writer and plant ecologist, Professor Robin Wall Kimmerer, founding Director of the Center for Native Peoples and the Environment at the SUNY College of Environmental Science and Forestry.
She suggests that by pausing and expressing gratitude for what water provides — life, nourishment, food — instead of simply taking, we can begin to restore our relationship with nature and act in ways that promote sustainability, conservation and ecological restoration.
To find out more about the Water is Life Movement, check out their website and the Water is Life Festival Facebook page. And, to learn more about the September 3, 2022, Water is Life Festival go to https://www.waterislifefestival.org. The theme of this year's Festival is groundwater in conjunction with UN-Water World Water Day 2022 theme, Groundwater: Making the Invisible Visible to be celebrated on March 22.