Victims of sexual violence are often asked numerous questions about their assault and their attacker, the most notorious of those questions being "what were you wearing?" For too long this question, acting as a dangerous sustainer of rape culture, has given rise to the perception that sartorial choices, particularly those less modest, implies sexual consent.
Taking place at the United Nations headquarters in New York, What Were You Wearing is an art exhibition and collaboration between the Spotlight Initiative and RISE, aimed at holding space for sexual assault survivors and ending sexual violence committed against women and girls.
The original exhibition, which opened in December 2021, consisted of 5 outfits contributed by a survivor from each of the five United Nations (UN) Regional Groups. At present the exhibition features 103 outfits that collectively represent 1.3 billion survivors of sexual assault worldwide. By exhibiting the outfits worn by rape survivors at the time of their attack, the exhibition initiates conversations about victim-blaming that tends to propose that victims were "asking for it" in cases of sexual assualt.
The What Were You Wearing exhibition confronts and refutes a profound societal problem, which often assigns blame to victims, that in the process of doing so, carelessly justifies the vile actions of perpetrators, and thus reflects the United Nations Sustainable Development Goals of Gender Equality.
A resolution solely focused on providing protection for victims of sexual violence has never been passed by the United Nations General Assembly, despite having knowledge about the statistical estimation, according to the World Health Organization (WHO), that 35% of all women globally are survivors of sexual violence. Hence, I urge you to sign a petition that would pass the "United Nations Sexual Assault Survivors" Bill of Rights Resolution.
The exhibition aligns closely with the focus and mission of the #MeToo and #IStandWithHer movements that provide resources and services to support survivors on their paths toward healing. "We can hold light up to this darkest corner of human experience and allow survivors at last to be seen, to be heard, to be believed and to be empowered," says RISE Founder and CEO Amanda Nguyen.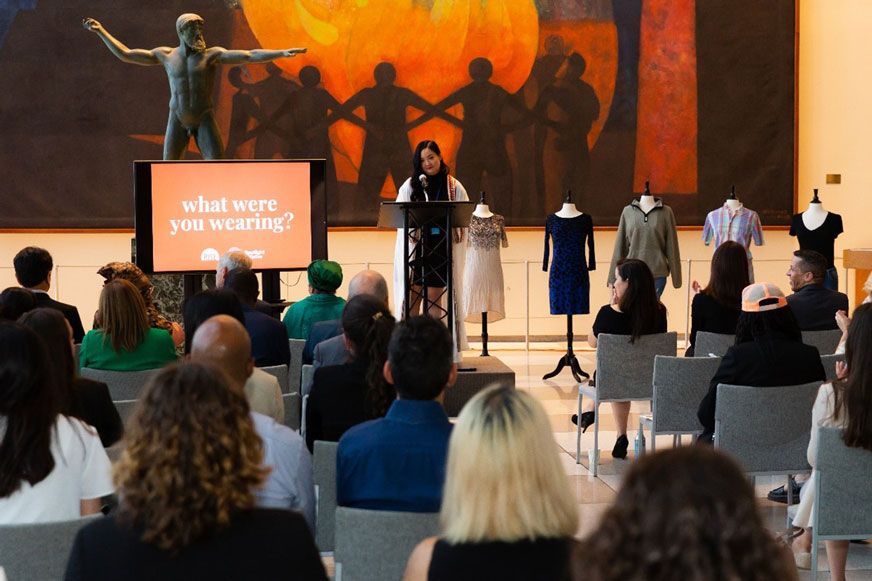 The core of the What Were You Wearing exhibition speaks about the vast reach and indiscriminate nature of sexual assualt in society, that such acts of violence can befall any person, irrespective of race, gender, sexual orientation, class and geographic location. The exhibit hopes to ease the sense of solitary suffering often experienced by victims of sexual assualt and serves to remind survivors that their emotional and physical trauma is neither unacknowledged, nor without meaning.
---
Find out more about the exhibition here. You can also follow the links to join international organizations fighting against injustice.