"Trajectory" is important to cities and the arts.
Toronto's growth in recent years has lent to its current place as the fourth-largest city in North America. A busy skyline crowded with cranes and buildings casts long shadows on streets below as developers plow ahead with the lucrative business of building. This is the trajectory of a city whose rising population has outpaced its housing, and where the average detached home will set you back around $1,357,500 according to The Canadian Real Estate Association, in cooperation with the Toronto Regional Real Estate Board. While this is concerning to everybody in the city, it's of particular concern to artists who find themselves priced out of both living and working space. This is the trajectory of artists in a city whose United Nations Sustainable Development Goals for Industry, Innovation and Infrastructure don't always align with the goals of its creative community. Toronto bills itself as a culture-forward metropolis where Sustainable Cities and Communities are top of mind, but can a city be a "culture capital" if a lack of affordable live/work studios drives out its cultural producers? Is there a better way to align the trajectories of a rapidly growing city and its arts community with Partnerships For The Goals?
The Artist
Hemangi Shroff is an artist/educator who formerly worked out of Walnut Studios, a community of over forty artists that was destroyed by fire in 2018, leaving its members without an affordable workspace. A few members of the Walnut Collective, including Shroff, were allowed to relocate to a building owned by a local builder, TAS, at 888 Dupont. They spent two years (May 2018 to May 2021) in the building before leaving, narrowly escaping the building's eventual shuttering in October 2021. This dual experience gave Shroff, also a new Canadian citizen, an interesting insight into the complicated relationship between artists and real estate.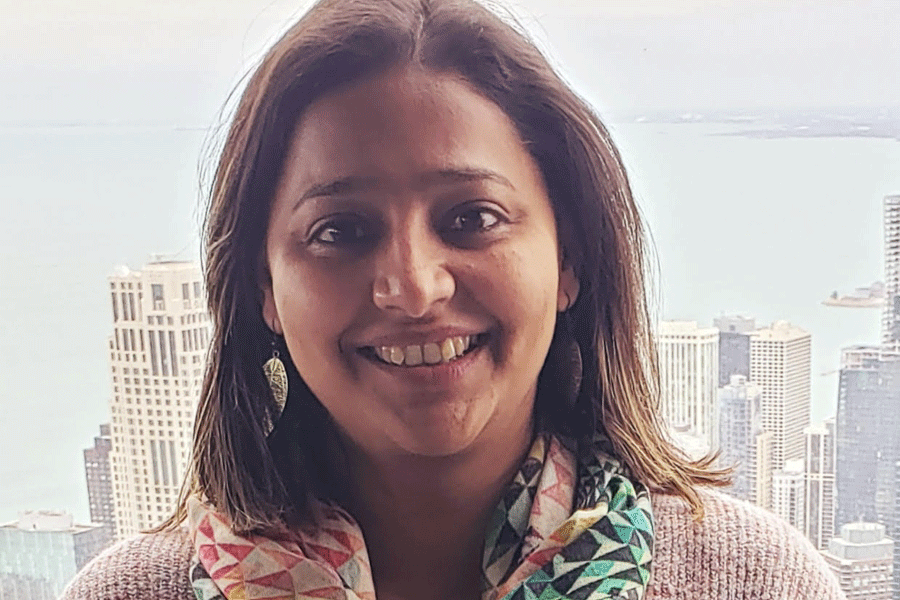 "Walnut was like a beautiful dream space," Shroff reminisced. "When I first walked in I thought, how does this place even exist? There were so many different types of artists working in a friendly environment where you could just be creative."
Adding to that dream quotient was the landlord and building owner, Jason Martins. Martins, himself a second-generation builder and the co-owner of MJI Development, saw the cultural value of an artist-run studio and provided an early model of what a relationship between commercial builders and artists could look like. He even added a supplemental Gallery associated with Walnut Studios called Walnut Contemporary, which closed not soon after the studio burned down.
Shroff contrasted that experience with the one experienced at 888 Dupont after moving in. Just before this, TAS had taken possession of the building and evicted several other artists found living in the dilapidated building—which wasn't within code for residential living. According to Shroff, Walnut artists felt welcomed by the community of artists still working in the building, either independently or as part of other collectives. Her experience with the new landlord, however, was different.
Communication issues with the property manager assigned to them (who no longer works with TAS), meant no replacement of lighting in hallways and units making it difficult to work after dark; heating in winter was unreliable and often didn't work. After being told to remove window-mounted ac units by the property manager, the studios became impossible to keep cool in summer.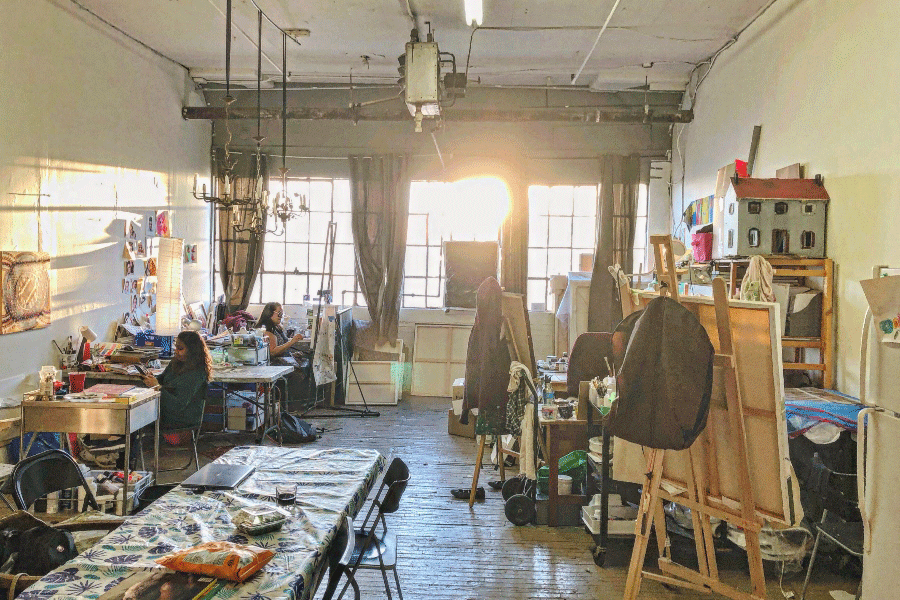 "There were days you couldn't even use the studio because it was either unbearably hot or cold in summer and winter months," said Shroff. "That's when we started seeing the other side of gentrification and development, where it feels less about supporting artists, and more about tax rebates and ticking off boxes for optics."  
Tax rebates are just one of the ways the city of Toronto tries to incentivize support for arts and culture for builders. The Creative Co-Location Facilities Property Tax awards artist-tenanted buildings with a fifty percent reduction in property taxes and provides tenants rental space at thirty percent below market value. If nothing else, Shroff's experiences dealing with one landlord versus another point to how "checking off boxes" and going through the motions won't lead to the sort of authentic relationships necessary to create real societal impact.
The Artist-Run Building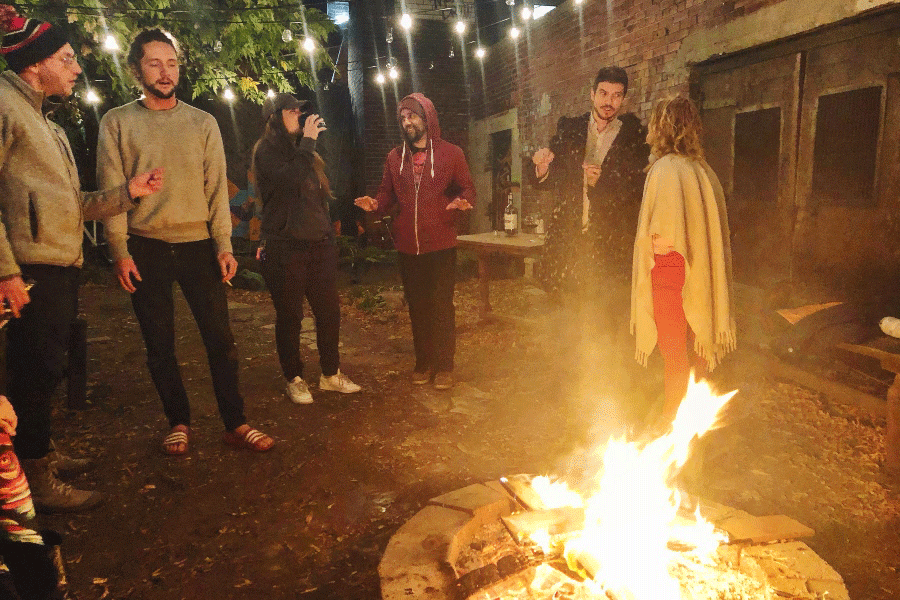 Jeremiah Fisher, the Founder of interdisciplinary production design and build firm Manual Arts Collective Inc was also a tenant at 888 Dupont. Industrious in ways beyond the material, Fisher negotiated his way into another vacant building adjacent to 888 Dupont and relaunched an artist-run building of collectives called Dupont Arts.
"We renovated it into separate units and initially offered them on a first come first serve basis, then became more selective afterwards," Fisher said. "We negotiated a ten-year lease with the idea of having a semi-permanent place to replace what was going on at 888 Dupont."
How did they do this? The landlord, Westdale Properties, a development and property management company, had placed the building on the market. According to Fisher, they didn't seem to have a plan for it.
"We went and talked to their broker, and it became clear that they didn't know what to do with it," Fisher added.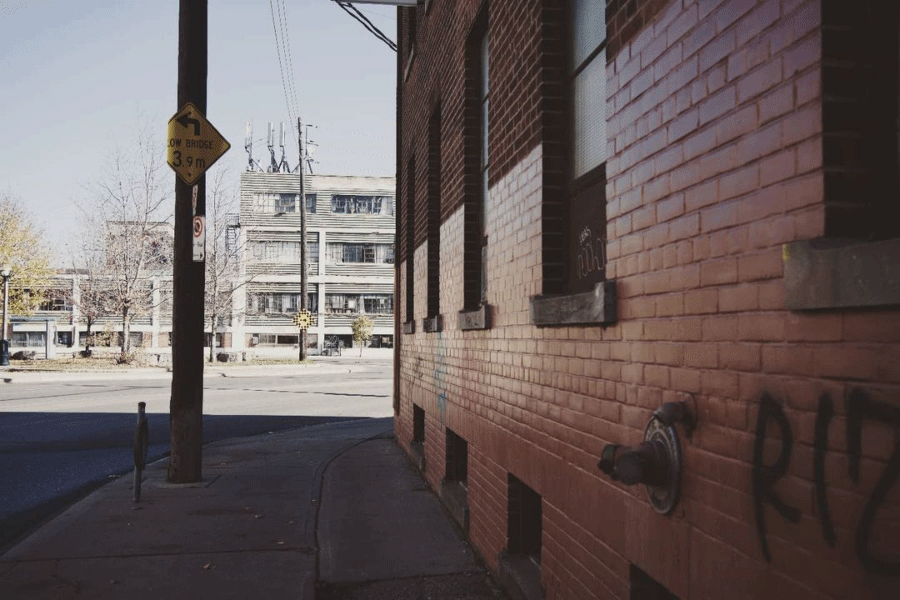 Would artists and creatives have been their first choice?
"I think they would have liked more 'blue chip' tenants or 'reputable' tenants," Fisher answered. "Not to say who we have in the building now aren't reputable, but when you're talking about  people who draw and paint for a living—yeah, that freaks them out."
Now that Fisher has been on both sides of the artist/landlord equation, he has a unique perspective to offer on solutions.
"I think developers could potentially have departments or subcontractors to help animate spaces in these empty buildings for whatever period of time they liked," Fisher said. "And that if they subsidize instead of trying to squeeze every last dollar out of that period—which I think backfires for them anyways—they could use it as a period to support the arts and also just the community.
The Arts Organization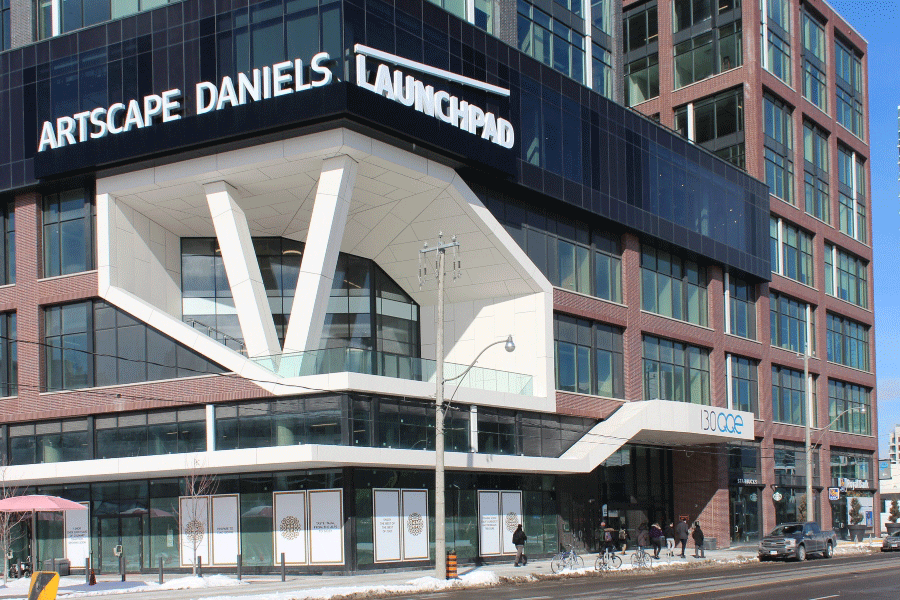 Benny Bing is an artist and board member of Artscape. This not-for-profit arts organization leverages arts and culture as a catalyst for community and urban development by providing opportunities that enable local artists to acquire affordable live/work space and sell their work. Artscape also rents and sells properties at below-market value specifically to artists and creatives in Toronto.
"Being the chair of the committee has changed my approach to how I look at housing in the city," Bing said. "Artists are already being pushed out of the city, so we're trying to limit that by working with the private sector to create a solution. I'm talking about more than just a one percent pledge, but something more sustainable."
Bing has helped provide opportunities for himself and others through relationships with developers like The Daniels Corporation to collaborate on projects like the BlackNorth Initiative. The BlackNorth Initiative offers work/live opportunities for Black artists to access creative space at fifty percent of the market rate, along with the opportunity to engage in meaningful arts activations in their community. Bing even lives in one of the buildings himself.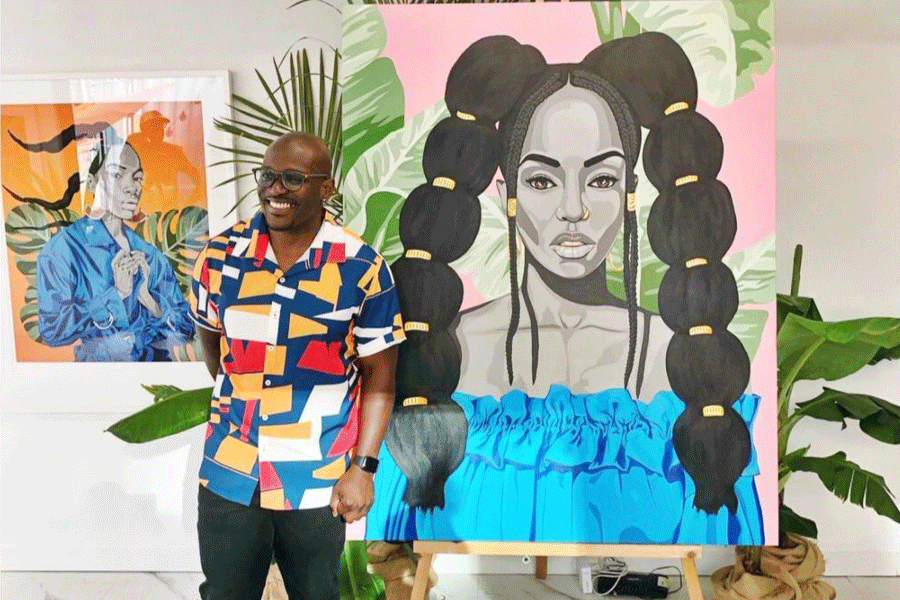 The One Percent Bing references is the "one percent for public art" model created by The City of Toronto, where a minimum contribution of one percent of the gross construction cost of any development is either invested in public art or deposited into a city-managed fund for public art. Bing sees ideas like this as a great place to start to uncomplicate the relationship between the city's artists and developers, but it's not the final destination.
"I know there are people very against developers but I think we need to think about how we can work together because fundraising to create affordable housing is near impossible," offered Bing. "At the end of the day this is a capitalist economy, and these people are in it to make money. So we need to figure out how to strategically partner with developers to find solutions to our problems."
The Curator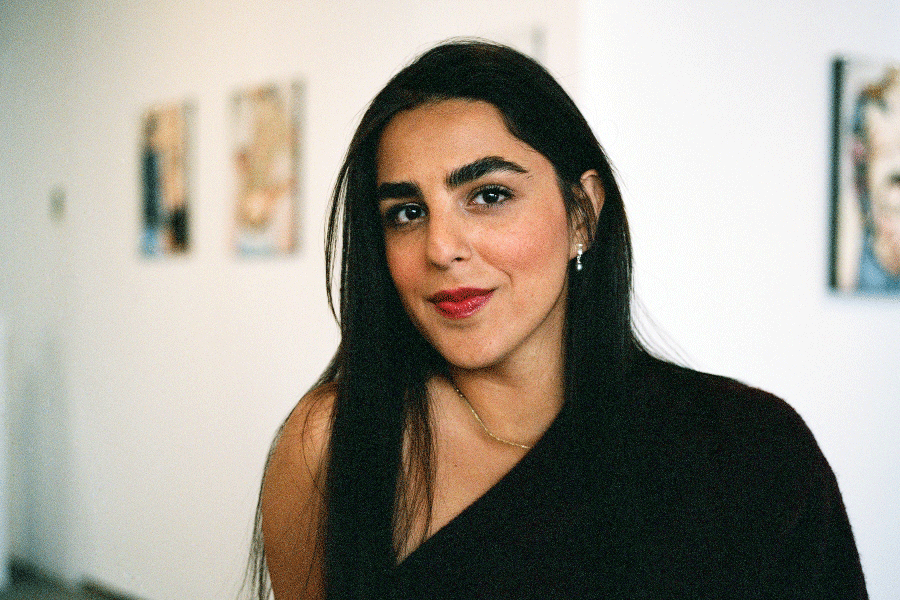 As far as the theme of "trajectories" goes, Farnoosh Talaee, founder, curator and director at gallery Mayten's, takes us right back to where we started. Talaee offers a perspective that provides a redemptive arc of sorts for the aforementioned Toronto real estate developer TAS. Talaee leveraged her dinner with the CEO, Mazyar Mortazavi, into a TAS-sponsored commercial art gallery. Her curatorial experience gained from working both abroad and at local galleries like the Power Plant Gallery and Georgia Scherman Projects probably didn't hurt either.
Mazyar (whom she now affectionately refers to as Maz) is a sitting board member of several art institutions in the city. Both Talaee and Mortazavi have Iranian backgrounds. Talaee piqued Mortazavi's interest after pitching the idea of working with Iranian artists through a grant programme whereby dissident artists could receive mentorship and networking opportunities abroad. After the presentation of a business plan, Mayten's gallery was born. While acknowledging the exodus of artists—particularly BIPOC artists—from the city, Talaee also sees a massive opportunity for Toronto's arts community if they can show builders the value of authentic relationships.
"Institutions can't give opportunities to every artist, and the commercial galleries in the city only want to sell work by artists that are already selling because they don't get government funding and still have to make rent. So the role of development companies with vacant buildings in their portfolios can be as simple as offering one of those buildings up for an artist-run centre or gallery."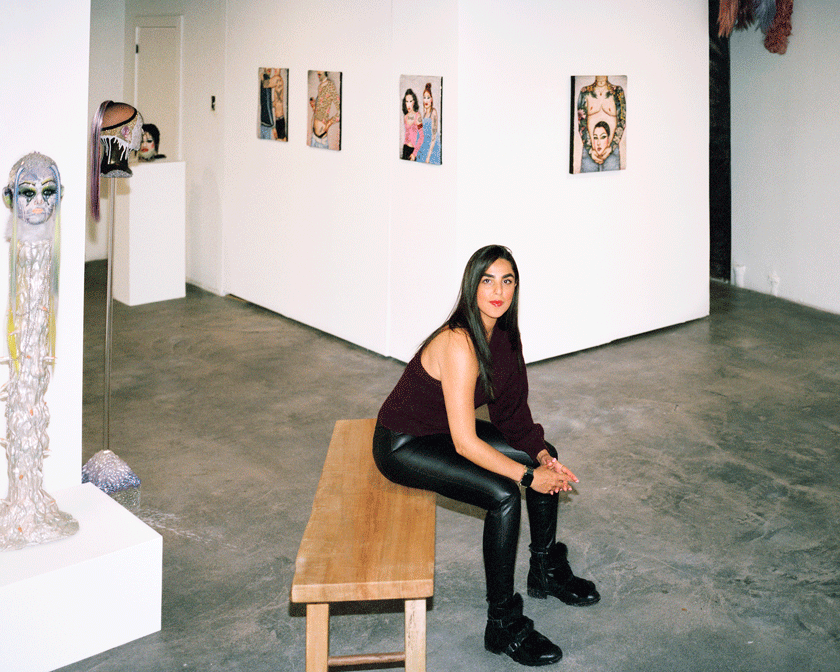 Talaee sees this as a way to help companies through the aforementioned property tax rebates while allowing builders to develop culture as well as housing.
"I know artists think builders are just building ugly highrises but we can't stop that—we need to ask ourselves how we can engage with them in the best way," said Talaee, who was in the middle of moving into another TAS-owned building where the next iteration of Mayten's, The Next Contemporary, will continue to support local artists.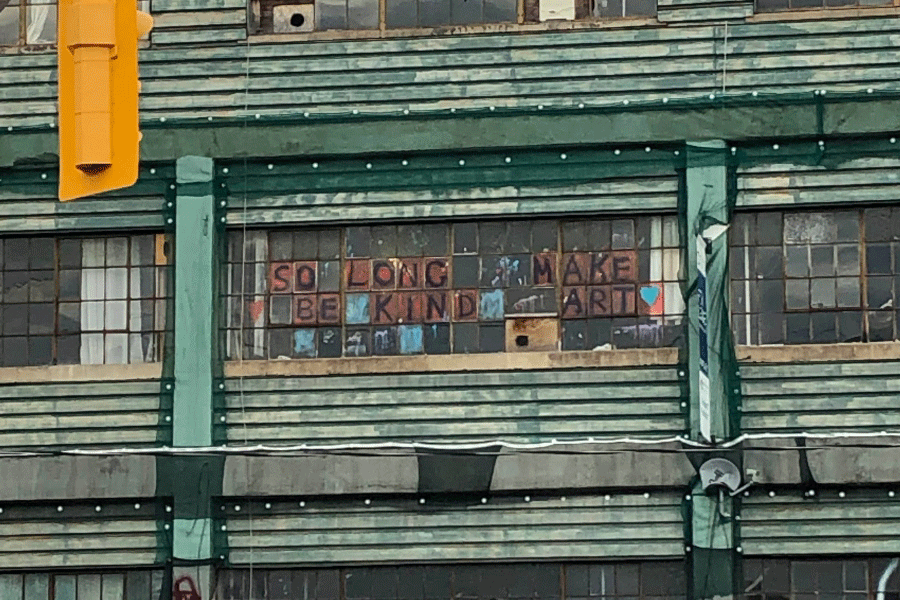 TAS is turning 888 Dupont, the building Hemangi Shroff and Jeremiah Fisher once worked out of, into Toronto's first entirely live/work purpose-built rental building, with ten percent of those units being priced affordably. Perhaps this is a move toward a more legitimate relationship between Toronto's arts community and developers. Time will tell.
So can artists and developers get along in big cities? If Toronto is any indication, the answer could be yes.
Of course, developers' main objective is to build housing for profit. However, it will take an honest, authentic investment in the arts community to build meaningful relationships between artists and developers.
In Toronto, or anywhere else.