Leonardo Centeno is a Colombian photographer specializing in landscape, nature and fauna. He has dedicated his career to travelling across the country in search of the most remote locations to capture those inhabitants who are unknown to all of us and that must be preserved. He remarkably highlights the Páramo ecosystem, Bogotá's hills and the nocturnal sky, showing the Milky Way and light pollution. For him, everything is correlated and is part of the same ecosystem.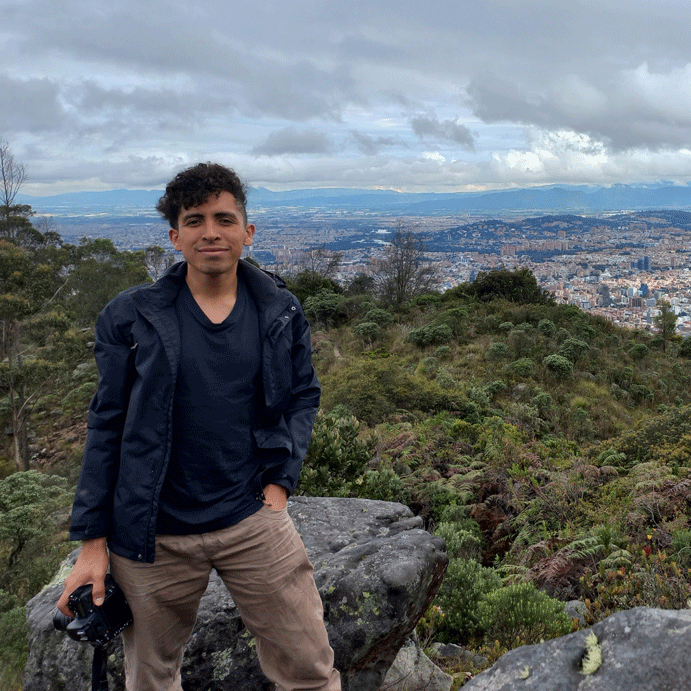 Leonardo's photography reflects a profound sensibility toward the essence of nature. He always chooses the main character for his photos and portrays them in a very subtle way in the foreground. Each picture hides a poetic story behind it, thrilling anyone gazing at them.
Likewise, his artwork has led him to venture to long expeditions and participate in projects that highlight the cultural and natural Colombian heritage, contributing to some of the United Nations Sustainable Development Goals, such as Climate Action and Life on Land.
Below are some questions about his work, experience and struggle.
---
What led you to focus your work on landscape and nature photography?
Throughout my life, I have felt a connection with nature and I have always tried to have a relationship with her. For me, each place changes and has different emotions according to the time of day. All the places in the world won't ever be the same, which intrigues me the most.
Photography started as a hobby using the camera's cell phone because I like to travel a lot. But when I saw these pictures, they were not what I wanted to see. So at that moment, I realized I needed to start professionally learning photography.
Traveling through South America and Colombia allowed me to see different landscapes, recondite and unknown places. Regarding nature photography, it started when I went alone to the Iguazú waterfalls in Argentina. This experience completely grabbed me because I took some photographs of three animals being myself inside nature. Then I researched them and returned to the place several times.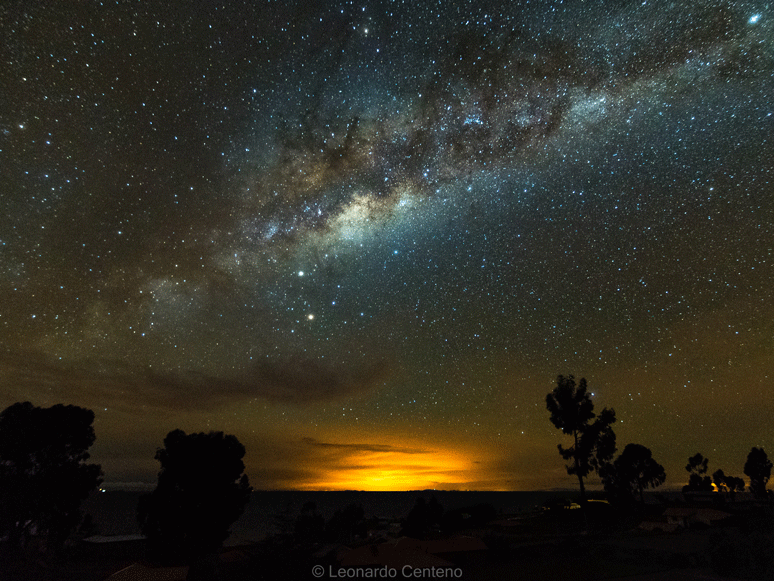 What has been your work and background?
When I came back to Colombia from my journeys, I started to work at Cerros de Bogotá Foundation, which seeks to strengthen, from civil society, the appropriation, affection and knowledge of Bogotá's eastern hills. With them, I had several experiences in the field of nature, wild and macro-city photography. Nowadays, I still work with them with a photography book.
Also, I have participated in different contests such as: Agenda del Mar, where I won third place with a picture that I took in Lago Titicaca, Peru; and Enfoque Conecta, where I was selected as an emergent photographer. Besides, I won first place as an astrophotographer with a photo that I took in the Salar of Uyuni, and I was recognized and selected for a showcase of a social media event by Chocolatinas Jet.
This year I was selected for a photography exposition with La Hicotea in Virgilio Barco Library to show microphotographs through insects in Bogotá. Also, I recently participated at Humboldt Institute with a book called BiodiversityCities by 2023, showing Bogotá's hills and call-to-action plans to make cities more sustainable and ecological.
How can your work deal with climate change?
First of all, we have to take advantage of using social media as a useful tool that can help us to spread knowledge, experiences and thoughts. On the other hand, it is crucial to show the places that we have to conserve and maintain life in the ecosystem.
We must understand how we can manage our cities to be more sustainable.
Moreover, my photographs can help us to remember the ecosystem's memory framing their changes through the years. So, you can compare, analyze and take action.
Human beings have affected the Earth's ecosystem cycle, causing faster changes than expected. One example is when the zero isotherm rises, the snow picks will be affected, and with this, the entire ecosystem. For instance, for the frailejones in the sub-Páramo, it will be challenging to live there, especially because of the oxygen and cold.
Could you describe one of the expeditions you have made to Bogotá's hills at night?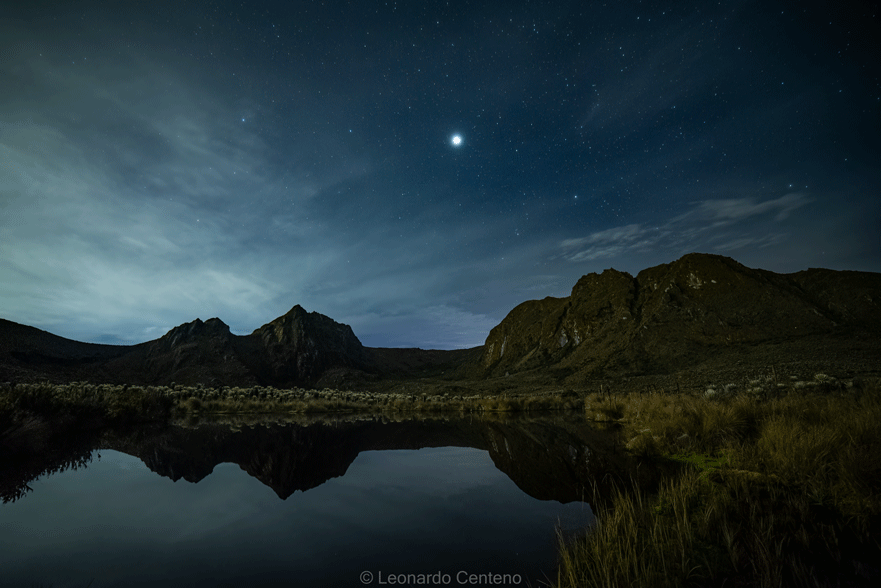 I recently went to the Páramo de Sumapaz, which is the biggest in the world. There is a place that I love that is called Boca Grande lakes, and the rocks of this mountain are part of the hill lines of Bogotá. It is very interesting how you can see the contrast between the city and the Páramo even if they are far from each other, but you can see them at the same time. I went there to take a picture of the Milky Way, but it was challenging because Bogotá's light pollution reflects on this Páramo.
I went alone with all my equipment and my GPS with the coordinates I needed. I walked for almost 18 km. Physically it is challenging, especially due to the high mountains around 3800 above sea level where it is difficult to breathe because of the less oxygen.
When I arrived there, I walked around the lakes for almost 3 or 4 hours looking for different animals. I saw the Eagle of Páramo, which is really big and several kinds of hummingbirds. Then, at night, I set my cell phone alarm to wake me up every 30 minutes to be able to see the sky. At almost 8 pm, I realized that the sky was empty without clouds and I had the chance to take pictures of the stars and finally, the Milky Way.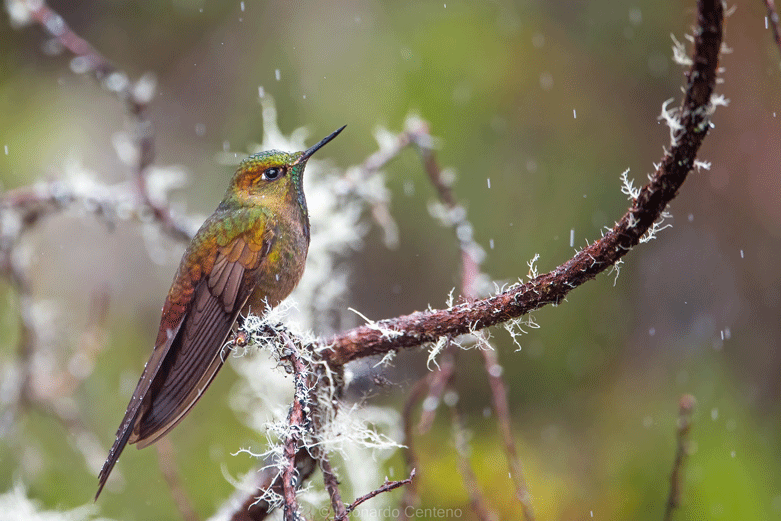 The next day I went to walk for almost 3 hours to the lakes because this part of the Páramo has like 16 lakes and they are huge. At the end, the Páramo gave me a great opportunity to photograph the snow and create different reflections.
What is the message that you want to transmit through your work?
It is all about recognizing and knowing what we have and what we need to preserve because all are correlated. It is essential to me to show through my images all of our natural heritage, the night photography (Milky Way) and the light pollution that happens in the world, which affect some species that move themselves following the stars or moon. For instance, in the Boca Grande lakes in Sumapaz, even when they are so far away from the city, they are directly affected by the light pollution in the city.

Learn more about Leonardo Centeno on his website or follow him on Instagram.