Arts Help, the world's largest digital arts publisher, is excited to announce that the exhibition ZERO GRAVITY: Is This Our Earth? (2021) has been honoured by the inaugural Anthem Awards, winning silver in the Education, Art, & Culture - Campaign - Non-Profit category.
As part of Arts Help's mission to showcase art and creatives that have a positive impact on the world, the ZERO GRAVITY exhibition launched the works of seven international artists into space on June 29th, 2021, each piece corresponding to one of the 17 United Nations Sustainable Development Goals. At more than 100,000 feet above sea level, ZERO GRAVITY is the first digital exhibition to be streamed from the edge of space.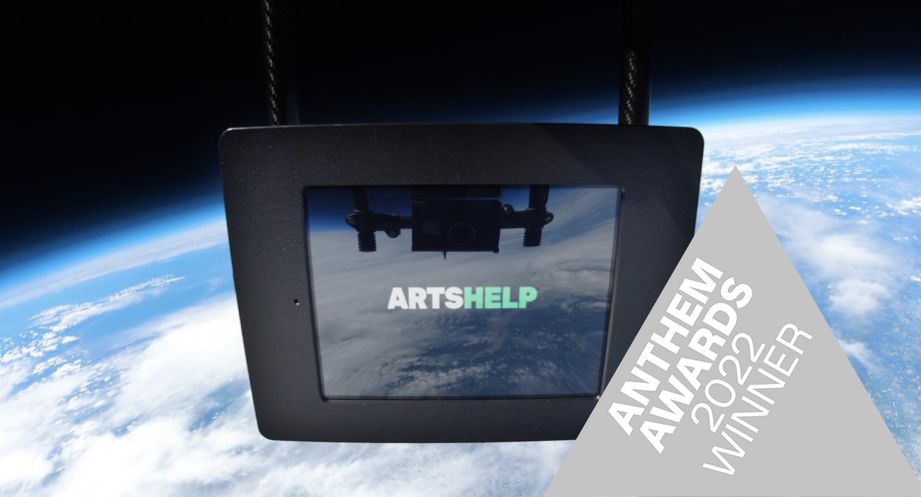 "It is our distinct honor to recognize the work that brands, organizations, and individuals are all making to create an impact in their community," said Jessica Lauretti, Managing Director of The Anthem Awards. "We launched this platform to show the world that all corners of our culture, from sports and entertainment to business leaders and celebrities, are all standing up to say, it is time for systemic change and that social good is what we value as a society."
"As an organization, we aim to showcase the global challenges we face with the need for creative ways of addressing them. Our goal with the ZERO GRAVITY exhibit was to connect humanity in a moment of harmony," said Adiam Gafoo, Chief Operations Officer of Arts Help.
Thanks to Arts Help media partners Clear Channel UK, Branded Cities, Backlite Media (Dubai), Lamar USA, and The Global Goals, the exhibition was viewed by more than 1.5 million people worldwide.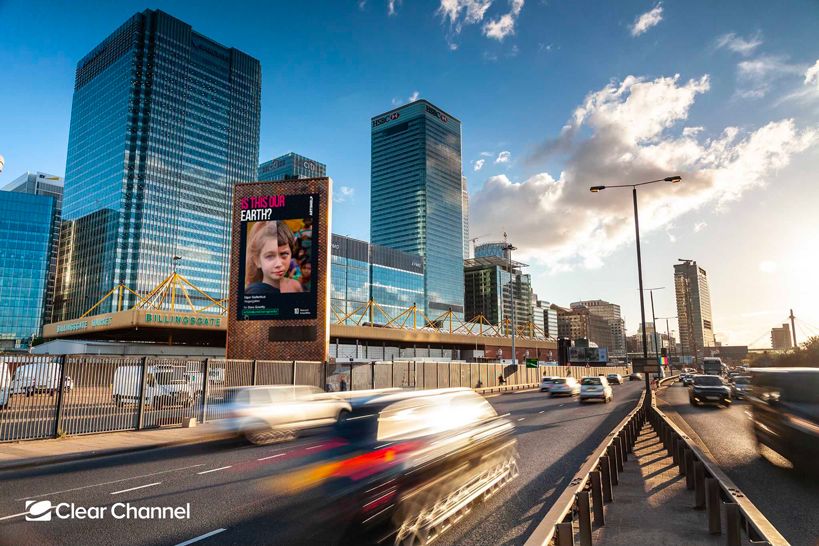 Winners for the inaugural Anthem Awards will be celebrated at the first annual Anthem Voices conference followed by a star-studded virtual Awards Show on Monday, February 28, 2022.  Fans will be able to hear from social impact leaders during the day and then watch the show, featuring special moments and hallmark speeches.
Anthem Winners are selected by the International Academy of Digital Arts and Sciences. Members include Daniel Dae Kim (actor, producer, and activist); Ashley Judd (Author, Actor, and Social Justice Humanitarian); Mitchell Baker (CEO and chairwoman, Mozilla); Lisa Sherman (president and CEO, Ad Council), Sarah Kate Ellis (president and CEO, GLAAD); Renata Erlikhman (chief investment officer, OW Management); Shayla Tait (director of philanthropy, The Oprah Winfrey Charitable Foundation); Russlynn Ali (CEO and co-founder, XQ Institute); Marc Ecko (chief commercial officer and board member, XQ Institute); Heidi Arthur (chief campaign development officer, Ad Council); and Alexis M. Herman (chair and chief executive officer, New Ventures, and former U.S. secretary of labor).
The Anthem Awards was launched in response to the prevalence social good has taken within the national conversation and cultural zeitgeist in recent years. The inaugural competition received nearly 2,500 entries from 36 countries worldwide. By amplifying the voices that spark global change, the Anthem Awards are defining a new benchmark for impactful work that inspires others to take action in their communities. A portion of program revenue will fund a new grant program supporting emerging individuals and organizations working to advance the causes recognized in the inaugural Anthem Awards.
Learn more about the international artists selected to showcase their artwork reflecting a chosen Sustainable Development Goal:
Alex Peter, Nigeria (Africa). Goal 8: Decent Work and Economic Growth
Martin Agazzi, Argentina (South America). Goal 1: Eradicating Poverty
Salventius, Netherlands (Europe). Goal 12: Responsible Consumption and Production
Sutu, USA & Australia. Goal 4: Quality Education
Uğur Gallenkuş, Turkey (Asia). Goal 10: Reduced Inequalities
Zaria Forman, USA & Antarctica. Goal 13: Climate Action
Cassils, Canada & United States (North America). Goal 5: Gender Equality